Overview
Discover the majestic landscapes of Iceland! Get off-the-beaten path with Go Get Lost®. Take a walk along the black sandy beaches. Visit the Blue Lagoon and sink into nature's jacuzzi. Gaze upon a waterfall. Laugh with strangers. Savor a delectable meal of Icelandic seafood. This is how Iceland is meant to be explored.
Go Get Lost Reviews
Based on 107 Reviews
Excellent89%
Very good10%
Average1%
Poor0%
Terrible0%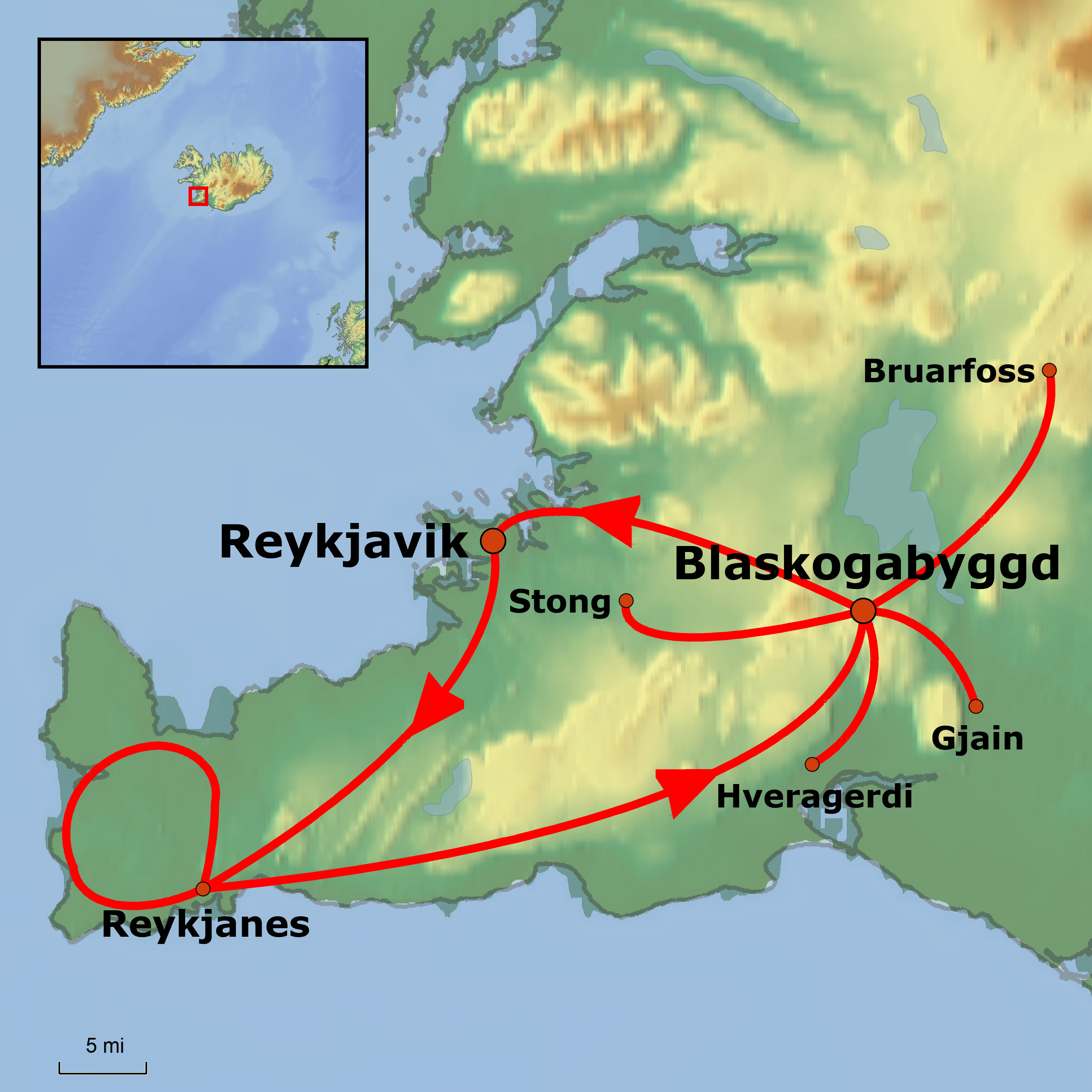 Join Go Get Lost as we journey to explore the wonders of Iceland! You'll marvel as you trek across the dramatic landscape of volcanoes, geysers, and lava fields. You'll savor some of the world's freshest seafood, and you'll soak in some of the most picturesque natural hot springs on the planet.
Tour Dates & Pricing
Photo Gallery
Click the thumbnail to view larger image.
Itinerary
Day 1 - Reykjavik
Your Go Get Lost Iceland adventure begins on the Seltjarnarnes peninsula in the city of Reykjavik, the world's northernmost capital in the world. Our hotel is located at the center of Reykjavik, where we'll start the evening with our orientation party. After our orientation party, we'll make our way to one of our favorite local restaurants for our opening nights meal. After our dinner we'll return to our hotel taking in all the famous bars along the way. At this time of year it doesn't get dark until midnight in Iceland. For those so inclined, we might take some time to check a few of them out!
Day 2 - Reykjanes
This morning after breakfast we'll hop on our private coach for a scenic journey to the southern coast and the Reykjanes peninsula where we will begin to explore Iceland in 4 x 4's, the best way to visit this rugged coastline. Spectacular mountain views, black sandy beaches, and mesmerizing cliffs make this first day a great beginning to your Iceland adventure. On our adventure, we'll visit some remote geothermal areas to understand how these Icelanders have adapted to their environment. We'll stand on both the European continent and on the North American continent as the 2 continental plates separate a couple of centimeters every year. After this exciting ride we will go to one of the local eateries and join the Icelanders for lunch. After lunch, we'll visit one of Icelands iconic waterfalls where it's possible to wander behind it for some incredible pictures. Before we go, our local guide will leave the rest of the crowd behind and take us to a hidden waterfall inside a nearby cave. If you're brave enough, you can join the guide for the short walk inside to witness an incredible sight. After this incredible day, we'll head to our farm house hotel where we'll settle in for the next three nights. Tonight we'll end our day with a farm to table presentation and home-cooked country dinner.
Day 3 - Bruarfoss and Gulfoss
After breakfast this morning we'll hike to one of Iceland's most beautiful sites, Bruarfoss...the Blue Waterfall. Amazing that so few people ever visit this magical place, but then again it is not easy to find. The water here is so blue it's hard to capture the charm in pictures. Even the trek along the river to this wonderful place is a constant overload on the senses.
After our visit to Bruarfoss it will be time to visit a greenhouse oasis amidst the starkly beautiful Icelandic landscape. As soon as you step inside, you are enveloped in a lush world of greenery and warmth. The greenhouse is filled with row upon row of plants, from delicate herbs to towering tomato vines. The air is thick with the scent of fresh basil and thyme, and the sound of water trickling from the hydroponic systems adds a soothing soundtrack to the experience. But the true magic of this greenhouse lies in its sustainability practices; the greenhouse relies on geothermal energy to power its systems, making it an environmentally-friendly oasis in the heart of the Icelandic wilderness. As you wander through the rows of plants, it's easy to forget that you're in the middle of a desolate landscape - for a brief moment, it feels like anything is possible in this vibrant, thriving ecosystem.
Our next stop is the Secret Lagoon, a hidden oasis surrounded by breathtaking landscapes. The lagoon, with its bubbling hot springs, offers a unique and tranquil escape into nature's beauty. Tonight we return to our farmhouse where you're free for the remainder of the evening.
Day 4 - Geothermal Discovery
Iceland is a land of geothermal wonders, with its unique location on the Mid-Atlantic Ridge making it one of the most volcanically active regions in the world. These natural geothermal features have been harnessed for a variety of purposes, including providing the heat necessary to support many industries. Today we'll get the "Go Get Lost" take on a geothermal discovery that includes a hike through diverse landscapes, including lava fields, moss-covered hills, and a geothermal area with bubbling mud pots and steam vents. We'll have breathtaking views of the surrounding mountains and valleys of this very active geothermal area of the Hengill Mountain.
Next on this unforgettable day in Iceland is the magnificent Gulfoss waterfall. Prepare to be amazed as we approach one of the country's most iconic natural wonders. As we walk closer to the falls, you'll feel the power of the water as it crashes down into the canyon below. Don't forget to snap some photos of the breathtaking scenery and keep an eye out for rainbows dancing in the mist. Tonight we return to our quaint farmhouse for our final night in this peaceful location. Tomorrow we make our way for Reykjavik.
Day 5 - Stong and Gjain Hike
This morning we'll embark on a delightful journey at Laugarvatn Fontana, where the magic of geothermal baking unfolds. As we enter, the aroma of freshly baked bread wafts through the air, drawing you closer to the traditional underground ovens. It's a unique and satisfying taste of Icelandic tradition amidst the serene beauty of Laugarvatn Fontana.
Next, we'll continue our adventure at the old Viking settlement of Stong, believed to have been buried under volcanic ash in 1104 following the eruption of the volcano Hekla. Our hike today will explore a breathtakingly beautiful place hidden away in the Þjórsárdalur valley upcountry in South-Iceland.
Gjáin is a tiny valley that might be one of the most magically places you'll ever visit. This oasis is like potpourri to your visual senses, with tranquil water features and lush greens contrasting the rugged volcanic structures throughout. (The landscape is so unique that an episode of Game of Thrones was filmed here.) Our path winds across the surreal landscape providing stunning views of the countryside. Your tour leaders will take you along an ancient river to an incredibly beautiful and remote area in search of rare dual waterfalls. Once we arrive, you will quickly understand why the Vikings settled here.
The highlight of today's walk is also one of the most picturesque spots and arguably the most mesmerizing of any place we've been. After this incredible day, we'll make our way back to Reykjavik, our home for our final three nights.
Day 6 - Mt. Esja Hike
Today we don't have far to travel for a great hiking adventure. Nearby Mount Esja in the Esjan Range provides an astonishing view on the capital city and beyond.
Lunch will be at a nearby restaurant. Later we'll pay a visit to the iconic Blue Lagoon where the warm waters will sooth our tired muscles. Afterward, we'll make our way back to Reykjavik where you can explore and have a relaxing evening in town.
Day 7 - Go Get Lost Day
You'll have the day free to explore the area on your own. Reykjavik, Iceland's capital city, is a charming and unique destination that blends modern amenities with traditional Icelandic culture. The city is characterized by its colorful buildings, quirky street art, and picturesque harbor, which is home to a fleet of fishing boats and luxury yachts alike. In Reykjavik, you'll find a vibrant art and music scene, with numerous galleries, museums, and performance venues showcasing the best of Icelandic creativity. Visitors can also indulge in the country's famous geothermal pools, where they can relax in the naturally heated waters and take in the stunning surroundings. With an abundance of excellent restaurants, cafes, and bars serving up delicious Icelandic cuisine, as well as easy access to the country's breathtaking natural wonders, Reykjavik is the perfect place to "Get Lost".
Tonight is our farewell dinner, and your guide will take you to one of their favorites! Maybe before heading out to dinner we will meet for a cocktail at one of the locals' favorite hangouts, always the best way to start the evening.
Day 8 - Faravel
Your Go Get Lost Iceland Explorer adventure will end at the hotel after breakfast this morning. Your guide can help you arrange transportation to the airport.
HOTELS
Due to availability at the time of booking, hotels listed may change to similar hotels
Bláskógabyggð – Farmhotel Efstidalur IIThe Farmhotel Efstidalur II is a true Icelandic experience, right in the middle of the Golden Circle. This family run farmhouse offers rooms with great views over the valley and is surrounded by many of the natural wonders of Southwest Iceland.
Reykjavik - 4 Star Sand Hotel The Sand Hotel is conveniently located on Laugavegur, the main street and commercial center of Reykjavík and home to a variety of designer shops, cafés, restaurants, gift shops and exciting nightlife
What´s Included
4 Nights dbl occupancy at a 3 star hotel in Reykjavik
3 nights in country farmhouse hotel
7 Breakfasts
4 Lunches
3 Dinners
4X4 Adventure Tour
Entrance into Blue Lagoon
Entrance into Secret Lagoon
4 Guided Walks
All transportation once the tour starts until the final dinner
All gratuities for meals, local guides, coach drivers, etc. (Does NOT include gratuity for Go Get Lost Tour Leader.)
Completely escorted by a Go Get Lost Tour Leader with local guides at specified sites throughout the itinerary
A lifetime of unforgettable memories!
What´s not Included
Meals not specified in itinerary
Beverages at meals unless specified in itinerary
Trip Cancellation/Interruption and Medical Insurance (strongly recommended), call for details
Single supplement charge
Items of a personal nature; phone calls, laundry, etc.
Arrival and departure transfers
Airfare package
Gratuity for primary local tour leader
Any costs associated with Go Get Lost day or other options