Overview
Go Get Lost Reviews
Based on 107 Reviews
Excellent89%
Very good10%
Average1%
Poor0%
Terrible0%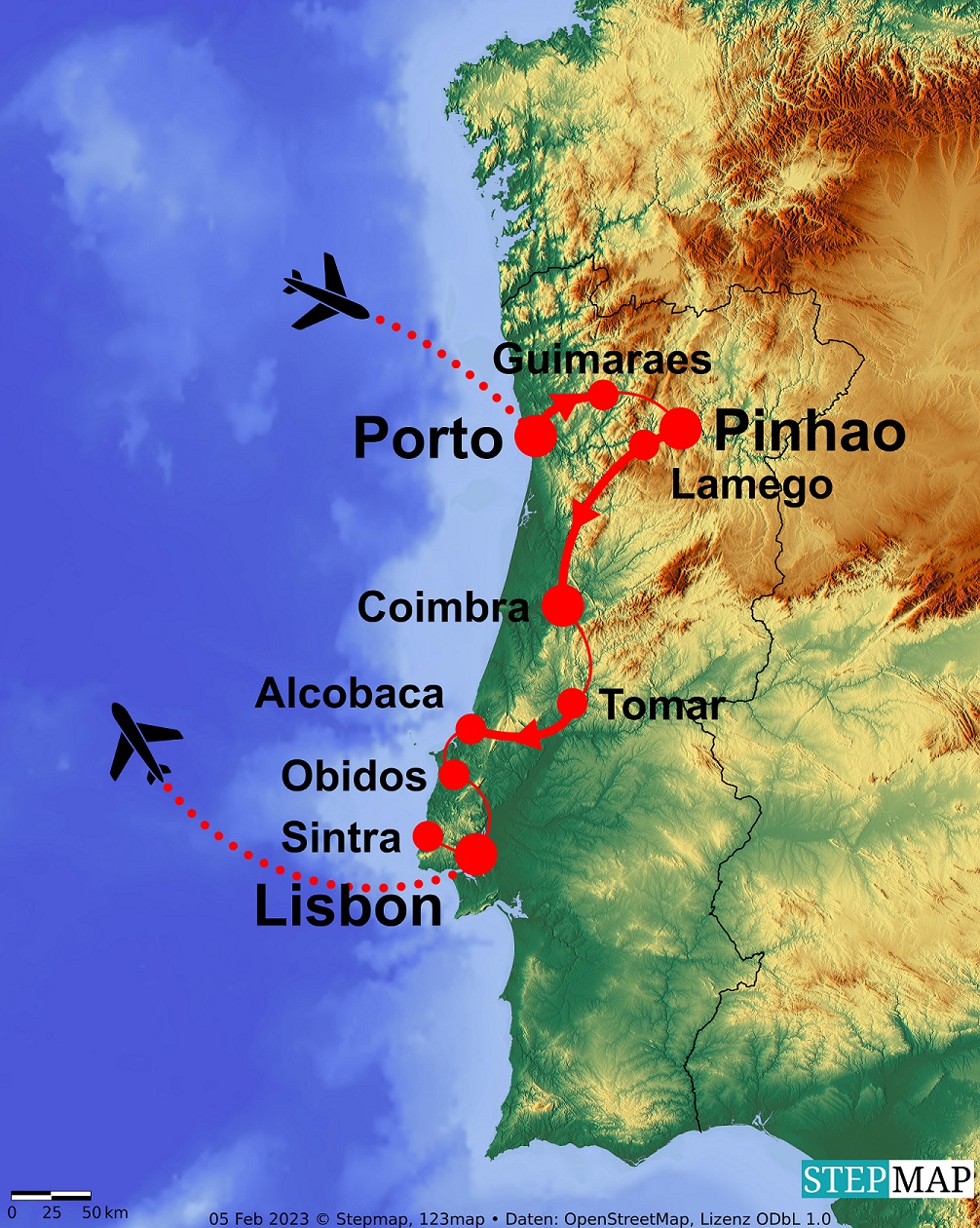 Join us as we explore the amazing cities and countryside of Portugal, jewel of the Iberian Peninsula. We'll start our journey in the medieval city of Porto in the north, famous for its beautiful bridges and port wine production. Then we'll head inland to explore the stunning landscape of the Douro River valley, dotted with wine estates and terraced hillsides. Our path then lies south, as we make our way through the cities and towns of some of Portugal's most famous historic sites. The pastel, cosmopolitan coastal city of Lisbon is our final destination, and a fitting place to end our travels. You will sleep in beautiful accommodations (four and five star properties), dine on delectable food (from local restaurants to Michelin chefs) and enjoy iconic views as you journey from north to south. If you enjoy traveling in a small group led by a local expert, enjoy European culture, amazing landscapes, historic cities, world-class wines and superb cuisine…this trip is for you. Get off-the-beaten path and Go Get Lost®.
Tour Dates & Pricing
Photo Gallery
Click the thumbnail to view larger image.
Itinerary
Day 1 - Porto
Arriving in Porto today you'll make your way to your 5-star hotel situated in the city center. Your adventure will start in the late afternoon with a welcome meeting followed by a short orientation walking tour of the riverside district with your local guide. We'll make our way to one of our favorite local restaurants for an amazing welcome dinner, featuring some of Portugal's most famous dishes and topped off with the excellent local vintages.
Day 2 - Porto
After breakfast today we'll have a late morning start to set off on a walking tour of the old town. It will soon morph into a food tour featuring several stops to sample local delicacies of food and drinks. We'll eventually cross the river into Vila Nova de Gaia for a tasting at of port wine, the areas most famous export. A tapas lunch will follow, and the afternoon will be free to wander, get lost and explore on your own. Maybe a boat tour of Porto harbor and its six bridges would fill the rest of the day. Porto is a wonderful city to wander, featuring lovely streets lined with shops, a riverfront area that's always bustling, and many quiet and genteel neighborhoods.
Day 3 - Guiamaraes and the Douro Valley
Today we have several fascinating stops as we work our way eastwards into the Douro Valley. It will start after breakfast when we board our private coach and head to the nearby town of Guiamaraes, the first capital of Portugal, for walking tour of its charming old town with its many well-preserved medieval buildings. Afterwards we'll continue on to picturesque Regua for a tour and visit of one of the most prestigious wineries in Portugal. The estate has been here since 1551, and produces some of Portugal's best vintages. By now you'll be ready for lunch, and our choice is a famed Michelin restaurant on the banks of the river Douro with Chef Rui Paula creating his amazing dishes using local produce. Some of the area's top wines will accompany his cuisine, making for a memorable meal. Your day isn't over yet, though...an afternoon private boat ride on the Douro, with towering hills carpeted with vineyards all around, is a perfect way to relax and enjoy the scenery.
Later we'll check into our 5 Star hotel situated alongside the river and have a chance to relax before we meet for dinner at the hotel's excellent restaurant. After dinner you can unwind in one of the hotel's beautiful outdoor areas overlooking the water, the perfect end to a busy day.
Day 4 - Lamego and Coimbra
Our journey continues today as we make our way south into central Portugal. Mid-morning finds us in the beautiful city of Lamego, famous for its abundance of Baroque buildings in the picturesque city center. We'll take time to explore Lamego on foot, led by our local guide. We'll continue south to the old university town of Coimbra. Here we'll have a short tour of the prestigious university, one of the oldest in Europe. Founded in 1290 in Lisbon, it moved to Coimbra in 1537. We'll join people from all over the world who come to Coimbra University to visit its amazing library. Afterwards we'll settle in to a typical lunch featuring local fare.
Our beautiful hotel is nearby, so this afternoon we can check in and relax a bit. Later we'll meet again for a special evening with an expert local cook to roll up our sleeves and learn how to cook, Portuguese-style! Of course we'll sit down afterwards to enjoy the fruits of our labors, along with some excellent local vintages.
Day 5 - Tomar, Alcobaco and Obidos
After an excellent breakfast we'll board our private coach and continue our journey southwards to visit three of Portugal's most famous sites. Our first stop today will be in Tomar at the impressive and mysterious Castelo dos Templarios, or the Castle of the Knights Templar. Built in 1160 as the major bastion to defend the borderlands against the incursions of the Moors, today this castle stands as a stunning example of medieval military architecture and technology. After Tomar castle we'll continue on to yet another amazing historic site, the Cistercian Monastery of Alcobaca. Founded in 1152 by King Alfonso to commemorate the reconquest of the area from the Moors, it grew in prestige and importance over the years. By the Middle Ages it rivaled the greatest European abbeys in size and wealth.
By now we will have worked up an appetite with all of the exploring, so we'll stop at a typical Portuguese eatery to relax and enjoy some local cuisine. Continuing on we soon come across the charming and romantic medieval town of Obidos, which offers a unique glimpse into Portuguese culture and history. Like something from a fairytale, Obidos' cobbled streets, whitewashed homes and dramatic medieval castle is the perfect setting to wander and explore within its ancient city walls. At some point we'll need to depart to continue on to Lisbon, just an hour away and our home for the next few days.
After settling in to our beautiful 4 Star hotel, we'll enjoy an excellent meal at a nearby local restaurant. If you have any energy left, an after-dinner stroll through Lisbon's vibrant streets may be the perfect end to an amazing day.
Day 6 -Lisbon
Today is all about exploring this amazing city. We'll have a morning walking tour of the old city, exploring the historic heart and commercial center of the Baixa district, with its Neoclassical architecture and streets lined with seafood restaurants and shops of all kinds. Then its off to the steep streets of the Alfama neighborhood, one of Lisbon's oldest districts. Alfama is a delightful maze of narrow cobbled streets and traditional houses that crowd alongside some of the city's most iconic buildings, including the Se Cathedral and the Castelo de Sao Jorge. We'll enjoy a lunch along the way, then have the afternoon free to pursue our own wanderings and adventures. Lisbon has an inexhaustible supply of shops and boutiques...and historic monuments. Or maybe you're the type that likes to just stroll, people-watch and soak up the ambiance of the city.
Day 7 - Belem and Sintra
This morning we'll head to the western edge of Lisbon to visit the Belem district, which lies along the banks of the Tejo Estuary. This pretty area was the location of Lisbon's shipyards and docks, and it was from here that the 16th century explorers discovered the sea routes to East Africa, Brazil and India. Later these trading routes brought incredible wealth into Portugal, funding the construction of many of the iconic buildings of Lisbon, including the extravagant monastery of Jeronimos in Belem.
After Belem we continue west and north to the charming Portuguese town of Sintra, situated in the cooling hills of the Serra de Sintra. A longtime royal sanctuary, its forested terrain is studded with pastel-colored villas and palaces. The Moorish- and Manueline-style Sintra National Palace is distinguished by dramatic twin chimneys and elaborate tilework. The hilltop 19th-century Pena National Palace is known for a whimsical design and sweeping views.
Tonight we'll have a memorable farewell dinner at one of our favorite local Lisbon eateries, known for its traditional Fado music. They'll be plenty of toasts, laughs, and stories to share about our journey together as we made our way through the heart of amazing Portugal.
Day 8 - Adeus
Your Go Get Lost tour ends this morning after breakfast. Your local guide can help you with any arrangements you may need for a transfer to the airport, or onward to another destination in Europe.
HOTELS
Due to availability at the time of booking, hotels listed may change to similar hotels
Porto - 5 Star Pestana Porta A Brasileira Hotel One of the newest 5 star hotels located in downtown Porto, 4 minutes walking distance from the iconic Avenida dos Aliados and 12 minutes away from the Ribeira district. Built on the site of famous Porto's A Brasileira Café, the first to serve coffee in a cup on the early 20th century, and recognized with the slogan " the best coffee comes from A Brasileira". The new hotel has managed to preserve the building's original architectural features. The 89 rooms and suites are distributed across several floors, each being thematically tied one of the spices or products imported during the Portuguese maritime expansion on the 15th and 16th centuries. They are: ANISE, COFFEE, CINNAMON, TEA, CHOCOLATE and PINK PEPPER.
Or
Porto - 5 Star Pestana Vintage Porto Hotel LUXURY LIFESTYLE IN THE HISTORIC CITY CENTRE - In one of the most prestigious areas of Porto, the Ribeira historic district you will find the Pestana Vintage Porto, constructed from a collection of 18 old houses and buildings, renovated in a luxurious vintage style, and having been named a UNESCO World Heritage Site. Postcards always feature the hotel right in front of the Douro River, which blends in nicely with the other historic buildings in the area. They welcome you with an atmosphere that is at once vintage and contemporary, luxurious and romantic. The RIB BEEF & WINE restaurant is the place for true connoisseurs of great beef and wine, and the hotel bar specializes in cocktails, with one of the most creative bartenders in town.
Pinhao - 5 Star Vintage House Hotel- The Vintage House Hotel enjoys an idyllic and tranquil riverside location at Pinhão in the authentic heart of the Douro Valley. The Douro is one of Europe's oldest and most beautiful wine regions, a breath-taking man made landscape enjoying World Heritage status. Remote and undiscovered, it offers the discerning traveler one of Europe's most unforgettable vineyard experiences..
Coimbra - 4 Star Hotel Dona Ines The hotel itself is a celebration of history, inspired by the love story of Inês de Castro and D. Pedro, Duke of Coimbra, and boasts a direct river view, inscription- and art-covered walls and natural light-filled spaces. Dona Inês hotel offers the opportunity to discover and feel a UNESCO World Heritage listed city. Within a 10-minute walk, guests are at Rua da Sofia, the heart of the city center famous for landmarks including Sé Velha (Old Cathedral), Igreja de Santa Cruz, Machado de Castro National Museum and Portugal dos Pequenitos, a family favorite. Down time at NH Coimbra Dona Inês hotel can be spent at the gym, lounging at the pool, getting a spa treatment and playing tennis or ping-pong. When it comes to dining, the day starts with a visit in the panoramic elevator to the breakfast buffet overlooking the pool and continues with lunch and dinner at A Garça featuring Mediterranean and Portuguese dishes prepared with fresh, local ingredients. From the afternoon until late-night, Ego Lounge Bar offers light meals, snacks, wine and cocktails.
Lisbon - 4 Star Lisbon Wine Hotel The Hotel was designed to be part of the experience of visiting and being in Lisbon. The floors were designed to demonstrate the most valuable types of wine. With great comfort, an elegant decoration and identified by the color of the Wine, these rooms, with City View or Garden View, create a relaxed atmosphere offering a cozy and intimate space, signaled by pictures that depict the harvest season.
What´s Included
2 nights at 5 Star hotel in Porto
1 nights at 5 Star hotel in Pinhao
1 night at 4 Star hotel in Coimbra
3 nights at 4 Star hotel in Lisbon
Meals as specified: 7 breakfasts, 6 lunches, 5 dinners (All group meals include water and local wine)
2 wine tastings, at Porto and Regua
2 wine-paired meals
Cooking class on Day 4
Walking tours with local guides as per itinerary
River cruise on the Douro River
Entrance fees to Coimbra Library, Tomar Castle, Alcoba Monastery, Sintra palace
Transportation once the tour has begun (Does not include individual transportation for clients during walking tours, to/from restaurants, etc)
Professional local Go Get Lost guide throughout the itinerary
All gratuities for waiters, coach drivers, local guides in Porto and Lisbon, EXCEPT your primary local tour leader
Porterage in hotels
A lifetime of unforgettable memories!
What´s not Included
Airfare package
Airport transfers
Gratuity for primary local tour leader
Visa fees, if applicable
Meals not specified in itinerary
Any individual transportation needed by clients during walking tours, to/from restaurants, etc
Trip Cancellation/Interruption and Medical Insurance (strongly recommended), call for details
Single supplement charge
Items of a personal nature; phone calls, laundry, etc.