Overview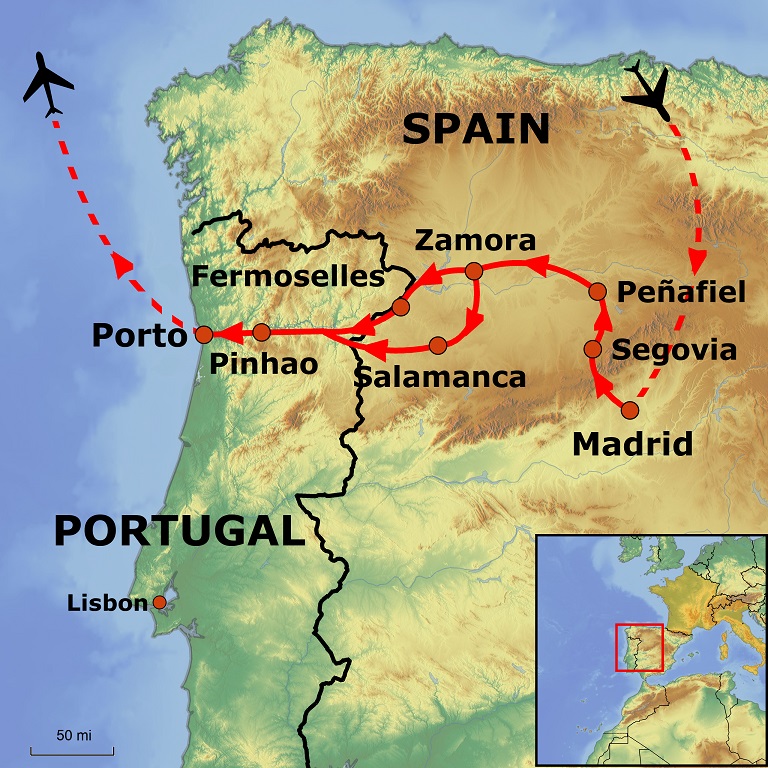 Join Go Get Lost on an enchanting journey of discovery across the Iberian Peninsula, immersing ourselves in breathtaking landscapes, fascinating culture, exquisite food and world-class wine from some of Europe's best producers! This unique two-country tour provides a fascinating journey from Madrid to Porto through the Ribera del Duero region of Spain and the Douro wine lands of Portugal. Sample regional vintages at local bodegas, explore national parks and river gorges and discover beautiful historic cities and picturesque villages full of culture and charm. Ideal for those who enjoy wine, culture and easy countryside walks, this journey ventures away from the crowded tourist routes, showcasing a less-visited part of Europe.
Tour Dates & Pricing
Photo Gallery
Itinerary
Day 1 - Madrid to Segovia
Your Iberian adventure starts at mid-morning today at a meeting point in the lobby of our centrally located hotel. (You'll be provided with detailed arrival and departure instructions to help you coordinate your flights and travel. Ask about arriving a few days early and enjoying our Marvelous Madrid extension) You'll meet your private guide, board your coach and head north out of the city and into the Spanish countryside. We'll first drive to the picturesque Guadarrama mountain range to visit La Pedriza National Park. It is one of the largest granitic ranges of Europe and holds numerous peaks, rocky cliffs, streams and meadows. The fauna is rich in birds of prey; the breeding colony of over 100 pairs of griffon vultures is the largest in the Madrid area. This dramatic landscape has been the scene of some movie shootings such as El Cid, The Fall of the Roman Empire, and Conan the Barbarian. We'll have a short walk here before heading on to the city of Segovia.
Segovia is an historic city in central Spain's Castile and León region. Its centuries of settlement have resulted in a rich architectural legacy, including medieval walls, Romanesque churches, a former royal palace and a Gothic cathedral. Its iconic ancient Roman aqueduct has more than 160 arches, most in the original mortarless granite, and stands above Plaza Azoguejo in the heart of the city. We'll have a guided visit of the town with a stop at the Gastronomic Museum.
After checking into our 4-Star hotel, we'll have time to freshen up before we meet for an incredible welcome dinner at one of the city's finest restaurants.
Day 2 - Duraton Gorge, Penafiel, and Ribera del Duero
This morning after breakfast we'll start with a short, scenic drive to the Rio Duraton Gorge, a spectacular natural wonder. We'll enjoy a short walk to admire the views and perhaps spot the native Golden eagles, Egyptian vultures or Peregrine falcons, all of which nest on the rocky outcroppings lining the gorge. This afternoon we'll visit the renown winery of Cepa 21, in the famed Ribera del Duero wine district. Here we'll have a tour, tasting, and then another phenomenal dinner featuring regional specialties. We'll end up in a cozy 4-Star hotel in the medieval town of Penafiel, for a well-deserved night of rest.
Day 3 - Zamora and Toro
After breakfast we'll start our day with a visit to Peñafiel castle, a historic gem from the middle ages. Then we'll head off into the countryside to explore this remarkable wine region. We have several options depending on the tastes of the group...perhaps we'll visit Bodegas Arzuaga Navarro in village Quintanilla Onesimo, with lunch in their own excellent Restaurant Taller Arzuaga, or instead we may stop by renown Abadia Retuerta winery with a second tasting in Toro - one of the Spain's most rising stars in the superb wine growing regions right next to D.O. Ribera de Duero.
This afternoon we'll have a visit to the historical center of an often overlooked jewel among Castilia's old cities - Zamora. Its city center lies on the north bank of the Douro River, ringed by well-preserved defensive walls and gates. It's known for the Zamora Cathedral, encompassing a Byzantine dome, Romanesque tower and neoclassical cloister. Tonight we'll be staying in stunning Parador hotel in Zamora, the epitome of classic Spanish accommodations!
Day 4 - Countryside or City
Today we have two choices: We can enjoy a scenic drive from Zamora into the protected area of Arribes de Duero, a Natural Park on either side
of the Spanish-Portuguese border. Here we'll marvel at the spectacular scenery of the Duero river cutting a deep gorge into the hills. A private boat will give us a tour along the Duero, where we'll enjoy views onto the vertical walls of the gorge. Later we can stop at a local cheese makers farm and have a walk through beautiful scenery to the remote and quaint village of Fermoselle, where we spend the night in an old Inn. In the town we'll visit a traditional bodega, hewn into a stone cellar. There are almost 600 of them in the village!
Or if you prefer an urban experience, we can head south to the splendid city of Salamanca, With a history dating back to the Celtic era, it's known for its ornate sandstone architecture and for the Universidad de Salamanca. Founded in the 1100s and a key intellectual center in the 15th-16th centuries, the university continues to add to the city's vibrancy with its international student population. Filled with historic sites, shops and 16th century architecture treasures, Salamanca is a pleasure to explore. To satisfy our foodie cravings, this afternoon we'll have an introduction into the famed regional specialty of Iberian ham. Tonight we'll stay in a 16th century convent, renovated into a 5-Star hotel.
Day 5 - Portugal and the Douro River Valley
We'll wind our way into Portugal this morning, following the lovely Douro river valley. In the small, sleepy town of Pinhão we'll stop to explore a bit, as this quaint village is in the heart of Port wine country, literally surrounded by vineyards. While the small town is peaceful for most of the year, during the autumn harvest it comes alive with workers and wine enthusiasts from all over the world, picking grapes, stomping grapes, and tasting wine! Later we'll board a boat for a river tour of this lovely valley.
Later in the day we'll check into our stunning 5-Star hotel perfectly situated on the banks of the Douro. Here we'll have a wine tasting of the area's amazing vintages, leading into another superlative dinner.
Day 6 - Mateus Palace and Porto Cooking Class
After breakfast this morning we'll have a panoramic drive to the town of Regua, famous over the centuries for its role in the shipping of port wine. Then on to one of the finest private houses in all Europe, the Mateus Palace. This 18th century Baroque palace will astound and amaze you with its architecture and opulence. After wandering the grounds of this fairy tale-like building, we'll continue on to the city of Porto, a coastal city in northwest Portugal known for its stately bridges and port wine production. In the medieval Ribeira (riverside) district, narrow cobbled streets wind past merchants' houses and cafes. We'll have time to check in to our 4-Star hotel in the Ribeira before heading out to a private cooking class with some local experts. You'll learn hands-on how to prepare some regional Portuguese dishes, and then sit down to an incredible meal!
Day 7 - Oporto
Today we have a fascinating walking tour of Porto (sometimes known as Oporto). We'll get to see all of the captivating sites of the city...Sao Francisco church, with its lavish Baroque interior, the palatial 19th-century Palácio de Bolsa, formerly a stock market built to impress potential European investors, and the riverfront promenade of Cais de Ribeira, with its myriad shops and piers. To reward ourselves for our walking we'll end up at a traditional wineries for a Port wine tasting. This afternoon is free to wander the city and get lost.
Tonight we'll have an amazing farewell dinner, with lots of toasts. laughing, eating, and of course, wine.
Day 8 - Adeus Portugal
Your Go Get Lost tour ends today after breakfast at your hotel. There will be a group transfer to the Porto airport. You could also extend your stay a couple of days to explore the city of Lisbon.
HOTELS
Due to availability at the time of booking, hotels listed may change to similar hotels
Segovia - 4 Star Hotel Palacio San Facundo: The rooms, with their selected decoration, make a contrast with this antique building, offering the best modern facilities. In the central atrium, underneath a glass dome, is where the cafe is located and where you can enjoy their exquisite coffees, drinks, and their delicious breakfasts.
Penafiel - 4 Star Hotel Convento Las Claras:This cozy and exclusive hotel is located in the historic center of Peñafiel - Valladolid , here you will find the space and tranquility necessary to appreciate and enjoy with all the senses, the beautiful and the good gathered in a unique place where history meets its own balance.
Zamora - 4 Star Parador Zamora:In the historical center of the Zamora capital, a beautiful Renaissance palace from the 15th century awaits you, built on an old Muslim fortress and now converted into a Parador. The hotel offers the opportunity to discover all the beauty of the natural, monumental and artistic environment that this land treasures. The medieval ambiance of the interior, which you will appreciate in armoires, noble tapestries and four-poster beds, is combined with the Renaissance style of the patio, the glazed wooden gallery and the heraldic shields. The hotel completes its offer with a refreshing swimming pool and excellent dishes of traditional cuisine.
Fermoselle - 4- Star Inn of Dona Urraca:In the heart of the Arribes del Duero between Spain and Portugal , is a very special rural house, the Posada de Doña Urraca, a perfect place to spend a pleasant and quiet stay surrounded by a wonderful natural environment, in the town of Fermoselle. This rural house built in a building of traditional architecture has 19 rooms, each of them decorated with meticulousness and taking into account every detail. In addition, each room creates a different environment so that visitors can enjoy unique stays every time they visit .
OR
Salamanca - 5 Star Hotel Palacio de San Estaban: This romantic hotel in Salamanca is a true luxury. Hotel Palacio de San Esteban is located in the heart of the city, a destination that combines charm, tradition, history, magic and modernity. The building was originally the Convent of San Esteban, from the Black Friar's order located in the central square of the Concilio de Trento. The Palacio is a magnificent property where tradition and modernity live together, and where the fingerprint of history is alive in each detail. The rooms and grounds allow the hotel to exceed the expectations of the most demanding guests. Its 51 rooms are an authentic tranquility haven, sandwiched between thick century walls of stone.
Douro - 5 Star Vintage House Hotel:The Vintage House is a very special hotel located in a privileged area, in the heart of the Douro region, in a mountainous and quiet area of ​​Portugal known for its wines of extraordinary quality. The most internationally known of all of them is, without a doubt, the Port wine. The old house and the surrounding land are part of an 18th century estate, renovated with exquisite taste into a magnificent 5 star hotel with all the comforts, facilities and high service standards while maintaining the charm of the 'old times', and the carefully preserved traditional architecture, which has been carefully preserved.
Porto - 4 Star Hotel Carris Porto Ribeira:Situated in Porto's Ribeira district, this 4-star hotel is in a renovated, historic building overlooking the Douro River. Wooden floors and a mix of dark and light colors are part of the modern décor. The hotel's location is excellent, placing it within walking distance of many of the city's sites.
What´s Included
7 Nights, Double Occupancy at listed hotels (or similar)
7 Breakfasts
2 Lunches
5 Dinners
5 Wine tastings
Cooking class
Entrance fees to Penafiel Castle, Mateus Palace, and Gastronomic Museum
All transportation once the tour starts, including one group departure transfer
All listed activities, tours, etc
All tips except for your primary local tour leader
Local guide for the entire tour
Go Get Lost tour leader
What´s not Included
Meals not specified in itinerary
Beverages at meals unless specified in itinerary (all group meals include water and wine)
Trip Cancellation/Interruption and Medical Insurance (strongly recommended), call for details
Single supplement charge
Items of a personal nature; phone calls, laundry, etc.
Arrival transfers
International airfare, tour begins in Madrid, Spain on Day 1, and ends in Porto, Portugal on Day 8
Tip for the primary local guide
Any costs associated with options or free time