Overview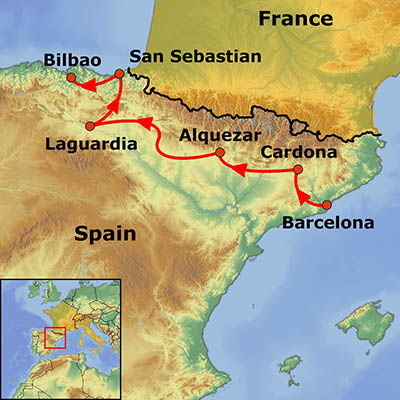 The north of Spain is home to some of the country's most famous culinary traditions and a stunning assortment of world-class wineries. We'll explore the regions of Catalonia, Aragon, Navara, La Rioja and the Basque Country. This culinary adventure will allow you to discover first hand why the Catalan and Basque cuisine have become so popular. On this journey from Barcelona to Bilbao we blend easy walks through wonderful scenery with winery tours and tastings for a great introduction to the quality wine regions of Penedes (including the sparkling Cava), Bages, Somontano, Navarra, La Rioja, basque Getariako and even good old cider. We have handpicked visits to producers of local specialties along the way from the modern Catalans, to the famous La Rioja tapas, and finishing up with the ever-innovative Basques.
Plus… An amazing Barcelona extension!!!
Join us on this special private tour as we experience the annual grape harvest in Spain while exploring the towns and historic cities of this magical land. We'll discover the best that Northern Spain has to offer, at one of the most exciting times of the year!

Tour Dates & Pricing
Extend Your Stay
Photo Gallery
Itinerary
Day 1 - Cava & Jean Leon
This morning we'll meet at our Barcelona hotel and board our private coach for a transfer to Jean Leon winery in the D.O. Penedes. Jean Leon wines were precursors of what we now call Single Vineyard Wines (Vi de Finca in Catalan). This designation, issued by the Catalan government, guarantees that the wine originates in a specific vineyard and displays a unique personality born from the interplay of the soil, the vines, the microclimate and the work carried out in the vineyard.
After Jean Leon we continue our quest with a visit to Bohigas winery for a visit and Cava tasting, along with a tapas lunch. You say Champagne - I say Cava. The bodega's team of oenologists and sommeliers has selected the best cavas and has made a select menu of tapas to delight the most demanding palates. A combination of exclusivity and good taste for lovers of cava. We finish our wine odyssey today with a visit and tasting at Abadal winery. The beauty of this winery and its surroundings make Abadal a must-see that will capture hearts with the dense woodland and vineyard landscape surrounding it, the unique vine terraces, which are dry stone constructions that bear witness to the wine-producing history of the region and then surprise with its history and the identity of its wines. The modern technology used in the winery is incorporated in harmony with the 12th-centuryfarmhouse, now converted into a museum. In the exhibition room, other utensils related with wine and vehicles from the middle ages make for a fascinating collection. In the old Sant Ramon cellar, now the projection room and tasting area, visitors will have the chance to taste wines, particularly those made from the Picapoll grape, a variety native to the Bages area, surrounded by hundred-year-old Abadal casks.
Tonight you'll find yourself staying in one of Northern Spain's most historic and beautiful castle-turned hotel…Parador Cardona. We'll enjoy an excellent group dinner tonight featuring Catalan cuisine.
Day 2 - Cardona Castle, Salt Mines, Somontano
We give Cardona our full attention this morning – and discover this historic town has hidden depths. First up is the remarkable Salt Mountain, where we take an underground tour of one of the world's most important salt mines, fought over for hundreds of years and shaping the history of the region. Then it's back to the surface for a guided tour of the castle. As we wander ramparts and climb towers, we learn about the dukes of Cardona – known as the 'kings without crowns' because of their wealth and power. Later today we travel to the town of Barbastros to visit Bodega Sommos. D.O. Somontano, where we'll enjoy a local lunch followed by winery visit and tasting. This new winery stands out for its futuristic and elegant lines. Its spectacular building, built from steel and glass, stands majestic in the heart of the Irius vineyards.
In the afternoon we'll journey across the picturesque countryside to the village of Alquézar, situated in a particularly dramatic setting in the final stretch of the River Vero canyon. At the foot of the castle lie the labyrinthine medieval streets of the historic village of Alquézar, which has deservedly been declared a Site of Historic-Artistic Significance.
If time permits we can enjoy an optional gorge walk outside the town.
Tonight you're free to explore Alquezar and choose one of the many charming restaurants for dinner.
Day 3 - Olite and Laguardia
We swap rocky peaks for the rolling hills and plains of Navarre, a gentle landscape of rippling wheat fields and vineyards. And what better place to begin our exploration of this historic region than Olite, the medieval town that was once the seat of the Navarre court? Seek out hidden walkways and courtyard gardens at the 15th century castle, and take in sweeping views across the countryside from the towers. We'll have a guided tour of the old town and castle, before settling in to a wine tasting of D.O. Navarra & lunch snack of local tapas.
This afternoon we'll make our way to Laguardia, a medieval hilltop fortress city with narrow cobbled streets flanked by bodegas and tapas bars. We'll have a town walk including the underground cellars followed by tapas crawl. Deep within the hillside crowned by the village of Laguardia are the great vine vaults of Bodega El Fabulista - the name says it all! A tapas tour in this town will have you sampling the best of the region as well as mixing with the locals to experience the typical night life of Rioja Alevesa.
Day 4 - La Rioja!
Today's wine tour of the famed La Rioja wine district will show you variety of different wineries.
Our day starts with a visit to the winery of Torre de Ona, situated in the prestigious Rioja Alavesa region. Wine maker Julio Saenz has used the microclimate of the area to its best advantage here, working with each small plot of land to the best advantage possible, resulting in a superb wine. He is a master at joining soil and the weather to create his exceptional wines.
Next we'll visit the pioneering Baigorri winery, surrounded by a vast surface of vineyards overlooking Samaniego and at the foot of the mountains Sierra de Cantabria, BAIGORRI surprises the visitors when they gain access to the facility. Once the visitors admire the beauty and contrast of colors, they will find seven levels underneath the crystal cube, where the gravity is the main character when it comes to producing singular wines.
Not to be outdone is our next unique wine producer, Ysios, located at the foot of the Sierra de Cantabria. Here you are invited to discover a signature winery that surprises and fascinates. It is the only winery in the world designed by Santiago Calatrava, fully integrated into the landscape, which the author describes as an ongoing dialogue between the construction and nature, which certainly overwhelms and leaves no one indifferent among the thousands of people who visit every year.
So that you can take home some of the world-class cuisine knowledge of the area, tonight we'll have a hands-on cooking class followed by dinner.
Day 5 - Cider and Idiazabal
After breakfast today we'll travel to the town of Astigarraga to visit a cider winery, have lunch and sample the local cheeses. Barrels of fun! In the Basque country, the only cry that goes up in cider season from January to April is "ccchhhotch" ("txotx" in the local language), which means to break out the cider. At which point, people duck through small doorways in farmhouses and emerge in cavernous rooms filled with enormous chestnut barrels, their glasses tilted towards a fine flow of wheat-coloured cider. Historically, the sagardotegias (cider houses) nestled in the hills around San Sebastián only sold one thing - Basque ciders are flatter than their European counterparts and less alcoholic, typically between five and six per cent.
We'll be on the road for a bit this afternoon, so we'll break it up by stopping in Pasai Donibane for a coffee break in this truly picturesque town. Here we'll take the boat over the river and enjoy an easy coastal walk to San Sebastian. The Pasai Donibane to San Sebastian hike is a popular Sunday outing among locals. Camino pilgrims can be seen walking in the same direction (indicated by yellow arrows), but that is no problem - your walk is not a pilgrimage but equally beautiful and takes about 2.5 hours. The walk goes along the sea on the Ulía mountain that borders the east side of the city of San Sebastian, just beyond Zurriola beach.
Arriving in San Sebastian, you'll be amazed at the beauty of the city and the genteel atmosphere. From music to rowing, from dancing to cinema, from Jai Alai to Euskera, the Basque language, from the Sea to the streets. Discover the rich cultural tradition of the European Capital of Culture 2016.
Tonight we enjoy the Tour de Pintxos! Pintxos (Basque tapas) line every bar in San Sebastian's famed Old Town, but knowing where to find the best ones is an art. While it's hard to have a bad meal in town, knowing exactly where to go for the best, freshest, and most exciting pintxos takes local, insider knowledge. In true Go Get Lost fashion, we'll do a night out in San Sebastian like a local, led by our friendly and knowledgeable Basque guides.
We dive straight into the culinary heart of the city for a night of eating and drinking unlike any you've ever experienced. From fresh prawns to line-caught baby squid to perfectly charred steak, the pintxo hunt changes nightly but always features a range of traditional spots and chic, avant-garde bars. Come thirsty, too, as we'll be pairing each pintxo with the perfect pour, from cider to local whites and reds.
Day 6 - San Sebastian
The cooking competition is designed for occasions when a regular cooking class just isn't enough, and for our Go Get Lost groups we know that "average" just won't cut it! The group divides into four, and is faced, Masterchef style, with a wall of San Sebastián's freshest ingredients. The task? With the help of your local chefs and team leaders, craft your very own bar of pintxos. This experience is incredibly fun and just the right amount of challenging. Our team of experts and locals will score the resulting pintxos, and the winning team receives a prize. After the competition, however, everyone will feel like winners as they gather together around the bar of homemade pintxos.
This afternoon and evening is free to explore San Sebastian.
Day 7 - Getaria, Txakoli, and on to Bilbao
Today we'll enjoy a scenic drive through the lush green countryside to the town of Getaria. Our first stop is the village of Getaria where we learn more about a favorite fixture of tapas menus, anchovies in oil, at an artisan producer. And, for a perfect complement, we follow this up with a wine tasting at a typical Txakoli winery. We will have time for a relaxed stroll through the town and coffee at one of the local establishments. Eventually we'll make our way to a fascinating visit to a local Anchovy factory.
To round out our sampling of the unique cuisine of the area, we'll visit a Txakoli winery for a visit and snack. Afterwards we'll board our coach for a drive westwards to the modern and cosmopolitan city of Bilbao, home of the Guggenheim Museum with its lustrous exterior and collection of modern art. We should have free time for visiting the Guggenheim and/or Bilbao's charming old town.
Tonight we'll walk to a wonderful farewell dinner for a last shot at the world-class Basque cuisine! We'll be reliving all of the adventures we had, exchanging addresses and photos, and planning our next vacation!
Day 8 - Adios Espana
Your Go Get Lost + Corkscrew tour ends this morning with breakfast. Bilbao's airport is just a short taxi ride away. Your group leader can help you arrange a ride to the airport or train station.
What´s Included
7 nights in standard double room with private bath (see notes on hotels rooms below) Upgraded rooms on request
Meals as Specified: 7 Breakfasts, 6 Lunches, 5 Dinners
More winery tours and tastings than you can count
Catalan cooking class in La Rioja
Basque cooking competition in San Sebastian
All other tours mentioned (Anchovy factory, Cider producer, etc)
Pasai Donibane seaside walk
Private coach transfers
All luggage transfers
Local taxes
Completely escorted by a Go Get Lost Tour Leader with local guides at specified sites throughout the itinerary
A lifetime of unforgettable memories!
HOTELS (Depending on availability, hotels may change to different, but similar hotels.)
Cardona: Parador**** Standard double room. Upgrades on request
Alquezar: Hotel Santa Maria** Standard double room. Upgrades on request
Laguardia: Hospederia de Los Parajes*** Superior double room (some with Jacuzzi)
San Sebastian: Hotel Arrizul Congress**** Standard double room. Upgrades on request
Bilbao: Miró Hotel**** Standard double room. Upgrades on request
What´s not Included
Airfare package
Arrival and departure transfers
Gratuities
Visa fees, if applicable
Meals not specified in itinerary
Beverages at meals unless specified in itinerary (water is always included)
Trip Cancellation/Interruption and Medical Insurance (strongly recommended), call for details
Items of a personal nature; phone calls, laundry, etc.