Overview
Discover the real Ireland! Get off-the-beaten path with Go Get Lost®. Explore the cobblestone streets of some of the most beautiful towns on the Emerald Isle. Wander the lovely coastal port where the Titanic departed for America. Find a local pub, pull up a seat, and order a pint of Guinness. Laugh with strangers. Drink in views of the peaceful countryside as you savor an Irish stew. Listen to some live traditional music and join in the singing. This is how Ireland is meant to be experienced.
"Just returned from Ireland, my third trip with Go Get Lost. This experience is so unlike most tours. Steve, Joan and Jeff have a passion for travel and for the places they want you to experience. It's like traveling with a local who really does know all the best places to walk, shop, eat and be amazed by. There are less pricey tours out there, but you get what you pay for. GGL is well worth every penny. I recommend you grab a group of friends and get goin! Thank you for the best birthday ever. Looking forward to another trip with you!" -Cynda W.
Go Get Lost Reviews
Based on 105 Reviews
Excellent89%
Very good10%
Average1%
Poor0%
Terrible0%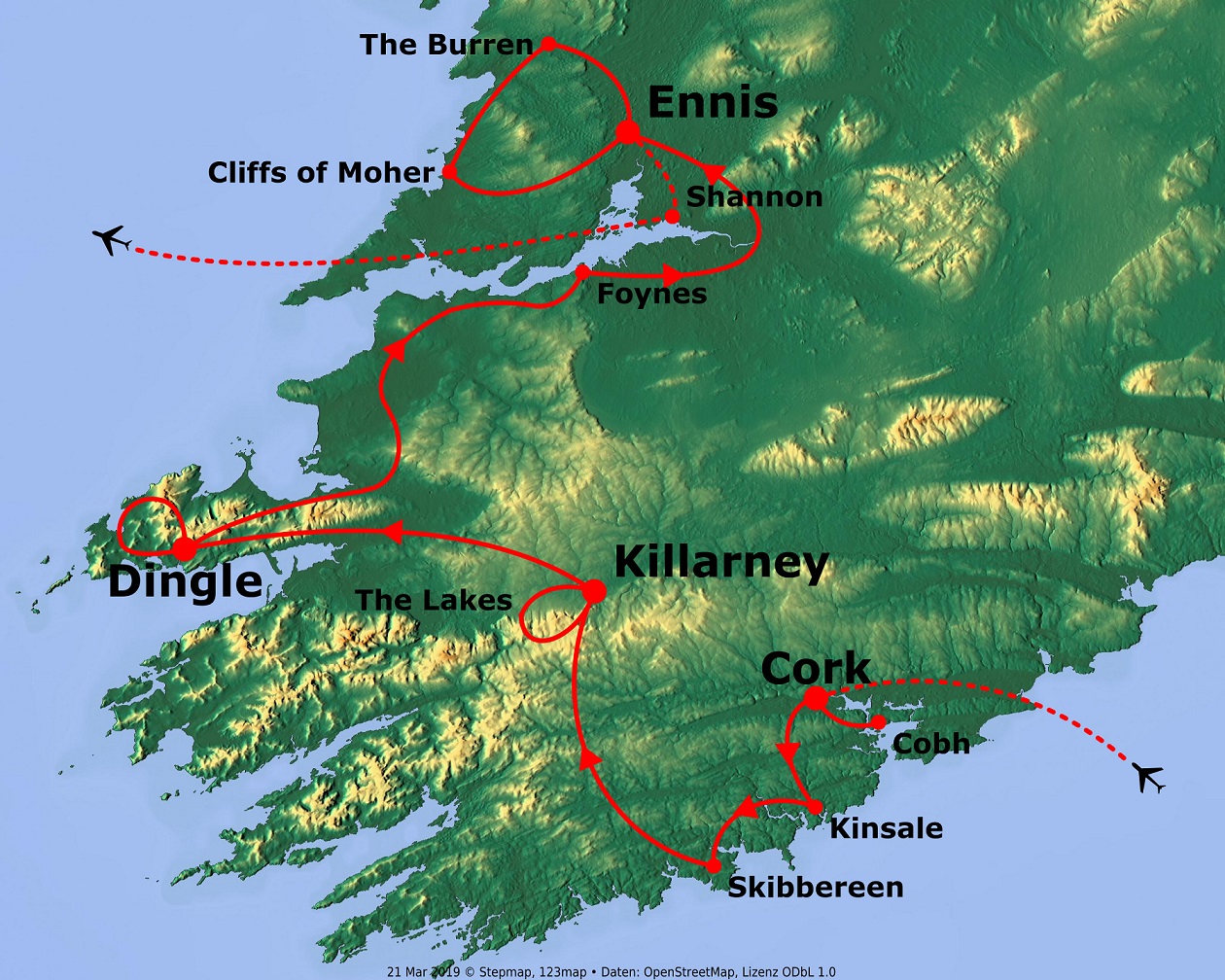 Ireland is a magical place best appreciated through the land and the people who live here. On our Easy Exploring in Southwest Ireland adventure we'll take you on the countryside roads and through the winding streets of some of the most beautiful towns on the Emerald Isle. We'll meet the people, live the culture, stroll the spectacular countryside and experience everything about this wonderful land. From Cork and Cobh overlooking the Celtic Sea in the south, to the majestic cliffs of Moher on the pounding North Atlantic in the west, you'll see the most famous sites and the hidden corners of this iconic land. We'll take you to some of the most charming and fascinating areas…towns like Dingle, Ennis, and Killarney. You'll gaze upon windswept coastlines where impossibly green mountains end in surf-pounded rocky cliffs, complete with wheeling seabirds. You'll marvel at the endless countryside lanes bordered by rock walls and occasional flocks of sheep…you'll feel the energy and pulse of the people in the small towns and villages…you'll wander pastel colored villages with pubs aplenty….picture postcard views everywhere you look! And the charm and warmth of the native Irish is legendary. Get off the beaten path with us, and you'll marvel at spectacular sites that most tourists never see!
"Just returned from a wonderful Go Get Lost tour in Ireland escorted by Steve and Joan Fafoglia. Fabulous time, fabulous group-simply fabulous!" -Michael B.
Tour Dates & Pricing
Photo Gallery
Click the thumbnail to view larger image.
Itinerary
Failte go Eirinn
Day 1 - Welcome to Ireland!
Your Go Get Lost Southwest Ireland adventure begins this afternoon with an orientation party hosted by your local guide and tour leader at your beautiful hotel in Cork's city center. You'll get to meet your traveling companions, ask questions, and get your trip off to a great start.
This evening you'll sit down to a wonderful group "get-acquainted dinner". The Irish are hearty eaters, and often you'll find the cuisine of the rugged countryside fused with the sophisticated nature of the urban environment. The menus are varied, dominated by whatever is in season. Pork and lamb from the local farms are always popular, and seafood is a local favorite, with fresh fish from the nearby ocean as well as native salmon appearing regularly. Of course the regional favorite is Irish stew, try to sample it at least once during your stay here.
All of the great food, combined with a little jet lag will ensure that you sleep well tonight!
Day 2 - Cobh, Whiskey and the Titanic
Today you'll visit the pretty coastal village of Cobh, formerly known as Queenstown, renowned as a major emigration point from Ireland to countries all over the world. Cobh was also the last port of call for the ill-fated 'Titanic' before her voyage across the Atlantic. A local guide will take you on a fascinating walking tour of the town to learn how the history of town impacted some many of the immigrants who made their way to North America. Later you'll visit the Queenstown Story which highlights the amazing history of the town. After lunch you'll make your way to bustling town of Midleton for a tour of the Old Midleton Distillery, where you'll have a guided tour of the whiskey process, explore the exhibitions at leisure and (of course) have a tasting.
Day 3 - Kinsale and Kenmare
After a hearty Irish breakfast you'll check out of your hotel, board your private coach and travel westwards along the smaller coastal highway. Our first stop will be the historic seaport of Kinsale, a pretty little seaside village lined with shops and interesting stores, the perfect venue to wander and explore. Continuing westward, we'll wind our way through the Irish countryside leaving County Cork and entering County Kerry, (known as the Kingdom of Kerry to the locals). The quaint town of Kenmare lies along our route, which provides the perfect opportunity to stroll a bit to find a spot to have lunch. Your journey continues by winding amongst the famed Lakes of Killarney National Park, through the picturesque Moll's Gap, and on to admire the stunning Ladies View. Eventually we'll come to our hotel in Killarney. one of Ireland's liveliest villages, and check in, with plenty of time to relax. Tonight at dinner you'll enjoy regional specialties at one of our favorite eateries.
Day 4 - The Gap of Dunloe and the Lakes of Killarney
After a hearty traditional Irish breakfast this morning we'll begin our day with an exciting jaunt through the picturesque Gap of Dunloe. The stark landscape of the narrow Gap Valley soon gives way to a gently descending country road through a verdant valley thick with ferns, woodlands and wildflowers. The skyline is dominated by the craggy green peaks of Ireland's tallest mountains, Magillycuddy's Reeks. Lunchtime will find us relaxing alongside one of the beautiful lakes of Killarney National Park as we enjoy our meal. Fully recharged, we'll board boats for an afternoon water tour of the world famous Lakes of Killarney. As stream gives way to lake, and then back to stream, our boatmen guides will wander back and forth across the water pointing out the rich history and important sites of the area. Eventually we'll arrive at Ross Castle, the crumbling lakeside stronghold that was the last conquest of Cromwell in 1652. Here we'll have transport awaiting us to take us back to Killarney. Famed for its abundance of pubs, shops, and restaurants, you'll have no trouble finding entertainment and food in Killarney's town center. Tonight you have the evening free to explore the local environs to find a place to dine and some live Irish music!
Day 5 - Dingle
Today we meander even farther westwards and make our way into Dingle, a charming, brightly colored little town nestled alongside the sea at the foot of the mountain slopes. Extraordinary views abound in all directions...undulating hills, bleak gray-green mountains, thick forests and sandy seashores. The town itself is also known for wonderful location, its friendly locals, and its overabundance of pubs...57 by last count! There are charming and unique pubs at every turn...pubs embedded in shoe shops, pubs within old-fashioned hardware stores, and even a pub sitting directly on a bridge! And of course most of them feature regional dishes and local Irish music, too. In recent years Dingle has gained a reputation for its culinary endeavors as well, so this afternoon we'll be taken on a food tour of all the local hotspots! As you wander the town later today, keep your eye out for a good restaurant (or pub) for dinner tonight!
Day 6 - Dingle and the Slea Head Drive
After putting away your normal Irish breakfast, Dingle-style (you should be getting quite good at this by now) you'll board your coach and settle in for a wonderfully scenic morning drive out onto the Dingle Peninsula. The rugged mountain landscape will soon give way to coastal views, where rocky cliffs meet pounding surf. The Slea Head drive is a panoramic route around the far western end of the Dingle peninsula...we'll stop often for the stunning views of green fields topping grey cliffs that plunge into the surging ocean waves. The rolling landscape is dotted with pastel farmhouses, crisscrossed by stone fences and dotted with sheep...LOTS of sheep! In fact we'll get the chance to visit a working sheep farm for a glimpse of how they manage their livestock. As you wander the more remote and less-populated parts of the area, you'll get the eerie impression that the views haven't changed for many centuries, and is likely what the Vikings saw when they waded ashore.
We'll stop at one of our favorite little cafes for lunch today, where the home cooking is typical of Ireland's finest. You'll have the afternoon free to shop and explore the town of Dingle. We'll have a wonderful Irish meal arranged for dinner tonight, then of course your guide will ferret out the best Irish music scene to ensure that you're at the right pub at the right time to enjoy the evening!
Day 7 - Foynes and Ennis
Today we have a full schedule as we depart from Dingle and make our way northeast and into County Clare. If time permits we'll stop along the south shore of the Shannon river to explore the ruins of a 16th century tower castle, perched on the edge of the marshy shoreline. Just a stone's throw down the coast we'll find one of the most fascinating museums you'll experience, the Foynes Flying Boat Museum, dedicated to the golden age of transatlantic flight in the 1930's and 40's. Irish Coffee was invented here to warm up the passengers who were waiting for their seaplane to be refueled before starting the long, lonely journey to New York.
By late afternoon we'll arrive at our last night's accommodation, a stylish ivy-clad hotel built in the 18th century right in the center of the winding streets of Ennis. We'll have time to relax before we have a casual stroll through town. You're free for dinner tonight, the hotel is known for its excellent table, and you'll find plenty of options in town as well.
Day 8 - The Burren and the Cliffs of Moher
Today is full of strange, wonderful and majestic landscapes. We'll have an amazing day of exploring in two areas of County Clare, both with surreal landscapes but completely different views. The morning will find us walking amidst the bizarre scenery of the Burren, with its karst limestone surface, broken by pavement-like fissures and caves. Strangely enough, there are a variety of plants and animals who have learned to thrive and coexist in this odd environment. After lunch in a local pub we'll turn our attention to the famous Cliffs of Moher. We'll enjoy an afternoon visit along the spectacular precipices, with views lit by the late afternoon sun illuminating the crags plunging into the wild Irish sea. Take time to explore the Visitors Center exhibition on the history and geology of the region before taking a stroll along the magnificent pathways.
Back at our hotel we'll have time to freshen up before dinner, where we have a fun final evening of Irish food and companionship planned.
Day 9 - Farewell Ireland!
Your Go Get Lost adventure ends after breakfast today. Your tour leader can help you with arrangements for a transfer to nearby Shannon airport, or onward to other destinations in Ireland.
HOTELS
Due to availability at the time of booking, hotels listed may change to similar hotels
Killarney - 4 Star Randles Hotel The Randles Hotel is ideally located, just five minutes' walk from Killarney Town Centre. This unique Kerry Hotel has been welcoming guests since 1906. Famous for its Irish hospitality, guests will enjoy the comfort and elegance of an era long since passed complemented by the most modern of facilities. The staff invites you to unwind in their luxurious, spacious guest rooms, relax in their Drawing Room, Conservatory or Terraced Garden, or spend some downtime in their Leisure Club. For pure indulgence pay a visit to their Zen Day Spa for a luxurious spa break.
OR
Killarney - 4 Star Dromhall Hotel With its enviable location on the Muckross Road & only a 5 minute walk from Killarney town centre, Dromhall Hotel Killarney is a luxury 4* family-owned hotel, full of elegant interiors & traditional styling, consisting of 72 luxurious rooms & along with a range of facilities for guests. There is the elegant Abbey Restaurant and the more casual Kayne's Bar & Brasserie for delectable dining experiences, while guests at Dromhall Hotel also have access to an indoor pool, sauna, and steam room at the Club Santé Leisure Club. The lobby area is illuminated by a large skylight situated above a sweeping staircase, which adds a magical ambiance to the interiors & leaves a lasting first impression on guests. The hotels have continued to evolve and adapt to include all of the expected modern convenience while retaining the genuine Irish Welcome for all our visitors.
Dingle – 3 Star Dingle Benners Hotel With old world charm and elegance the Dingle Benners Hotel is one of the most luxurious Dingle hotels, offering you the best of both worlds - traditional Irish warmth and comfort coupled with the best of modern facilities. Dingle Benners is regarded as one of the best located Kerry hotels, an ideal base for you to tour the magnificent Dingle Peninsula and surrounding areas.
OR
Dingle – 4 Star Dingle Skellig Hotel The Dingle Skellig Hotel is situated on the most westerly peninsula in Europe and is regarded as one of the finest hotels in Kerry. Since this Hotel in Dingle was constructed in 1969 its reputation for comfort, hospitality and service has excelled. From the moment you arrive at the Dingle Skellig Hotel their friendly staff will welcome you and make you feel right at home. They pride themselves in the care and courtesy that they pay their guests, and so throughout your stay, their team will gladly answer any queries you might have to ensure that your visit and time with them is as relaxing and enjoyable as possible.
Ennis - 4 Star Temple Gate Hotel The Temple Gate Hotel welcomes you to a charming, family owned and managed hotel in the heart of Ennis Town, County Clare. Offering the perfect location to explore the Wild Atlantic Way and enjoy all that Clare has to offer. The Hotel rests on the site of a 19th century Convent of Mercy with a fascinating and eventful history. Prior to its conversion to a convent, the original houses, Row House and Lifford House was the property of Charles O'Connell, cousin of Daniel O'Connell.
OR
Ennis - 4 Star Old Ground Hotel A beautifully restored 18th century manor house hotel in Ennis town centre, County Clare. This stylish ivy-clad hotel is opposite the Cathedral of Saints Peter & Paul centrally located on the narrow winding streets of Ennis.
What´s Included
8 Nights, double occupancy accommodations at listed hotels or similar
Meals as specified, 8 breakfasts, 6 lunches, 4 dinners (All group meals include water, and 1 drink: beer, wine or a soft drink)
All activities and sites as listed in itinerary
Visits to lots of unique villages and towns; Cobh, Kenmare, Kinsale, etc.
Transportation once the tour has begun, as per itinerary. The motorcoaches and vans we use are modern and air conditioned.
Sightseeing and entrance fees as specified in itinerary
All gratuities for meals, local guides, coach drivers, etc. (Does NOT include gratuity for primary local tour leader.)
Completely escorted by an expert local Go Get Lost tour leader
A lifetime of unforgettable memories
What´s not Included
Airfare package
Airport arrival and departure transfers. Tour begins at the hotel in Cork on the afternoon of Day 1, and the tour ends at the hotel in Ennis on the morning of day 9.
Visa fees, if applicable
Meals not specified in itinerary
Beverages at meals unless specified in itinerary (All group meals include water, and 1 drink: beer, wine or a soft drink)
Gratuity for primary local tour leader
Trip Cancellation/Interruption and Medical Insurance (strongly recommended), call for details
Single supplement charge
Items of a personal nature; phone calls, laundry, etc.