Overview
Discover the real Ireland! Get off-the-beaten path with Go Get Lost®. Take a walk along the windswept coastlines. Dodge sheep as you make your way across the lush green fields. Walk the cobblestone streets of some of the most beautiful towns on the Emerald Isle. Find a local pub, pull up a seat, and order a pint of Guinness. Laugh with strangers. Savor an Irish stew. Listen to some live Irish traditional music. This is how Ireland is meant to be explored.
"Just returned from Ireland, my third trip with Go Get Lost. This experience is so unlike most tours. Steve, Joan and Jeff have a passion for travel and for the places they want you to experience. It's like traveling with a local who really does know all the best places to walk, shop, eat and be amazed by. There are less pricey tours out there, but you get what you pay for. GGL is well worth every penny. I recommend you grab a group of friends and get going! Thank you for the best birthday ever. Looking forward to another trip with you!" -Cynda W.
Go Get Lost Reviews
Based on 105 Reviews
Excellent89%
Very good10%
Average1%
Poor0%
Terrible0%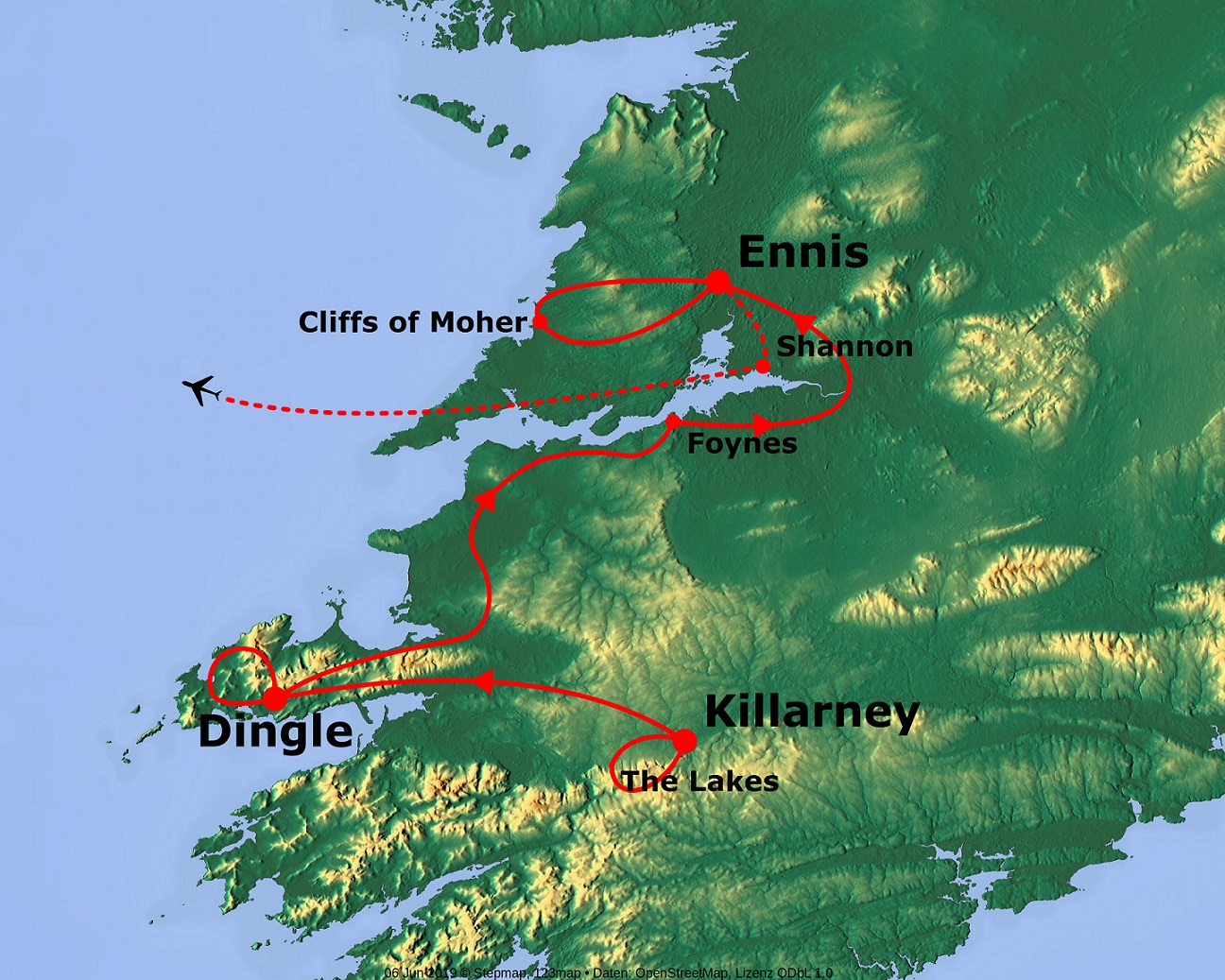 Ireland is a magical place meant to be explored by total immersion, not from the window of a bus. On our Lost in Ireland adventure we'll take you on the countryside paths and through the cobblestone streets of some of the most beautiful towns on the Emerald Isle. We'll meet the people, live the culture, walk the spectacular countryside and experience everything about this wonderful land.
We'll take you to some of the most charming and fascinating areas of Ireland…towns like Dingle, Ennis, and Killarney. You'll walk along windswept coastlines where impossibly green mountains end in surf-pounded rocky cliffs, complete with wheeling seabirds. You'll stroll along countryside lanes bordered by rock walls and occasional flocks of sheep…and you'll wander pastel colored villages with pubs aplenty….picture postcard views everywhere you look! And the charm and warmth of the native Irish is legendary. Our adventure spans the wondrous southwest of Ireland, encompassing counties Clare and Kerry. Here the Irish heritage is at its peak, with Irish (not English) being the primary language. Get off the beaten path with us, and you'll marvel at spectacular views that most tourists never see!
"Just returned from a wonderful Go Get Lost tour in Ireland escorted by Steve and Joan Fafoglia. Fabulous time, fabulous group-simply fabulous!" -Michael B.
Tour Dates & Pricing
Photo Gallery
Click the thumbnail to view larger image.
Itinerary
To Understand the Hike Ratings CLICK HERE
Day 1 - Welcome to Ireland!
Most US flights arrive in Ireland very early in the morning. You can arrange a private transfer, but there are also bus/taxi connections from Shannon (and train connections from Dublin) to your tour starting point, a beautiful 4 star hotel, situated in the town center of historic Killarney.
This evening we'll have an orientation party and then sit down to a wonderful group "get-acquainted dinner". The Irish are hearty eaters, and here in the southwest you'll find that the rugged countryside reflects the nature of the cuisine! The menus are varied, dominated by whatever is in season. Pork and lamb from the local farms are always popular, and seafood is a local favorite, with fresh fish from the nearby ocean as well as native salmon appearing regularly. Of course the regional favorite is Irish stew, try to sample it at least once during your stay here.
All of the great food, combined with a little jet lag will ensure that you sleep well tonight!
Day 2 - Gap of Dunloe, Killarney and the Lakes
After a hearty traditional Irish breakfast this morning we'll begin our day with an easy morning hike through the picturesque Gap of Dunloe. The path climbs gently to a picturesque saddle, then a descending trail meanders through a verdant valley thick with ferns, woodlands and wildflowers. The skyline is dominated by the craggy green peaks of Ireland's tallest mountains, Magillycuddy's Reeks. Lunchtime will find us relaxing alongside one of the beautiful lakes of Killarney National Park as we enjoy our meal. Fully recharged, we'll board boats for an afternoon water tour of the world famous Lakes of Killarney. As stream gives way to lake, and then back to stream, our boatmen guides will wander back and forth across the water pointing out the rich history and important sites of the area. Eventually we'll arrive at Ross Castle, the crumbling lakeside stronghold that was the last conquest of Cromwell in 1652. Here we'll have transport awaiting us to take us back to Killarney, just minutes away.
Tonight you are free to explore the town and find your own special place for dinner. Famed for its abundance of pubs, shops, and restaurants, Killarney is the perfect spot to wander, shop, and of course, dine. After dinner be sure to end up at one of the pubs with live Irish music!
Today's hike is rated as EASY. It's about 6 miles, almost all of it on an old country road. The elevation gain is 450 feet, on a fairly gentle grade. There is an easier option (if available, must be arranged in advance) which will reduce the length to a less than 3 miles, with virtually no elevation gain, (downhill all the way), although you will have to wait on the trail for about 40 minutes for the group to catch up to you. There is an optional hike after the boat ride of perhaps a mile, on a wide, flat path through a mature forest.
Non-hiking options: If you decide to opt out of today's hike your best option is to spend the day exploring the town of Killarney and its sites. The downtown area is chock-full of shops and pubs, plenty for a day of shopping and exploring. Just a few minutes away by taxi you can visit Muckross House for a guided visit of the historic mansion and gardens. You can also get a ride to nearby Ross Castle, perched on the edge of one of the famed lakes and just outside of Killarney. The group will actually end up here and you can ride back to Killarney with them if you time it correctly. You can also rent an ebike and do a self-guided tour from the hotel to the National Park.
Day 3 - Annascaul and Dingle
The morning light will greet us as we make our westwards towards the picturesque Dingle Peninsula. Rounding Castlemaine Harbour, we'll pass the fabled Inch Strand and find ourselves in the small town of Annascaul. This area holds several of our favorite hikes, we'll choose one based on the conditions and our group. Whichever it is rest assured you'll be treated to excellent Irish scenery amidst the hills and glens of the surrounding countryside.
After our hike we'll meander even farther south-westwards and make our way into Dingle, a charming, brightly colored little town nestled alongside the sea at the foot of the mountain slopes. Extraordinary views abound in all directions...undulating hills, bleak gray-green mountains, thick forests and sandy seashores. The town itself is also known for wonderful location, its friendly locals, and its overabundance of pubs...57 by last count! There are charming and unique pubs at every turn...pubs embedded in shoe shops, pubs within old-fashioned hardware stores, and even a pub sitting directly on a bridge! And of course most of them feature regional dishes and local Irish music, too. In recent years Dingle has gained a reputation for its culinary endeavors as well, so this afternoon we'll be taken on a food tour of all the local hotspots! As you wander the town later today, keep your eye out for a good restaurant (or pub) for dinner tonight!
Today's walk is rated EASY to MODERATE.
Non-hiking options: If you decide to opt out of todays hike, your best (and only) option is to relax a bit in the very tiny town of Annascaul, then curl up with a good book in one of the local pubs to wait for the hikers to return.
Day 4 - Dingle and the Lac Adoon Hike
After putting away our hearty Irish breakfast, (you should be getting quite good at this by now) we'll board our coach and settle in for a wonderfully scenic morning drive across the base of the Iveragh Peninsula. . The rugged mountain landscape will soon give way to coastal views, where rocky cliffs meet pounding surf. Finally our road will cut up away from the coast through the Slieve Mish Mountains and onto the northern shore of the Dingle Peninsula. Here we'll begin todays hike, an easy stroll up through the Loch an Duin valley, with the intense emerald green of the landscape contrasting with the gray windswept rocky cliffs. Rounding a bend in the trail you'll suddenly be rewarded with views of one of the most beautiful and secluded Irish mountain lakes you'll have the pleasure to see! At Lake Adoon the sheep and salmon are probably our only companions as we walk around this mountain gem to the myriad waterfalls on the far side. A perfect spot to enjoy our trail lunch and relax in the sun!
Dingle has a wealth of good restaurants, and tonight we'll take you out to one of our favorite local places for some excellent regional specialties.
Today's hike is rated EASY. It's about 3 miles total distance, with only 60 feet of elevation gain. The trail surface is somewhat rough and uneven...expect wet bog, tall grass, and rocky stretches.
Non-hiking options: If you decide to opt out of today's hikes, your best option might be to accompany the group but not do the two (or three) short hikes, and instead remain with the coach (or at a beach pub) while the group hikes. A lot of the day is spent visiting many of the interesting sites on the Dingle Peninsula, and as it's not ALL about hiking, you'll probably still have an excellent day. You can also opt to stay in Dingle, and there are many, many things to do there....the town and all its shops will take a couple of days to fully explore. In addition to wandering the streets on your own you can take a boat tour of the area, check out the aquarium, or see how many of Dingle's pubs you can visit!
Day 5 - The Slea Head Drive and Imeall an Domhain - The Edge of the World Hike
This morning's drive will combine the best of Irish coastal scenery with a wonderful hike and even some cultural stops. The Slea Head drive is a panoramic route around the far western end of the Dingle peninsula...we'll stop often for the stunning views of green fields topping grey cliffs that plunge into the surging ocean waves. The rolling landscape is dotted with pastel farmhouses, crisscrossed by stone fences and dotted with sheep...LOTS of sheep! You'll get the eerie impression that the views haven't changed for many centuries, and is likely what the Vikings saw when they waded ashore.
Along our route today we'll have a chance to visit the workshop of one of Irelands most talented pottery makers and native son of this area, Louis Mulcahy. Although Louis chooses to live in one of the more remote spots on the planet, his work is much sought after, having done pieces for almost all the Irish presidents, British prime ministers, several US Presidents, and even the pope! This entire area is rich with historical ruins and ancient archaeological wonders, so as time permits we'll stop at some of the most fascinating and interesting sites to explore and learn how early peoples lived in this harsh landscape.
All of this sightseeing will work up an appetite, so we'll stop for lunch near the town of Ballydavid, where we can enjoy some of the local specialties as we relax. Ballydavid is famous as the spot where St. Brendan the Navigator departed to sail west to America in a small hide-covered boat...in the year 530! After lunch we'll go a bit further down the coast and begin a truly extraordinary walk, The Edge Of The World walk. So named because of the ancient belief that this part of the coast was the edge of the known world. Our walk will follow the rugged coastline and provide constant views both of the windswept sea and the inland mountains. For thousands of years these trails were walked by all of the people who needed to traverse this coastline...you'll tread in the footsteps of monks, farmers, Vikings, villagers, and soldiers of all kinds.
By midafternoon we'll meet our coach and begin the short drive back to Dingle town, where we'll meet the family of another of the area's premier artisans, Sean Daley. Sean was once a master engraver for the Waterford Crystal company before taking his skills to this lovely coastal area to craft exquisite pieces of custom crystal in his own workshop. We'll watch Sean and his sons at work as they demonstrate how world-class crystal pieces are produced.
Tonight we will once again experience the wonderful food scene in Dingle as we take you to yet another of it's wonderful restaurants. Afterwards your guide will ferret out the best Irish music scene to ensure that you're at the right pub at the right time to enjoy the evening!
Today you may do one or two shorter hikes, plus some rambling around at various sites. All together the day is still rated EASY. You'll probably walk around 3 miles, mostly flat terrain with minimal elevation gain. The trail surfaces will probably be simple dirt pathways that meander along the grassy turf at the top of the ocean bluffs.
Non-hiking options: If you decide to opt out of todays hike, your best option is to stay in Dingle and continue to explore its many wonders.
Day 6 - County Clare, Castles, and Irish Coffee
You'll have some time free in Dingle this morning, but after leaving we have a full schedule as we make our way northeast and into County Clare. Time permitting we'll have a short stop in Tralee, then on to our lunch spot. Next we'll journey a short distance to the south shore of the Shannon river to explore the ruins of a 16th century tower castle, perched on the edge of the marshy shoreline. Just a short distance down the coast we'll find one of the most fascinating museums you'll experience, the Foynes Flying Boat Museum, dedicated to the golden age of transatlantic flight in the 1930's and 40's. Irish Coffee was invented here to warm up the passengers who were waiting for their seaplane to be refueled before starting the long, lonely journey to New York.
By late afternoon we'll arrive at our last night's accommodation, a stylish ivy-clad hotel built in the 18th century right in the center of the winding streets of Ennis. Tonight you'll be free to explore Ennis to find the perfect pub and music combination to celebrate your remarkable day in County Clare.
Day 7 - The Burren and the Cliffs of Moher
Today will be an amazing morning of hiking in County Clare, with surreal landscapes and amazing views. Much of this area is comprised of a unique rocky landscape known as The Burren. Over two hundred square miles of harsh karst geology disguises a strange ecosystem with bizarre panoramas. After a fascinating hike here, we'll break for lunch at a local pub. This afternoon we'll enjoy a walk along the coastal paths of the famous Cliffs of Moher. You'll marvel at the spectacular precipices, with far-reaching views of the massive crags plunging into the wild Irish sea. Afterwards we'll return to Ennis where you'll have the afternoon free to wander and explore. You'll have time to relax and freshen up before dinner, where we have a fun final evening of Irish food and companionship planned.
Our farewell dinner at the end of a trip is always a special event...lots of stories to recount about the adventures we shared, addresses and photos to exchange, and plans for future trips to discuss...and of course lots of excellent food and beverages to help the process along!
Today's hikes through the Burren is rated EASY to MODERATE (depending on the trail chosen) and the Cliffs of Moher trail is rated EASY, however in total it may definitely seem more like a solid MODERATE day due to the combined distances. The Burren hike can be 1-2 hours (depending on the trail chosen), over mostly rocky landscape. The Cliffs trail is a little over an hour, with a trail surface of mostly hard packed dirt. The Burren hike may have a couple hundred feet of elevation gain, and the Cliffs of Moher walk has some small ups and downs, but no significant elevation gain.
Non-hiking options: If you decide to opt out of hiking today, you still have the option to ride with the group on the coach, then curl up with a good book when they hike. This would at least get you out into the countryside to see the views. And at the Cliffs of Moher you could have the coach take you to the visitor center, where you can get a great view of the cliffs. You can also have an enjoyable day cruising around Ennis. It's not large, but has a quaint city center with some shops. In the town you can easily walk to several interesting sites, including the Clare Museum, the Ennis Friary, and the magnificent Ennis Cathedral. If you're a golfer you can try out the Ennis Golf Club or the Woodstock Country club, both of which are open to visitors. If a horseback ride in the Irish countryside sounds nice, there are no less than three equestrian centers nearby that will provide an amazing experience.
Day 8 - Farewell Ireland!
Your Go Get Lost tour ends after breakfast today. Your guide can assist you with arranging a taxi to nearby Shannon airport.
HOTELS
Due to availability at the time of booking, hotels listed may change to similar hotels
Killarney - 4 Star Arbutus Hotel The Arbutus is one of Killarney's true original hotels. Located in the town centre it is a historic, family run hotel -The Arbutus is best described as a Country House Manor in the heart of Killarney . Whilst small, it has the luxurious accommodation and service expected from a larger hotel, with the advantage of all the personal attention and discretion that a smaller property can offer. Location, service, knowledge and comfort. It is often described by guests as a home away from home.
OR
Killarney - 4 Star Randles HotelThe Randles Hotel Killarney offers 4 Star accommodation in Killarney and is ideally located, just five minutes' walk from Killarney Town Centre. This unique Kerry Hotel has been welcoming guests since 1906. Famous for its Irish hospitality, guests will enjoy the comfort and elegance of an era long since passed complemented by the most modern of facilities. We invite you to unwind in our luxurious, spacious guest rooms, enjoy fine dining in a choice of Killarney restaurants, relax in their Drawing Room, Conservatory or Terraced Garden, or spend some downtime in their Leisure Club. For pure indulgence pay a visit to their Zen Day Spa for a luxurious spa break in Killarney. With walking trails and hiking routes available from our doorstep, Randles Hotel is the perfect place to escape.
OR
Killarney - 4 Star Dromhall Hotel With its enviable location on the Muckross Road & only a five minute walk from Killarney town center, Dromhall Hotel Killarney is a luxury 4* family-owned hotel, full of elegant interiors & traditional styling, consisting of 83 luxurious rooms & along with a range of facilities for guests. There is the elegant Chapter 64 Restaurant and the more casual Kayne's Bar & Brasserie for delectable dining experiences, while guests at Dromhall Hotel also have access to an indoor pool, sauna, and steam room at the Club Santé Leisure Club. The lobby area is illuminated by a large skylight situated above a sweeping staircase, which adds a magical ambiance to the interiors & leaves a lasting first impression on guests. The hotel has continued to evolve and adapt to include all of the expected modern convenience while retaining the genuine Irish welcome for all their visitors.
Dingle – 3 Star Dingle Benners Hotel With old world charm and elegance the Dingle Benners Hotel is one of the most luxurious Dingle hotels, offering you the best of both worlds - traditional Irish warmth and comfort coupled with the best of modern facilities. Dingle Benners is regarded as one of the best located Kerry hotels, an ideal base for you to tour the magnificent Dingle Peninsula and surrounding areas.
OR
Dingle – 4 Star Dingle Skellig Hotel The Dingle Skellig Hotel is situated on the most westerly peninsula in Europe and is regarded as one of the finest hotels in Kerry. Since this Hotel in Dingle was constructed in 1969 its reputation for comfort, hospitality and service has excelled. From the moment you arrive at the Dingle Skellig Hotel their friendly staff will welcome you and make you feel right at home. They pride themselves in the care and courtesy that they pay their guests, and so throughout your stay, their team will gladly answer any queries you might have to ensure that your visit and time with them is as relaxing and enjoyable as possible.
Ennis - 4 Star Old Ground Hotel A beautifully restored 18th century manor house hotel in Ennis town centre, County Clare. This stylish ivy-clad hotel is opposite the Cathedral of Saints Peter & Paul centrally located on the narrow winding streets of Ennis.
OR
Ennis - 4 Star Temple Gate Hotel The Temple Gate Hotel welcomes you to a charming, family owned and managed hotel in the heart of Ennis Town, County Clare. Offering the perfect location to explore the Wild Atlantic Way and enjoy all that Clare has to offer. The Hotel rests on the site of a 19th century Convent of Mercy with a fascinating and eventful history. Prior to its conversion to a convent, the original houses, Row House and Lifford House was the property of Charles O'Connell, cousin of Daniel O'Connell.
"The trip was even more than I imagined! The small group made it possible to go places other groups could not. The walks were delightful, the scenery breathtaking. Joan and Steve were great hosts, sharing their love of Ireland and giving us the best places to eat, pub, and shop. We never once went to a place that had giant tour buses and hundreds of tourists. Go. Get. Lost." -Mary Kay
What´s Included
7 Nights, Double Occupancy Accommodations at Listed Hotels or similar
Meals as Specified, 7 Breakfasts, 5 Lunches, 4 Dinners. All group meals include water and your first drink (beer, wine or soft drink)
Gap of Dunloe Hike
Annascaul Hike
Lac Adoon Hike
Slea Head Drive and Edge of the World Hike
The Burren Hike
Cliffs of Moher Hike
Boat Trip Through Killarney National Park
Visits to Lots of Unique Villages and Towns
Transportation once the tour has begun. The motorcoaches and vans we use are modern and air conditioned.
All ferry, coach and taxi transfers as specified in itinerary.
Sightseeing and entrance fees as specified in itinerary
Local professional Irish Tour Leader
All gratuities for meals, local guides, coach drivers, etc. (Does NOT include gratuity for primary local tour leader.)
A lifetime of unforgettable memories
What´s not Included
Airfare package
Arrival and departure transfers. Tour begins at the Killarney hotel on the afternoon of Day 1, and the tour ends in Ennis at the hotel after breakfast on the morning of day 8.
Visa fees, if applicable
Meals not specified in itinerary
Additional beverages at meals beyond what is specified, all group meals include water and your first drink (beer, wine or soft drink)
Gratuity for your primary local tour leader
Trip Cancellation/Interruption and Medical Insurance (strongly recommended), call for details)
Single supplement charge
Items of a personal nature; phone calls, laundry, etc.