Overview
Discover the real Italy! Get off-the-beaten path with Go Get Lost®. Walk through the vineyards of Tuscany and along the rocky cliffs of the Amalfi Coast. Taste the wine and experience the incredible food. Explore historic towns. Have a picnic on the walls of an medieval castle. Visit with a local wine shop owner. Wander off and enjoy a slice of pizza. Laugh with strangers while enjoying an Italian wine. Savor a traditional Italian pasta. This is how Italy is meant to be explored.
Go Get Lost Reviews
Based on 105 Reviews
Excellent89%
Very good10%
Average1%
Poor0%
Terrible0%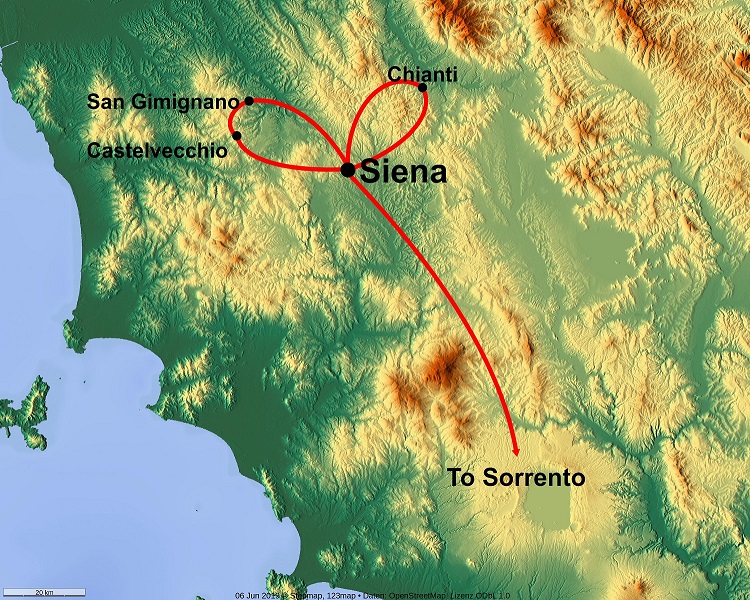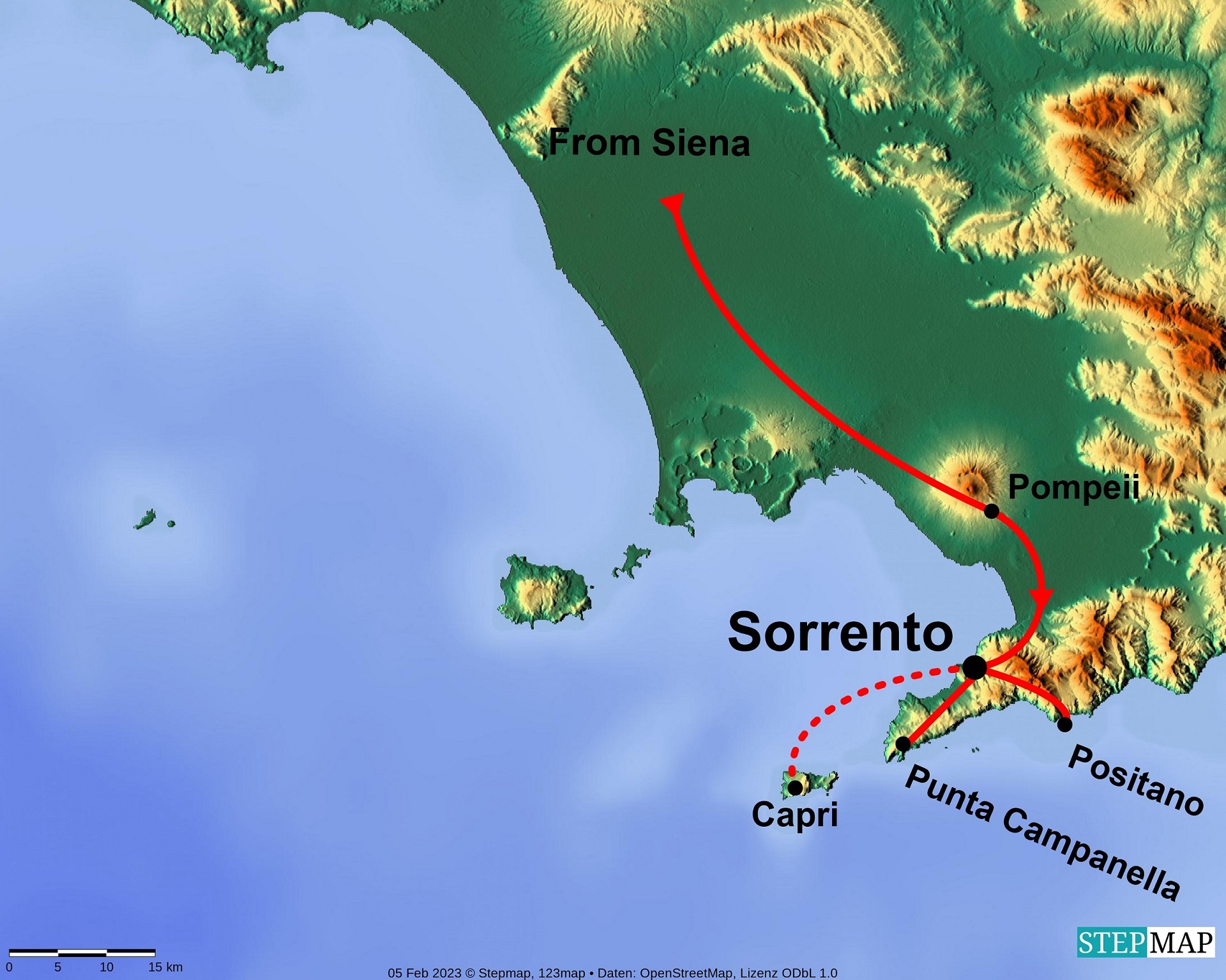 Explore the two vastly different regions of what many travelers consider to be the best Italy has to offer in scenery, culture, food and wine. On nearly every day you'll have options for easy walks or more challenging adventures.
Classic Tuscany…birthplace of the Renaissance, home to some of the world's best cuisine, wine, and picture-postcard landscapes. Our walks through the Tuscan countryside offer marvelous views of ancient castles, vineyard covered hillsides, and tiny walled towns that date to Roman times. You'll enjoy a walk through the vineyards of the Chianti region, and a picnic lunch with dreamy views of the surrounding countryside. And a fascinating hike to the ruins of a haunted town that from the Dark Ages will whet your appetite for a Tuscan farm lunch.
After Tuscany we walk into a completely different world as we journey to the Amalfi Coast, one of the most beautiful coastlines on the planet. You'll explore tiny pastel villages perched precariously on impossibly steep hillsides that plunge into the blue water of the Mediterranean. You'll walk on trails that wind over the cliffs and offer views that are as unbelievable as they are breathtaking. We'll wander the amazing city of Pompeii, preserved by a volcanic eruption and covered in ash for almost 2000 years. And we'll hike beautiful valleys cut into the coastal mountains that provide excellent access to explore towns and villages not seen by the bus tourists. The highlights of this area are two incredible trails…"Pathway of the Gods", named for its godlike views of the coastline, and "Punta Campanella", which combines several dramatic and varied landscapes into one hike, with stunning views of Capri. Once you've walked the Amalfi Coast you'll understand why this area is one of our most popular places to visit…and re-visit!
True to our "get lost" philosophy, we'll ease into the pulse of the Italian experience and find the real Italy…we'll walk the walks, feast on the food, meet the people, and live the life.
Tour Dates & Pricing
Photo Gallery
Click the thumbnail to view larger image.
Itinerary
To Understand the Hike Rating CLICK HERE
Day 1: Magical Siena
You should plan to arrive in the enchanting medieval city of Siena by midday at the latest. Most of our travelers arrive a day early in order to be here in plenty of time to relax and meet the others at the "get-acquainted" party and dinner which starts in the late afternoon. (When you book your tour, we can advise you on transferring from your arrival airport to the hotel in Siena.)
After our orientation party/meeting we'll take a nighttime stroll through Siena's winding streets to one of our favorite local restaurants where you can relax and recharge at our group "get-acquainted dinner". Plate after plate of incredible food will magically appear in front of you, all you have to do is make it disappear! Sienese cuisine reflects the best of classical Tuscan dishes. Robust and flavorful, a wide variety of pastas, meats and cheeses are present in a staggering variety of dishes. Along with the food, the wines of Tuscany need no introduction, their reputation as some of the world's finest vintages are well deserved. Experiment and enjoy!
To top off your first night in Italy we'll join the locals for the traditional after-dinner passagiatta (stroll) and perhaps visit our favorite gelato bar! All of the great food and wine combined with a little jet lag will ensure that you sleep well tonight!
Day 2: Castello di Brolio, Siena and the Palio
This morning we wander into the nearby Chianti countryside near the imposing fortress of Brolio. The massive, turreted Castello di Brolio sits in the delicate Chianti landscape, surrounded by forests and vineyards, with a glorious and highly photogenic aura of permanence. Much history has been witnessed by it's formidable walls, from wars to political upheaval, and in fact it was here that the formula for the modern Chianti wine was born.
Our path today will meander down cypress shaded lanes, alongside grape arbors,and past picturesque farmhouses and hamlets. The Chianti countryside surrounding here is nothing short of stunning. Picture postcard views abound, and your biggest concern will be which pictures to save! At a memorable spot we'll stop for a trailside picnic featuring local cheeses, fresh bread from Siena's bakeries, salami from the farm, and lots of other assorted Tuscan delicacies. A wine tasting featuring the excellent vintages of the Brolio Estate will make this an unforgettable afternoon! A relaxing ride through the gorgeous countryside back to Siena will give us a chance to prepare for our walk in Siena later today.
With an endless supply of winding cobblestone streets and squares, soaring medieval towers, and one of the loveliest squares in all of Italy, Siena is arguably the most beautiful city in all of Tuscany. This afternoon a local guide will lead us on a fascinating walk through some of the 17 contrade (neighborhoods) of Siena while explaining the history and magic of this ancient city's most important landmarks. We will learn the history of the spectacular Palio horserace, held every summer since 1310. "The Days of the Palio" is the religious/cultural/political event that truly defines Sienese life. Understanding the Palio is key to understanding Siena. Our morning in Siena will end in the Piazza del Campo, one of Italy's most famous (and photographed) squares.
The rest of the evening is free to discover yet another of Siena's wonderful restaurants for dinner. Your tour guides will be able to direct you to one of their favorite out-of-the-way dining establishments, or you might prefer to explore on your own and make your own culinary discovery! After dinner, the traditional evening passagiatta along the lively Banchi di Sopra with gelato in hand ends another exciting day in Italia.
Today's Brolio walk is rated EASY to MODERATE, only 3 miles and with 633' of elevation gain, on mostly paved rural roads, with some farm fields crossed. The Siena town walk is rated EASY. It's about 2 hours on paved cobblestones, but with quite a few hills and stairs.
Non-hiking options: If you decide to opt out of todays hike, you have the option of remaining with the coach during the walk. This will allow you to participate in the picnic and see Castello di Brolio. If you prefer to remain in Siena, you'll find an endless variety of things to do and places to go. You couldn't see all of Siena in a week, so you won't be bored. There's the stunning Siena Cathedral visit, and the Palazzo Pubblico with its stunning frescoes. You can climb the tower of the Mangia for an incredible birds-eye view of the city. There's also the Siena National Gallery and the Santuario of Santa Caterina to explore. And if that wasn't enough, Siena has miles of winding cobblestone street, hundreds of unique shops, and more restaurants and bars than you could visit in a month.
Day 3: Castelvecchio and San Gimignano
Today we go North from Siena to explore the hidden ruins of Castelvecchio and the quirky city of San Gimignano. Our path takes us through field and wood to the mysterious and overgrown remains of an 11th century ruined castle hidden in the forested hills. Formerly an outpost for the city of San Gimignano to guard against raiding neighbors, it was abandoned during the dark ages as the black plague swept Europe and its population was decimated. In fact, Castelvecchio was blamed for starting the plague, and was shunned by the local population for centuries as a haunted city. These medieval ruins are definitely "off the beaten path!"
After working up an appetite on our hike, we'll stop in to one of our favorite farms in the area where the family will have a sumptuous Tuscan feast prepared for us! The farm covers ample acres of olive groves, vineyards, fields and forest. The farm's vineyards produce delicate white Vernaccia wine, a local specialty, along with a robust Chianti. They also produces one of our favorite Tuscan olive oils, which along with the other farm products will figure prominently in our meal. The rule at their kitchen is you eat as much as you want, and then a little more!
Later this afternoon we'll travel through the splendid Tuscan countryside to visit the wonderfully bizarre town of San Gimignano. The high walls and narrow streets of this imposing fortress are typical of Tuscan hill towns, but the 14 medieval towers that dominate San Gimignano's skyline set it apart from all the rest. Here we will have the rest of the afternoon to "get lost" in the maze of streets, shops, and cafes. For the not-so-faint-of-heart, a tour of the fascinating (and gruesome) Museum of Medieval Justice will provide an interesting yet terrifying glimpse of the past.
With the active schedule we've maintained for the past week, (and since this is our last evening in wonderful Siena), tonight is the perfect time to slow down, explore the town, and soak up the magical ambiance. Depending on how long we stay in San Gimignano, you should find plenty of shops open until the early evening hours, too. Whether its jewelry, wine, Italian fashions, or local souvenirs, your guides can direct you to their favorite shops.
We have the evening free to discover some of Siena's wonderful restaurants for dinner. Late-night people-watching over a cappuccino in Siena's romantic Piazza del Campo caps another perfect day in Italia.
Today's walk is rated MODERATE, approximately 2.5 miles of rocky wooded paths (sometimes steep) and country roads. 150' of elevation descent and gain, twice.
Non-hiking options: If you decide to opt out of todays hike, you have the option of remaining with the coach (bring a book) while the group is hiking. Then after the hike you can re-join the group for the farm lunch and visit to San Gimignano. Or if you prefer to stay in Siena, there are plenty of things to do there as well.
Day 4 - Pompeii, Sorrento
After an early breakfast this morning, we board our private motorcoach and head south toward the coast. The scenery changes throughout the morning as we leave Tuscany behind us. We'll wind our way through the rolling hills of Umbria and then into the Lazio region, heart of the ancient Roman Empire. This is a great chance to relax and enjoy the scenery after the previous week's adventures. Lazio soon gives way to the sunny south of Italy as we enter the Campania region.
After a brief stop for lunch, we arrive this afternoon at the fascinating archaeological site of Pompeii, situated on the lower slopes of the still active volcano Vesuvius. On August 23, 79 AD, the eruption of Vesuvius buried the city of 20,000 inhabitants and entombed their culture for nearly 2000 years. Here, like nowhere else in the world, it's possible to see how the people of ancient times lived their daily lives. We will have our own private guide while exploring Pompeii, and if time permits we can wander the huge town on our own as we try to imagine what life was like 20 centuries ago.
From Pompeii it's just a short but breathtaking drive to the beautiful seaside town of Sorrento, situated on the cliffs overlooking the Bay of Naples. Across the bay the lights of Naples illuminate the horizon while the enormous looming bulk of Vesuvius dominates the skyline.
This evening you're in for a special treat as a local culinary guide will take you on a progressive food tour through the tiny streets of Sorrento to taste some of the amazing food and wine this area is known for. This is a great way to introduce the unique cuisine of Southern Italy. Be prepared for a totally different taste experience from Tuscany, as southern Italy has always been considered a separate country, both politically and gastronomically. Sorrentine cuisine is famous for fresh Mediterranean seafood prepared as only the Italians can. Seafood, buffalo mozzarella, red peppers, olives and lemons all figure prominently in regional dishes which are best washed down with the silky white Falanghina wine. The rich volcanic soil of the region produces fruits and vegetables of incomparable flavor. The best hazelnuts, almonds, and walnuts are grown here and find their way into many local pasta dishes and desserts. The extravagant pastries, gelatos, and ices of Sicily are also much in evidence. The crowning achievement of local culinary talent, however, is pizza, which was perfected here, along with the use of the tomato that was refined to an art by the local chefs. Not to be outdone, the local vintners produce Taurasi, one of the best red wines in Italy, and Lacrima Christi, (Tears of Christ), one of the most famous red and white wines in Campania.
Today's Pompeii walk is rated EASY, 2 hours in length, with sometimes uneven cobblestone surfaces.
Non-hiking options: If you decide to opt out of the Pompeii walking tour, you don't have a lot of options. The coach will not be available, so your best bet will be to find a nice cafe just outside the entrance (there are several), relax with a drink and people watch. There will be no shortage of people...or drinks.
Day 5: Pathway of the Gods
Today's journey is along one of the most famous walkways in the world, the "Sentieri dei Degli", or "Pathway of the Gods". Named for its godlike views of the dreamy coastline below and the misty islands far in the distance. Our coach will climb up the zigzag coastal road threading its way through tiny communities clinging to the mountainside, eventually arriving at the village of Bomerano where our walk begins.
Soon we find ourselves faced with breathtaking views in all directions as the easy, mostly level path winds through rugged terrain along the shoulder of the mountains, cutting through olive groves, vineyards, and abandoned stone farmhouses. Often we share our route with goats, donkeys, and the occasional circling hawk. Outdoor publications often list the "Pathway of the Gods" as one of the "10 Most Spectacular Walks in The World". You'll understand why as you gaze in awe at the combination of rugged mountains, tiny hillside farms, sun-drenched cliffs, endless blue Mediterranean, and our tiny flower-lined path picking its way through all of this splendid scenery. By midday our stroll will find us winding through the incredibly tiny streets of a tiny hillside hamlet. Here we'll relax and enjoy a typical Italian pasta and vino lunch at "the" local café overlooking the Med nearly a thousand feet below us! After ample time to recharge, we soon find ourselves back out in the countryside and enjoying more stunning views as we slowly descend into the beautiful but bizarre town of Positano, literally built on the side of the mountain!
Positano is said to be the only town in the world organized on a vertical rather than horizontal plan! Pastel houses, hundreds of balconies and flower bedecked patios, and the golden dome of the town church make Positano a memorable sight. We'll have some time to wander the through the lanes, (and stairs), and shops of Positano as we wind our way down to the beach. A barefoot stroll in the surf with the multi-hued town of Positano towering over you is something you won't soon forget.
Our coach will return us to Sorrento later in the day, and this evening is free to explore the town to discover a new ristorante. Later the bustling and vibrant nightlife of Sorrento's streets and squares invites you to find a cozy wineshop and laugh about the day's adventures with your friends over a bottle of the local vino. Finish your day with a late night gelato and a romantic stroll through the squares and cobblestone streets of town.
Today's walk is rated CHALLENGING, and there is no option for an easier walk. Total distance is 5 miles with 954' of elevation change, mostly descent. The trail is a very rugged coastal path, mostly rocky with a few flat woodland stretches. Some parts require easy scrambling over boulders, and some sections have steep drops off to the side. Most of the path is open and exposed, with expansive views of the coast and ocean.
Non-hiking options: If you decide to opt out of todays hike, there really aren't any options to stay with the group at all. But the good news is that Sorrento is an amazing town, with enough to keep you occupied for a week. Look at the description for Day 6 to get some ideas.
Day 6: Go Get Lost Day
Today it's all about freedom, exploration, and getting lost on your own! Your guides will offer some popular options for the day's activities and you can choose to do as little or as much as you want. This would be a perfect opportunity to explore the town of Sorrento, which has several interesting historical sites, dozens of fascinating nooks and streets, and literally hundreds of shops and boutiques to "get lost" in! This is a great place to shop for gifts for the folks back home. You'll find no shortage of jewelry stores, designer fashion boutiques, and shops featuring local produce and wines in Sorrento's shopping district! A stroll through the neighborhoods, gardens, and streets of this lovely coastal town will be just the thing to experience real Italian life. Tucked into a small cove under the shadow of Sorrento, the fishing village of Marina Grande is a time capsule worth exploring. Colorful fishing boats parked in the narrow streets, nets drying in the sun, and Italian grandmothers selling handmade lace provide a glimpse of a typical working fishing village.
If you're in a nautical mood today, you can take a ferry to the nearby Isle of Capri. This delightful island has been the playground of the rich and famous ever since Emperor Tiberius built his villa here two thousand years ago. While on Capri there are a couple of easy self-guided walks, like the well-marked path alongside the towering Arco Naturale, a huge stone arch that plummets into the sea, with a great vantage point for photos of the Faragliones, striking stone cliffs rising from the water just offshore. The path here winds along the coastline, sometimes hundreds of feet above the pounding surf. Although the scenery along the coast in Capri can be picture-postcard perfect, some of you may feel that the best part is the shopping district in the towns of Anacapri and Capri. Along stretches of shaded cobblestone roads are boutiques from every major fashion house, clothing designer, and jewelry store in the world. Fendi, Gucci, Ferragamo, Armani, Versace, Prada, Cerruti, Magli, etc. Truly a shopper's paradise!
Another option for your day's exploration might be to take the local Circumvesuviana train and re-visit Pompeii. One could easily spend an entire day tramping through the streets and squares of this enormous archaeological ruin and still not see it all! On your own you can explore at your own pace, take the time to photograph the mysterious buildings and streets, and spend as much time as you want contemplating the timeless tragedy that is Pompeii. After Pompeii a visit to the lesser known ruins at nearby Herculaneum would be a history-lover's dream!
Whatever adventure you choose today, when it's all over you'll want to return to the hotel and get ready for a fun evening at the kitchen of Chef Carmen. Here we'll roll up our sleeves and let her teach us how to create and cook a traditional Italian menu. Of course afterwards we'll get to enjoy the fruits of our labors, along with some excellent local wines!
Day 7 - Punta Campanella Walk
After breakfast this morning you'll have a short, scenic transfer to the town of Termini where you'll begin your walk. Punta Campanella is a land steeped in history and legends, according to Odysseus it was here that Ulysses met the Sirens, and in fact, the Greeks built a temple in honor of Athens on the site, a structure which the Romans later converted into a Sanctuary devoted to Minerva.
In the 14th century, a watchtower was built on the promontory, to guard against Saracen attack from the sea. On the top of the tower, there was a bell which was rung in case of danger and to communicate with the other towers positioned along the coast. This is where the Ancient Greek and Roman ships loaded with offerings for the Goddess Minerva used to land. As you look up at the rocky ridge, you may be able to spy the Oscan inscription which indicated the mooring point for the Sanctuary.
Nowadays the ancient Greeks and Romans are gone, but the astounding vistas remain. You'll have amazing views of the Bay of Ieranto on one side and the Isle of Capri on the other. All along the shoreline, you'll marvel at the rocky, sun-baked mountains meeting the deep blue of the Mediterranean. Lunch today is off-the-beaten-path at a small place tucked away in the hills, giving you yet another aspect of the wonderful Southern Italian cuisine.
As this is our final evening in magical Sorrento, we have a special farewell dinner planned. Adventures, (and misadventures), from the trip are re-lived and laughed about, everyone and everything is toasted, addresses and e-mails are copied, and heartfelt goodbyes are exchanged with all your new lifelong friends that you "Got Lost" in Italy with.
Today's walk is rated on the high end of MODERATE, The surface alternates well-worn trails to rocky pathways. Sometimes steep and uneven surfaces. Most of the trail is very exposed, so sun protection is a must, therefore a hot, sunny day will make this trail seem more difficult. The total distance is about 5-6 miles, depending on the route with 1653' of elevation gain and 1653' of elevation loss.
Non-hiking options: If you decide to opt out of todays hike, you'll probably find that your best plan is to stay in Sorrento and continue to explore.
Day 8: Arrivederci Sorrento
Our tour ends this morning at the hotel after breakfast. If you are planning on exploring more of Italy on your own, the nearby city of Naples can provide easy access to rail and air connections. The town of Sorrento also has a regional bus hub. Your guides can help you with whatever arrangements you have made for your departure.
HOTELS
Due to availability at the time of booking, hotels listed may change to similar hotels
Siena – 4 Star Hotel Athena With a perfect location just inside the walls of Siena's old city, the Athena is in a quiet residential neighborhood only a short walk from the center of Siena and its famous piazza, Il Campo. Modern rooms are tastefully decorated with dark woods and muted colors. With furnishings by local artisans, colors that echo the tones of the Tuscan landscape and the many comforts available, you will feel completely at home at ease, surrounded by the warmth of a welcome you will always remember.
Sorrento – 4 Star Hotel Plaza The Plaza Hotel is an original location to celebrate right in the heart of Sorrento. Set on the Gulf of Naples, this modern hotel lies 4 minutes' walk from Sorrento Cathedral and 8 minutes' walk from the art-filled Museum Correale. You will be guided to the most beautiful attractions of the charming land: Capri, Ischia, the Amalfi Coast, Mount Vesuvius, Pompeii and Herculaneum; without neglecting, places where time seems to stand still!
What´s Included
7 Nights, double occupancy accommodations at listed hotels or similar
Meals as specified, 7 breakfasts, 4 lunches including 2 trailside picnics, 4 dinners, 5 wine tastings (All group meals include water and local wine)
Picnic lunch at Brolio featuring local Tuscan specialties
Picnic lunch in Pontone featuring local Campanian specialties
Lunch in Amalfi Coast ristorante
Italian family style farm lunch
Welcome dinner in Siena
Progressive food tour in Sorrento
Farewell dinner in Sorrento
Castello di Brolio-Chianti countryside walk
Castelvecchio walk
Punta Campanella walk
Pathway of the Gods walk
Walking tour of Pompeii with local guide
Wine tasting at Castello di Brolio
Vineyard wine tasting at farm
Guide's welcome night wine tasting
Guide's wine tasting in Sorrento
Visit to San Gimignano
Visits to Lots of Unique Villages; Montepertuso, Positano, Nocelle, etc.
Transportation once the tour has begun. The motorcoaches and vans we use are modern, air conditioned and roomy. Our tour groups are usually between 8-18 people so we always have lots of room on our coaches to get comfortable.
All train, ferry, hydrofoil, coach and taxi transfers as specified in itinerary.
Sightseeing and entrance fees as specified in itinerary
Gratuities for meals, coach drivers, and local guides (Gratuity not included for your full-time local tour leader in Siena or Sorrento)
Completely escorted by a Go Get Lost Tour Leader with local guides at specified sites throughout the itinerary
A lifetime of unforgettable memories!
What´s not Included
Airfare package
Departure taxes
Arrival and departure transfers, tour begins at the hotel in Siena in the afternoon of Day 1, and the tour ends at the hotel in Sorrento on the morning of Day 8.
Any costs associated with options on Go Get Lost Day.
Visa fees, if applicable
Meals not specified in itinerary
Beverages at meals unless specified in itinerary (All group meals include water and local wine)
Trip Cancellation/Interruption and Medical Insurance (strongly recommended), call for details
Gratuity for your primary local tour leaders in Siena and Sorrento
Single supplement charge
Items of a personal nature; phone calls, laundry, etc.