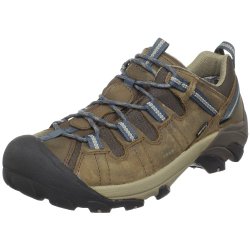 As an avid hiker and trail guide on five continents for my travel company Go Get Lost…Worldwide Adventures, I'm often asked what type of boots I wear while out on the trail, leading clients or by myself. Over the years I've worn, (and worn out), literally dozens of pairs of boots from nearly every major manufacturer, including Vasque, Merrell, Salomon, Asolo, and all the rest. There have been many that I've liked, and I've never really found any that I hated, but there have been a few that stand out as my personal favorites.
Currently I have four different styles of hiking shoes and boots in my closet.  I match the model to the type of hiking I'm doing that day.  One of my all-around favorites is the Keen Targhee II low-cut hiking shoes.
Why this particular shoe, you ask?
First and most important, Keens have a unique ergonomic shape to them with a slightly wider foot bed, especially in the front half. I found they seem to follow the natural curves of my foot more closely. They actually look different from the more traditional boots, almost misshapen. (On the other hand, maybe my feet are misshapen.) They are modeled after the wildly successful Keen sandals, but of course with a more beefy sole. The first time I saw them in a store I was somewhat skeptical, but after trying them on I immediately fell in love. Since that fateful meeting Keen Targhees have accompanied me on trails from Colorado to the Italian Alps, and from the Serengeti to the wilds of the Andes.
I feel these boots strike the perfect balance between light weight and durability. I love a lighter boot, I feel more agile and nimble when negotiating uneven terrain. And of course durability is a must, I've put these boots to the test repeatedly, in real-life trials, and they perform beautifully.
I also like the way the sole grips nearly every surface, wet or dry. This is very important when dealing with rocky trails that are wet from the rain or morning dew, or balancing across a log spanning an icy stream. Slipping is NOT an option in these types of scenarios. And if you do happen to take the plunge, (as I have…not from any failure of the shoes, but from my innate clumsiness) then Keen Targhees dry out fairly quickly, leaving you ready for the next day's adventure.
Another key point for me is that the rubber sole wraps over the toe…this is a critical wear point for me, I seem to be stubbing my toes regularly…(see preceding reference to clumsiness).
However, before you rush out and buy a pair, keep in mind a few important points:
MY feet are not YOUR feet, so the unique fit of Keen boots may not be your preference, make sure you try them on and walk around the store a good bit before you purchase. If you like the idea, but the Targhee II doesn't fit right, Keen also makes several different low-cut styles, check them out, too.
There are distinct differences and uses for traditional over-the-ankle hiking boots and the low-cut boots like these. I own both, and use both for different purposes. Make sure you understand the pros and cons of each, based on your type of hiking. For more information on this, see my article Hiking Boots..Over Ankle vs Low Cut.
The last bit of advice I'll leave you with is this…the first thing I do after I buy a pair of boots is to pull out the insole and replace it with a high-performance brand, like Superfeet. Some brands even allow you to heat the insole in a microwave thereby more closely contouring your sole. I've found these after-market insoles can dramatically increase the performance and comfort of my footwear…I'm a believer. Although you can get crazy and spend big money on custom insoles, I've found you can get a nice insole for $35-$65.
So get off the couch, grab your boots, and get out there!
You can find the Keen Targhee II boot today at Amazon.com, click to view:
KEEN Men's Targhee II Waterproof Hiking Shoe