Overview
Discover the real Greece! Get off-the-beaten path with Go Get Lost®. Cruise into an ancient port. Take a swim in the turquoise green waters of a secluded bay. Learn how to cook traditional Greek and Turkish dishes. Dine on some of the freshest seafood from the Mediterranean. Walk the cobblestone streets of some of the oldest towns in the world. Grab your pillow, go on deck, and sleep under the stars. This is how Greece is meant to be explored.
Go Get Lost Reviews
Based on 105 Reviews
Excellent89%
Very good10%
Average1%
Poor0%
Terrible0%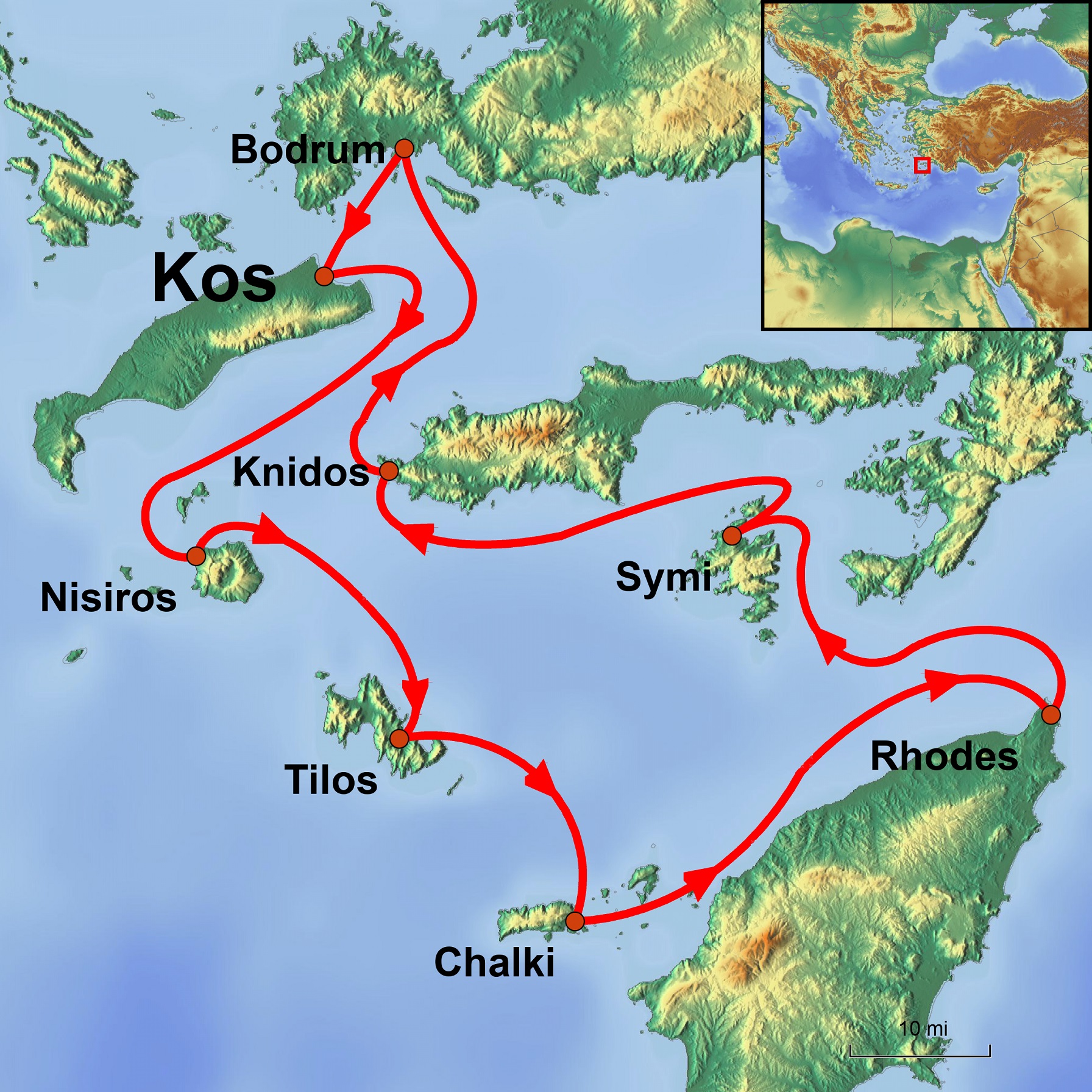 With their spectacular fusion of sunlight, stone, and sparkling sea, the Greek Islands have attracted people for 4000 years. Located in the Eastern Mediterranean, the Greek Islands number near 6000 islands scattered across hundreds of miles of sun-kissed sea. The Dodecanese Islands have the richest history of all of them…with Greek, Byzantine and Ottoman architecture punctuating previous conquests by the Romans, Crusaders, Turks, and Venetians. We'll wander wherever the winds lead us to explore many of the most popular spots, like Kos, Symi and Rhodes. And in true Go Get Lost fashion we'll wander off the beaten path to islands like Tilos, Chalki and Nisiros. From the picturesque olive groves, to the whitewashed houses, to the remote bays that have nothing but a beach, rocky cliffs, and us…we'll explore the islands in our private 130′ motorsailer yacht. Like all Go Get Lost adventures, we'll be visiting the villages, sampling the wine, meeting the locals, enjoying the food, marveling at the incredible views, swimming in pristine Mediterranean bays, and slowly easing into the pace of life in this magnificent corner of the globe!
C.C. Fridlin is only taking a limited number of travelers on this culinary adventure, don't get left behind!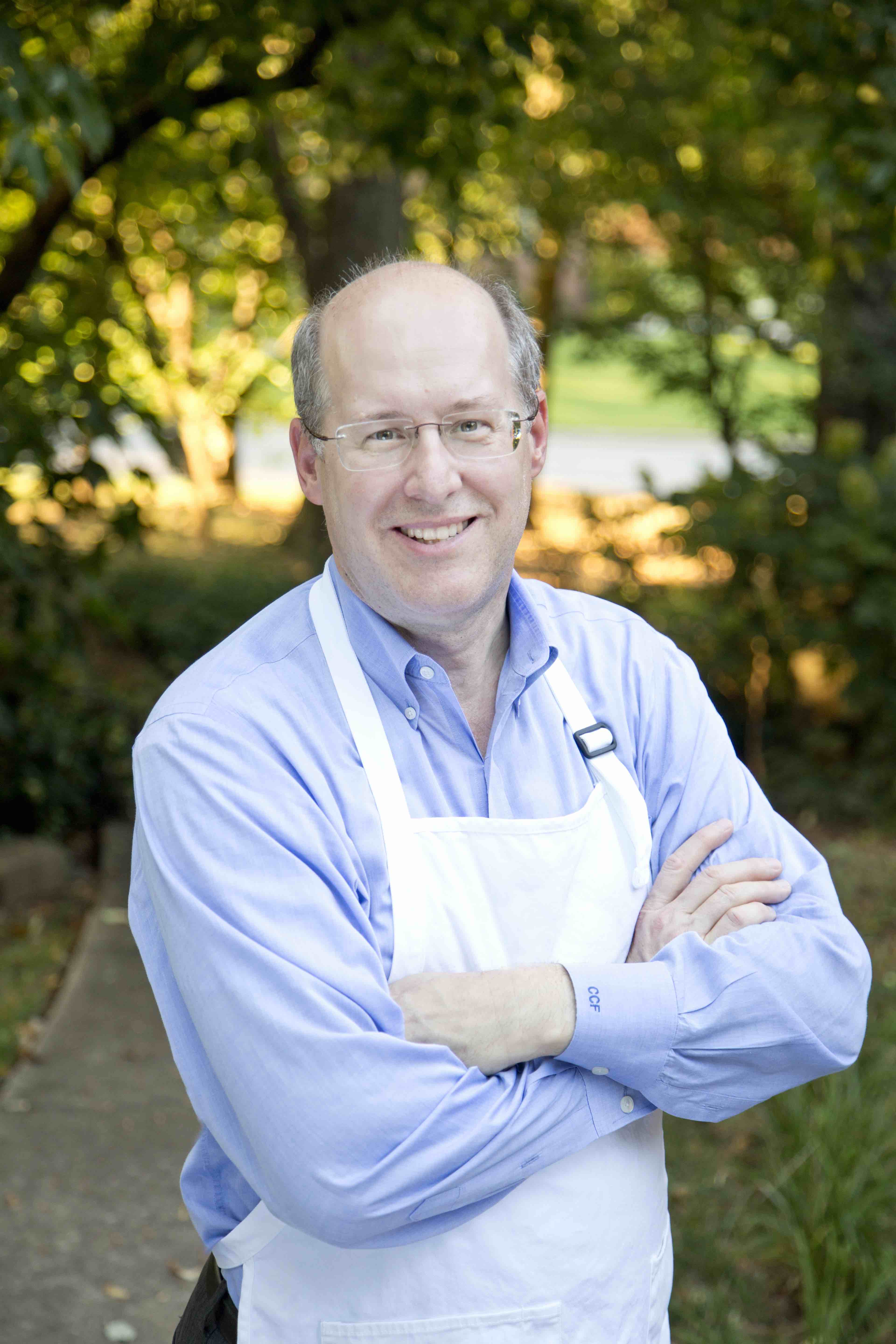 C.C. Fridlin is a culinary instructor and cookbook author residing in Huntsville, AL. Since 2001, C.C. Fridlin has been inviting home cooks into his kitchen and showing them how to elevate their cuisine. His relatable, easy-to-follow approach keeps demand for his classes high, which ultimately led him to create his first cookbook, Step by Step Italian: Recipes from CC's Cooking Classes. His love for Italian food, culture and history started with his first trip to Italy after college graduation and has continued through multiple trips back through the years. Though he has always enjoyed a good meal, C.C. jump-started his professional culinary experience as an assistant at an Austin TX cooking school where he learned from a variety of leading chefs and cookbook authors. In addition to his own cooking classes, he also instructs at cooking schools in Alabama and Georgia. He is a member of the International Association of Culinary Professionals and has served as its Chair of the Cooking Schools and Teachers Interest Section.
Plus… An amazing Athens extension!!!

Tour Dates & Pricing
Extend Your Stay
Photo Gallery
Click the thumbnail to view larger image.
Itinerary
NOTE: The tour itinerary is usually accurate, but due to the nature of the tour it can change slightly. as conditions dictate. When exploring the Greek Islands by small boat, it's best to relax and enjoy wherever the winds lead you. There are dozens of amazing islands, and our itinerary will remain flexible to allow us to have a wonderful adventure!
Day 1 - Kos
The first day of our adventure begins on the island of Kos, the second largest island of the 12 islands (Dodecanese islands), which has a very mild climate and very fertile lands. The island houses a 560-year-old tree, a 211-year-old fountain and miles of gorgeous beaches scattered along its coastline. Kos is one of the islands with the best night life, too. Nafklirou, a street full of bars, is always crowded, colorful, and full of life. Asclepion, known to be the birth place of Hippocrates, the "Father of Medical Science", is located here. Over many centuries and in fact millennia, many Eastern Mediterranean people with health problems were treated in Kos.
After checking into your 4-star hotel overlooking the harbor, you're free to explore Kos town before returning to the hotel for orientation and a glass of wine on the rooftop of our hotel. After orientation you're in for a treat, the first cooking and tasting experience of our unique tour of the islands of Greece and Turkey. Today we'll visit a local producer of olive oil and learn about the art of making traditional Greek cuisine. After we cook several different dishes, we'll sit down to enjoy the product of our efforts!. Following dinner, you can take a stroll along the beach, visit a local taverna, or take a short walk around the harbor. But don't stay out too late, our island yachting adventure begins tomorrow!
Day 2 - Nisiros
After breakfast this morning, we'll start our yachting adventure in the port of Kos, where we'll have a short ferry across the bay to board the Caferoglu 7, our private 130' motor yacht, built in the traditional Turkish Gulet style, and our home for our island explorations. It features 11 private air-conditioned cabins, each with its own modern bathroom. This is the true way to experience life in the Greek Islands! There are great amenities, also...two topside decks provide a salon, bar, and ample room for sunbathing and relaxing while we watch the island scenery drift by.
After we depart the harbor at mid-afternoon, we'll enjoy relaxing on deck while we journey to the picturesque island of Pserimos for a swimming break in a beautiful bay. Of course any Greek swim party calls for some local Greek wine!
Eventually we'll pull into the harbor of Mandraki, on Nisiros island. Nisiros island means 'the place with figs'- but it is better known for its volcano which erupted in 1422 and is still active. Apart from being the capital of the island, Mandraki is also its harbor. It is one of the biggest villages on Nisiros, and you can enjoy a stroll around the exquisite pebbled narrow streets and squares (most typical of all being the Square of Dolphins), and take a close look at the white or colored two-story houses with wooden balconies. The houses are made of volcanic rocks and insulated with pumice-stone. The nightlife is not very intense but our group can make their own party in one of the little tavernas of Mandraki.
Alfresco dining in a picturesque harbor of a remote Greek island is just one of the great dining experiences you should enjoy at least once in your life! So tonight our cook will prepare a wonderful and authentic Greek dinner to welcome us aboard. Greek and Turkish cuisine from the Dodecanese is hearty and exotic, with plenty of beef, lamb, chicken dishes cooked with spices, herbs and nuts. Vegetarians need not feel left out, as Greeks are masters of meatless dishes as well. Depending on what the local fisherman have netted, seafood will find its way onto our table as well. And of course a true Greek salad of fresh tomatoes, peppers, cucumbers, onions, and olives topped with a slab of feta is a small piece of heaven! It's best to wash all of this wonderful food down with some of the local Greek wines or beers.
We're free to go ashore after dinner to wander and discover a local Greek taverna for drinks and relaxing. After hanging with the locals in the town square, we can head back to our comfortable private cabins on our yacht. A late-night aperitif is best enjoyed while lying on deck and watching the Mediterranean star display.
Day 3 - Tilos
We'll depart Nisiros this morning after breakfast, but soon we'll stop for our midday swim break at some picturesque spot. Use the stairs or jump off the side, but make sure you get into the water to relax and float, letting the sun and the sea wash away your stress. We'll have lunch on board today as we enjoy our yachting lifestyle enroute to our next harbor.
Tilos is an island totally off the beaten track, with a rough, mountainous and verdant landscape, but very few people, only about 500 permanent residents. The hills and plains are home to four hundred species of flowers and herb, and are inhabited by numerous species of rare birds like Bonelli's eagle, hawks, nightingales, goldfinches, herons, and bee-eaters. It has tiny picturesque villages and charming beaches. This is the place where the last elephants of Europe lived: The 4-5 foot tall dwarf-elephants appeared in the island 45,000 years ago and disappeared only 4,000 years ago!
The whole island constitutes a vast ecological park and is protected by international treaties. In ancient times, Tilos was famous for its herbs and became prosperous during the classic period. During that period the famous female poet, Irinna, lived on the island. We'll enjoy Tilos' unspoiled beaches and the small port of Livadia, with its assortment of shops and tavernas. Tonight you'll be free to explore Livadia to find the perfect cozy seaside restaurant.
Day 4 - Chalki
A tiny, mountainous island of the Dodecanese, Chalki is a relaxing and laid-back island far from the tourist route. With only 400 inhabitants (mostly fishermen and sponge-divers) Chalki is mainly a place for boaters to stop, swim and explore the secluded beaches. The setting is delightful; pretty houses scattered around a picturesque harbourside, fishing boats at anchor, and a backdrop of rugged mountains. With its great climate and its kind people, a stop in Chalki can be considered as a vacation haven for both "body and soul". Chalki's only settlement, Nimborio, lies around a beautiful, natural harbor of crystal clear water. Its tall 2 and 3-story renovated mansions make it unrivalled in beauty amongst other island towns. The town has a noble air about it that reflects its past glory and prosperity. It is well worth your while to walk through its narrow and picturesque streets. Also worth a look is the church of Aghios Nikolaos with its magnificent bell tower built in 1861. Life on the island of Chalki is simple and unhurried and you can spend happy hours just lazing under the sun and swimming just wherever you fancy. The beach promenade of Nimporio is lined up with cafes and taverns, perfect for relaxing with your boat-mates. Chalki's interior is dotted with over 360 whitewashed chapels and crumbling stone houses, giving the impression (and rightly so) of timelessness.
Day 5 - Rhodes
This morning we head for Rhodes, the Island of the Knights and capital of the Dodecanese. Rhodes is an island which is ideal not only for those who want to relax but also for those looking for an action-packed adventure! With its bright green hills, rich green valleys and uninterrupted line of golden beaches, Rhodes is truly a blessed place. Add in the island's special blend of cosmopolitan and traditional, and numerous cultural and archaeological sites and you've got the perfect place to spend a day. Thanks to its strategic position, Rhodes has been important since ancient times. The ancient city of Rhodes, the construction of which began in 407 BC, was designed according to the city planning system devised by the greatest city planner of antiquity, Hippodamus of Miletus. Rhodes soon developed into one of the most important seafaring and trading centers in the Eastern Mediterranean. Its golden era lasted from the 5th to the 3rd century BC. It was during this period that the Colossus of Rhodes, one of the Seven Wonders of the World, was constructed, (supposedly), straddling the harbor. This impressive giant statue was demolished during an earthquake. When it became a province of the Roman, and later the Byzantine Empire, it initially lost its ancient glory. But in 1309 the Knights of Saint John of Jerusalem conquered Rhodes. They built strong fortifications to protect the island, turning it into a thriving multinational medieval city. In 1523 Rhodes was conquered by the Ottoman Turks, and the Greeks had to settle outside the city walls. During the Ottoman occupation, new buildings were erected within the Old Town, mainly mosques and baths. In 1912 Rhodes and the rest of the Dodecanese, were seized by the Italians. The new rulers embellished the city with magnificent buildings, wide roads and squares. The Palace of the Grand Master was rebuilt and the Street of the Knights was reconstructed in order to regain its medieval purity. It was not until 1948 that Rhodes officially became part of Greece. In 1988 the Medieval City of Rhodes was listed as a UNESCO World Heritage site.
When we arrive in Rhodes we'll get ready for another cooking experience in the Dodecanese islands. Together with a local experienced chef and a restaurant owner, we will cook local Rhodian specialties! We will discover the secret flavors and some unique recipes used as a specialty in a local traditional restaurant located in Theologos village – a wonderful traditional local village on Rhodes island! Following our lunch, we'll be met by an expert local guide for a walking tour of the stunning medieval center. This evening you're free to explore and find you're own little restaurant, visit a taverna, or simply return to your yacht to enjoy a glass of wine under the night stars.
Day 6 - Symi
While approaching the port of Symi, one has the overwhelming feeling of entering a perfectly painted image of a scenic traditional village. As you glimpse the perfectly formed harbor of Symi town for the first time you'll be captivated by it's charm. Wonderfully well-preserved houses huddled together as they cling to the steeply rising hills beyond. Symi has a true romantic charm enhanced by the lack of any high-rise hotel developments that can be found on other islands. Few can resist the superb spectacle of the town of Symi showing off its impeccable architecture. Your friends back home will think your photos of Symi have been photoshopped!
We'll have the afternoon and evening free here, as Symi is an excellent place to wander and get lost. You'll have plenty of dining choices for dinner, you might try the island specialty of "Symi Shrimp", tiny shrimp that are pan-friend and eaten whole, in the shell.
Day 7 - Datca, Knidos
The spindly, 50-mile-long Datça peninsula is a dagger of pure green at the meeting point of the Aegean and the Mediterranean, and is as unsullied as it gets. The ancient Greeks believed Datça to have been created personally by Zeus, so gorgeous are its rocky outcrops and aquamarine waters. The geographer Strabo said: "God sent his beloved creatures to Datça for them to live longer." So what's all the fuss about? It's about craggy, pine-crested hills, endless olive groves, empty ravines, cornflower-blue coves, vast sweeping bays and deserted beaches, air scented with thyme, rosemary and sage, and sleepy villages. It's about goats on the road and old men tinkering with their worry beads in vine-covered cafes. At the western tip of the peninsula are ancient Greek ruins at Knidos. The remains of the ancient city are among the most picturesque historic attractions in the region. Perched upon a steep hilltop, looking out over its natural harbour, Knidos boasts stunning views alongside its ancient ruins. Founded by Greek settlers, Knidos was an important cultural and political centre by the 5th century BC and, with its large natural harbors, the city was also an ancient trading hub during Roman and Byzantine times. The site includes an amphitheater, a temple to the goddess Aphrodite and a 4th-century B.C. sundial.
Day 8 - Bodrum
We will start to cruise early in the morning as we make our way to Bodrum where we'll dock in Bodrum Harbor for our final cooking experience of this incredible tour.
Bodrum, known as Halicarnassus in ancient times, is a bustling resort town stretching along the shore of two crescent-shaped bays, and has for years been the haunt of the upper classes. There is an abundance of shops, bars, and restaurants, beautiful gleaming whitewashed buildings covered in bouganvillea, and magnificent vistas of the sparkling bays.
Turkish cuisine is a melting pot of traditions and cultures, developed in the fertile lands at the heart of human civilization. There are endless varieties of recipes, with each region, town, and neighborhood having their own unique food traditions. In Bodrum we have access to fresh produce and seafood all year round, making it the place to take a cooking class and to learn about Turkish cuisine. We'll start with a visit to the farmers' market to shop for the ingredients of our lunch. At the market you will encounter local food purveyors who offer all manner of self-harvested olives, wild seasonal greens, vegetables, as well as home-made noodles, jams, pickles, breads and a delicious array of cheeses. We'll leave the market and make our way to our cooking location, here we will be guided through the delicious secrets of regional Aegean cookery with its accent on olive oil and fresh herbs, a very special and particularly healthy branch of Turkish cuisine. We will enjoy a lunch of all the wonderful dishes we have cooked together, at tables where we will share stories of Turkish Cuisine and cooking traditions in Turkish families while tasting local wines.
Tonight, we'll enjoy a marvelous farewell dinner on board our yacht, anchored in Bodrum harbor. Prepare yourself for an evening of good wine, great food, and lots of laughs. We'll be reliving all of the adventures we had, exchanging addresses and photos, and planning our next vacation!
Day 9 - Kos
We'll ferry early this morning to nearby Kos. We should arrive at Kos by mid-morning, allowing you to get a transfer to Kos airport, or you can opt to spend the day and evening in Kos, to enjoy more of its hospitality, tavernas and beaches.
What´s Included
1 Night Double Occupancy in 4-Star hotel in Kos town
7 Nights Double Occupancy Yacht Accommodations (All Cabins with Air Conditioning, Private Bathrooms). 6 Double and 5 Twin cabins. Cabin preference is not guaranteed.
Meals as Specified: 9 Breakfasts, 7 Lunches, 4 Dinners
3 Cooking Experiences
Island Tours with Local Guides at Various Islands
Guides Wine Tasting
Sightseeing and entrance fees as specified in itinerary
Completely escorted by a Go Get Lost Tour Leader with local guides at specified sites throughout the itinerary
Gratuities for Local Day Guides and Coach Drivers, except for your primary local tour leader, and your boat crew.
A lifetime of unforgettable memories!
What´s not Included
Airfare package
Departure taxes
Gratuities for boat crew, porterage, etc.
Visa fees, if applicable
Meals not specified in itinerary
Beverages at meals unless specified in itinerary (water is always included, you can bring your own drinks on board)
Arrival/Departure transfers
Gratuities for your primary local tour leader, and gratuities for the boat crew
Trip Cancellation/Interruption and Medical Insurance (strongly recommended), call for details
Items of a personal nature; phone calls, laundry, etc.