Overview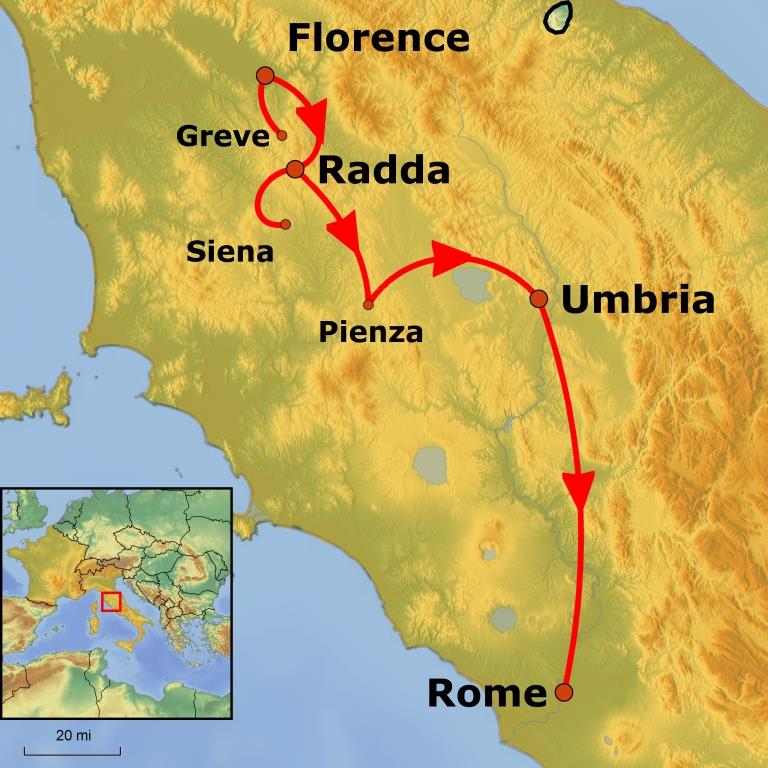 The magical allure of central Italy has remained strong for almost three millenia. But even within this compact region you'll find an amazing variety of nearly everything Italian…food, wines, history, art, and even dialects. Join us as we journey through Tuscany, Umbria and Lazio to immerse ourselves in the culture. You'll enjoy 4-Star accommodations, private guides, hands-on culinary classes taught by expert local cooks, vineyard tours and tastings at some of the area's finest wine estates, historical tours, marvelous landscapes, and plenty of free time to wander, get lost, and soak up the ambiance of the area.
Tour Dates & Pricing
Photo Gallery
Click the thumbnail to view larger image.
Itinerary
Day 1 - Ben Venuti in Italia!
Arrive in Florence today and check in to your 4 Star Grand Hotel Baglioni, perfectly located in the heart of the historic city. This afternoon you'll meet your native Florentine guide at the hotel and start a three hour guided food and art tour of Florence. Explore the lesser known corners of Florence: small churches, perfumes, frescoes, bakers, shops and plenty of food-tastings along the way will combine for an extraordinary sensorial experience! From the historic Piazza Santa Maria Novella to the stunning frescoes of Domenico Ghirlandaio in Santa Trinita church, to the hustle and bustle of the San Lorenzo market, you'll see the city through the eyes of a local. Enjoy the ancient perfumes and traditional scents prepared by the dominican frairs at the oldest pharmacy in Europe, Santa Maria Novella. Walk along the "Via delle Belle Donne" the streets of the "beautiful ladies" and reach Via Tornabuoni, famous for its elegant shops like Armani, Pucci and Ferragamo. Time to savour an intense espresso or cappuccino with chocolate, sitting in a comfortable renowned Cafe' of the town before getting into the medieval heart of Florence and Piazza della Signoria , the Old Bridge , and the Duomo . The walk proceeds through narrow alleys surrounded by high tower-houses and fine Renaissance palaces which hide colorful warehouses in their cellars. These artisans sell their precious porcelains, papers, fabrics and leather goods below frescoed ceilings and vaulted roofs.
Stop at a local "forno" (bakery) to taste the irresistible "focaccia" with olive oil and pizza right from the oven! The last stage is the central fruit and vegetable market in the authentic district of San Lorenzo located in a historic 19th century building.
Tonight you'll enjoy an excellent dinner of regional specialties at one of the restaurants right inside the San Lorenzo market!
Day 2 - Florence
This morning we'll have a typical Italian buffet breakfast at your hotel, then depart on foot with your guide for an exciting day in the Renaissance City. Be ready for an intensive hands on cooking class in the authentic quarter of San Frediano. You will prepare a Florentine four course menu, including fresh handmade pasta, using the best seasonal products. After the lesson you will be able to relax and dine with the recipes you prepared. This will be a private course with our excellent chef Giorgio Pinto.
This afternoon you are free to pursue you own individual activities...perhaps a guided tour of the famed Uffizi Gallery, or wander over to the Accademia Gallery to admire the David by Michelangelo, or maybe it's time to get lost in the shopping district? Tonight you'll dine at the Hotel Restaurant "Terrazza Brunelleschi " with breathtaking views over nighttime Florence.
Day 3 - The Chianti Region
Today after breakfast you'll check out and board your private coach and head south into the famous area between Florence and Siena, known as the Chianti region. You'll enjoy the picturesque scenery as you wind along the famous Chiantigiana Wine Road, where your day of tastings will begin! Your first stop will be at the Wine Estate Villa Calcinaia producing excellent Chianti wine and their own olive oil. You'll enjoy a private guided tour of their wine cellars with a wine tasting to follow, along with a wonderful Tuscan farm lunch. After dining we'll have a stop at the 13th century castle village of Montefioralle, with its quaint alleyways and cobblestone streets, and afterwards visit Greve in Chianti, the main town in the Chianti Classico region with its busy 19th century market square. Greve is the birth town of Giovanni da Verrazzano, who in the 14th century discovered the bay of New York. You'll have time to stroll around the delightful piazza and visit the famous butcher Falorni, where you can taste salamis, cheese and wild boar sausages. Here there is the chance to visit a local wine cooperative which proudly displays over 150 different types of wine, almost all of which you can taste. By now it is almost time to proceed to the village of Radda in Chianti and check into your hotel, located in the town center in a lovely renovated palazzo! You should have time to wander this fascinating small village before another wonderful dining experience at La Perla del Palazzo restaurant.
Day 4 - Siena
After breakfast this morning you'll venture into the Tuscan countryside again to visit the Wine Family estate of Querceto di Castellina for un unforgattable hands on cooking class with the Owner and Chef Laura . In the early 90's a Florentine family led by Laura, Giorgio and their two sons left behind the bustle of their famous city for the lure of a simple life beneath the Tuscan sun . Laura will teach you the secrets of typical Tuscan dishes such as crostini with chicken liver, ribollita, pasta and beans, stuffed boar, or chicken "cacciatore." Lunch to follow in the terrace overlooking their vineyards tasting great Chianti Wine. Afterwards you can relax as we travel to the nearby city of Siena, the Gothic dream. Perennial enemy of Florence and cradle of the Ghibelline party, Siena and Florence have seen 300 years of wars, battles, intrigues and betrayals. Siena's outstanding black and white marble Cathedral and the Baptistery represent the greatness of the city as well as its religious vocation. The unique town hall is located on the main square of Piazza del Campo, a 12th Century shell shape square. This is where the famous Palio, the medieval horse race, takes place every summer in July and August. No rule is the only rule during this mad bare back horse race where 10 out of the 17 districts of Siena are represented. In the middle of the square crowned by austere palaces and tall prestigious towers, as the crowds cheers, the horse men and the city's nobles parade dressed in medieval costumes.
Dinner tonight at the "I Vinattieri" Wine Restaurant in Siena, after which you'll return to Radda.
Day 5 - Pienza and Umbria
Today we'll check out and continue our journey southwards, into Southern Tuscany and Umbria. First we'll have a private visit to an organic farm in the Pienza countryside for a cheese tasting of eight types of their own various sheep and goat cheeses made from raw milk. During the tasting they will explain the stages of cheese production from hand –milking to the final product. Meanwhile you may relax on the terrace with a breath–taking panorama of the Val d'Orcia Valley while enjoying a glass of wine from their production range , home made bread baked in their own wood-oven and jam and honey to accentuate the cheese. A little bit of Tuscan heavan!
After the farm we'll continue on to the amazing Renaissance village of Pienza: the "Ideal Town of Renaissance architecture" where you'll have the time to visit the beautiful town center. Pienza is a remarkable Renaissance utopia that revolutionized city planning and earned the prestigious honor of being a UNESCO World Heritage site, with breathtaking views of Val d'Orcia - a valley worthy of its own place on the list of UNESCO's World Cultural Landscapes. But for those with a discerning palate for gastronomic delights, Pienza's other claim to fame is their production of the finest pecorino cheese in Italy. Pienza got its name from Pope Pius II, the homegrown pope who transformed the existing village of Corsignano into his vision of the ultimate 15th century Renaissance "utopian city" where humanistic concepts were applied for the first time to create a model of ideal urban living, a plan that inspired its implementation to other Italian as well as European cities. Unfortunately Pius died before his plans were completed, but enough magnificent buildings were erected to give Pienza a place in history. Enchanting views of Val d'Orcia beyond the stone city walls, narrow romantic streets with names like Via dell'Amore (Street of Love) and Via dell Baccio (Street of the Kiss), and medieval nooks and crannies that reveal local treasures within its shops and boutiques, makes this tiny hilltop town an idyllic setting for a stroll.
After the visit to Pienza we proceed to Umbria and check in to your Hotel for the night, the Posta del Donnini. There should be ample time to relax at the pool or explore the wonderful natural park. You'll enjoy another excellent meal tonight featuring some regional specialties of Umbria.
Day 6 - Umbria to Rome
Today we'll head deeper into the Umbrian countryside to visit the Wine Estate of "Cantine Goretti" where Sara and the Goretti family will welcome you in their Castle/Home. Here you'll have a hands-on cooking class with Nonna Marcella who will teach you some secrets about Umbrian cuisine. You will prepare an appetizer, one pasta dish with fresh vegetables and one main dish, all the while drinking one of the finest Umbrian vintages " Sagrantino di Montefalco", a wine to rival Brunello but nearly unknown outside of Italy. After the class a delicious lunch will be served in their Wine Cellar.
This afternoon you'll be able to relax and watch the countryside slide by as we make our way to Rome , the eternal city. After checking in at our chic city-center hotel, we'll enjoy a bus tour at sunset before arrival in the old Jewish quarter of Trastevere for dinner at the famous Restaurant "Antica Pesa" to taste the real "tonnarello cacio e pepe". An after-dinner stroll through the bustling squares and streets of Rome will be the perfect end to another great Italian day.
Day 7 - Rome, the Eternal City
Today after breakfast you'll meet your tour leader and walk to nearby Campo de Fiore square where Chef Fabio is waiting for you . You'll shop in Campo de'Fiori market, choosing fresh ingredients to use in your cooking class. Then you'll prepare your meal in an exclusive location in the heart of the Eternal City. A penthouse apartment with a stunning 360° view of Rome, our movie set, magazine-cover apartment on the Tiber Island. You'll make homemade pasta such as ravioli or fettuccine and prepare other dishes under the guidance of your personal chef. At the end of the course, enjoy the dishes you've created accompanied by the perfect wine your chef has selected to complement your lunch. Real food and pure indulgence! In this way, you become not a tourist, but a true traveler immersed in authentic Roman culture.
This afternoon you'll have a private guided walking tour of Ancient Rome with a Roman guide. The tour will begin with the visit of Coliseum where, skipping the lines, you will enter the magnificent Flavian Amphitheater and admire where the gladiatorial duels and wild beast fights were arranged for the entertainment of the Roman people. Accompanied by your guide, enjoy a nice walk around the historical center, stopping to admire the marvelous Fontana di Trevi , the Pantheon (a Roman temple commissioned by Marcus Agrippa), Montecitorio, and the other main monuments , timeless symbols of the great history of this city.
(Alternate optional private guided tours can be arranged to the Vatican Museum to admire the masterpieces of Raffaello and the Sistine Chapel by Michelangelo, or to the Galleria Borghese where you can be amazed by the many art works by Caravaggio and beautiful sculptures by Bernini.)
Hopefully you didn't eat too much at lunch today, because as this is our final evening in magical Rome, tonight we have an incredible farewell dinner planned at one of our favorite local restaurants, an elegant establishment on the charming Via Margutta (the road of antiques). Adventures and misadventures from the previous week are re-lived and laughed about, everyone and everything is toasted, addresses are copied and goodbyes are exchanged with all your new lifelong friends that you "Got Lost" in Italy with!
Day 8 - Arrivederci Italia!
This morning after breakfast your Go Get Lost tour will end. Your tour leader can help you arrange a transfer to the Rome airport or train station.
What´s Included
2 nights accommodation in Florence in the 4-Star Hotel Baglioni, or similar
2 nights accommodation in Radda in the 4-Star Palazzo Leopolo or Palazzo San Niccolo, or similar
1 nights accommodation in the Umbrian countryside at the 4-Star Hotel Posta del Donini, or similar
2 nights accommodation in Rome at the 4- Star Hotel Fortyseven, or similar
Daily breakfast
Guided tour and food tastings in Florence with a local guide
Welcome dinner at San Lorenzo market in Florence, (all group dinners include water and local wines)
Hands-on cooking class and lunch in Florence
Dinner at the Hotel Restaurant Terrazza Brunelleschi
Guided tour of Villa Calcinaia Wine Estate with wine and olive tasting and lunch
Dinner at La Perla del Palazzo in radda
Hands on cooking class with Chef Laura at Querceto di Castellina Wine Estate with lunch to follow
Guided tour of Siena
Dinner at Enoteca dei Vinattieri
Cheese demonstration and lunch at Podere il Casale in Pienza
Dinner at the Restaurant la Posta del Donnini in Umbria
Hands on cooking class with lunch at the Wine Estate Cantine Goretti
Private sunset tour of Rome by bus
Dinner at Restaurant Antica Pesa in Rome
Half-day guided tour of Rome with local guide including entrance at the Colosseum with reservation
Market visit and hands on cooking class with Chef Fabio in Rome with lunch to follow
Dinner at "Babette" Restaurant in Rome
Hotel taxes
Private local tour manager/guide for the entire tour
Private deluxe coach 16 or 25 seats with air conditioning
All private group transfers as per itinerary
Completely escorted by a Go Get Lost Tour Leader, with local guides at specified sites throughout the itinerary
A lifetime of unforgettable memories!
What´s not Included
Airfare package
Airport arrival and departure transfers, tour begins in Florence at the Hotel Baglioni in mid-afternoon on Day 1, and the tour ends after breakfast at the hotel Fortyseven in Rome on the morning of day 8.
Gratuities for meals, porterage, local guides, coach drivers, etc.
Visa fees, if applicable
Meals not specified in itinerary
Trip Cancellation/Interruption and Medical Insurance (strongly recommended), call for details
Single supplement charge
Items of a personal nature; phone calls, laundry, etc.