Overview
Join us as we explore the amazing cities and countryside of Portugal, jewel of the Iberian Peninsula. We'll start our journey in the medieval city of Porto in the north, famous for its beautiful bridges and port wine production. Then we'll head inland to explore the stunning landscape of the Douro River valley, dotted with wine estates and terraced hillsides. Our path then lies south, as we make our way through the towns, villages and estates of Portugal's most famous wine regions. The pastel, cosmopolitan coastal city of Lisbon is our final destination, and a fitting place to end our travels. You will sleep in beautiful accommodations (three, four and five star properties), dine on delectable food (from local restaurants to Michelin chefs) and tour some of the planet's best wine estates (with plenty of private tastings, as you an imagine). If you enjoy traveling in a small group led by a local expert, enjoy European culture, amazing landscapes, historic cities, world-class wines and superb cuisine…this trip is for you. Get off-the-beaten path and Go Get Lost®.
Go Get Lost Reviews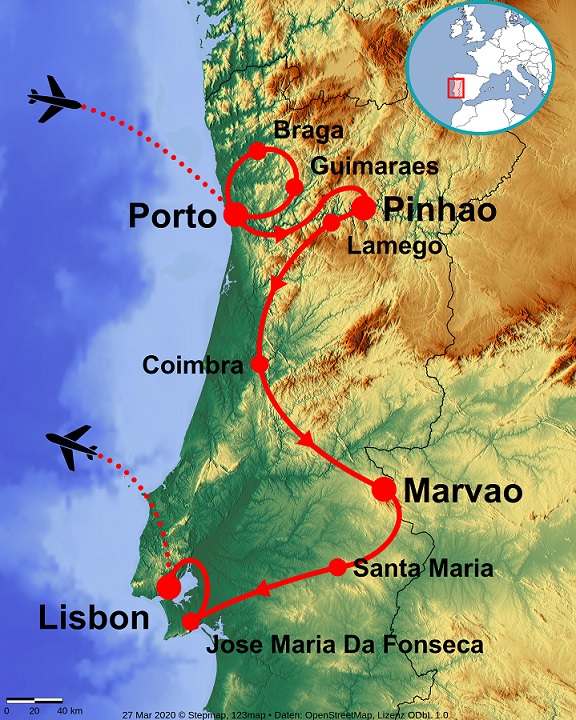 Led by The Corkscrew owners Danielle and David Anderson, we'll discover the some of the best areas of this wonderful country! In addition we'll have our own private local guide and a tour leader from Go Get Lost along, all working to see that you have an amazing experience! (Danielle and David are only taking a limited number of travelers for this small-group adventure…don't get left behind!)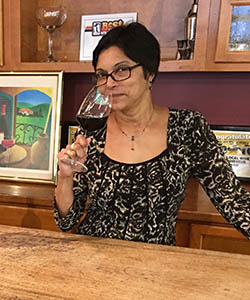 Danielle Anderson was born and raised on the Indian Ocean island nation of Mauritius. Eventually finding her way to Illinois, her passion for wine (and cheese) soon led her to the Corkscrew, where as store manager she has been honing and sharing her wine knowledge for over 20 years. Her focus on customer service is legendary, and culminated in September 2016 when she and her husband David became the owners of the Corkscrew. Always passionate to broaden her expertise, Danielle has traveled abroad extensively to explore the wine regions of the world, visiting wineries in Argentina, France, Spain, Italy, Greece and South Africa.
Danielle and David, her husband of 30 years have two daughters and two granddaughters and reside in Springfield, Illinois.>
Tour Dates & Pricing
Photo Gallery
Click the thumbnail to view larger image.
Itinerary
Day 1 - Porto
Your adventure starts this morning after breakfast in the lobby of our 4-star hotel situated near the river in the city center. We'll have a quick orientation meeting followed by a fascinating walking tour of historic Porto with our local guide. We'll eventually cross the river into Vial Nova de Gaia for a tasting at of port wine, the areas most famous export. Lunch will follow at one of Porto's popular eateries, and the afternoon will be free to wander, get lost and explore on your own. Maybe a boat tour of Porto harbor and its six bridges would fill the rest of the day, Tonight we meet again for our amazing welcome dinner, featuring some of Portugal's most famous dishes and topped off with the excellent local vintages.
Day 2 - Braga and Guiamaraes
Today after breakfast we'll board our private coach and head into the beautiful countryside to the north. In this area there's a don't-miss site, the church of Bom Jesus de Monte, a UNESCO site which dates back to the Baroque age. It's considered to be the cradle of Portuguese culture due to its importance in early medieval times. We'll enjoy a walking tour through the old town with our guide, marveling at the picturesque town. Later we'll journey to the nearby town of Guiamaraes for an excellent lunch. Our wine culture will start this afternoon with a tour and visit of one of the area's well-known producers of Vinho Verde. Tonight you are free to wander Porto to find the perfect place for another wonderful meal.
Day 3 - Vial Real and Pinhao
This morning we'll have a visit to a very special site, the Mateus Palace. A stunning historic estate, the palace, chapel, house, gardens and cellar give you an excellent vision of how the elite of the 16th century lived. Later we'll continue on to PInhao, enjoying the unfolding scenery of the Douro river valley. At the scenic town of Pinhao we'll board our boat for a private river cruise of the most scenic parts of the Douro Valley. Our idyllic afternoon ends at our 5-star luxury hotel, situated along the river with atmospheric views. Even more famous than the views is the estate's kitchen, with cuisine that rivals any in Portugal. An after-dinner aperitif on the veranda overlooking the river will be a magical experience.
Day 4 - Douro Valley
Today is all about wine...and food. We'll spend the day meandering through the amazing landscape along the river, visiting two of the area's more memorable wine estates. To top it off our lunch will be in a Michelin restaurant overlooking the Douro, with chef Rui Paula creating some of his amazing dishes using local produce. Some of the area's top wines will accompany his cuisine, making for a memorable meal.
Day 5 - Lamego
Our journey continues today as we make our way south into central Portugal. Mid-morning finds us in the beautiful city of Lamego, famous for its abundance of Baroque buildings in the picturesque city center.
We'll take time to explore Lamego on foot, led by our local guide. After working up an appetite we'll continue on to the old university town of Coimbra. Here we'll enjoy a lunch of local specialties and then after a visit to the famous university library, we'll head off to our next stop and home for the night, the tiny medieval hilltop town of Marvao. Here we'll stay in an old-style inn and explore the village's winding street and shops. Dinner tonight will be simple but excellent, as we once again throw ourselves into the local cuisine, and the regions wines.
Day 6 - Alentejo
This morning after our breakfast we'll continue our journey to the south, heading into the Alentejo region. Our first stop will be a lovely family run wine estate, where we'll sample their production and learn how they create their wine. By noon we'll be in the nearby town of Estremoz, one of the finest old cities in the region, renowned for its historic buildings of white marmol. A stroll through the town before lunch will whet our appetite for the local dishes. After our meal we'll relax in our coach and enjoy the scenery as we make our way to another of the area's renowned wine estates for, yes, another tour and tasting!
By late afternoon we'll be in a good mood for our visit to one of the most famous castles and wine estates in Portugal, located just outside of Lisbon. Of course we'll tour the grounds and then settle down to enjoy their production. Early evening will find us checking into our 4-star hotel in the heart of Lisbon. Tonight you're on your own for dinner, and you'll find plenty of options withing walking distance of the hotel. Your local guide can point you toward some of the best choices.
Day 7 -Lisbon
Today is all about exploring this amazing city. We'll have a morning walking tour of the old city, including San Jorge castle, followed by lunch at one of our favorite local restaurants. The afternoon is free for your own explorations....consider a train trip for an optional visit to nearby Sintra, or perhaps you'll prefer to partake of Lisbon's many shops and boutiques. Or maybe you're the type that likes to just stroll, people-watch and soak up the ambiance of the city.
Tonight we'll have a memorable farewell dinner at one of Lisbon's best eateries. They'll be plenty of toasts, laughs, and stories to share about our journey together as we made our way through the heart of amazing Portugal.
Day 8 - Adeus
Your Go Get Lost tour ends this morning after breakfast. Your local guide can help you with any arrangements you may need for a transfer to the airport, or onward to another destination in Europe.
HOTELS
Due to availability at the time of booking, hotels listed may change to similar hotels
Porto - 4 Star Hotel House Ribeira At the address of Rua do Infante Dom Henrique nº26, where once the headquarters of the Balleteatro – the first theater and dance school in Porto, a new hotel unit of Sonae Capital was born. Directed to an urban, modern, irreverent, demanding and informed public, that seeks the authenticity of the unconquered city. In a historic area, in a completely refurbished building, the hotel presents an informal and contemporary atmosphere, with a decoration that reflects the unique personality of this city and its culture.
Pinhao - 5 Star Vintage House Hotel- The Vintage House Hotel enjoys an idyllic and tranquil riverside location at Pinhão in the authentic heart of the Douro Valley. The Douro is one of Europe's oldest and most beautiful wine regions, a breath-taking man made landscape enjoying World Heritage status. Remote and undiscovered, it offers the discerning traveler one of Europe's most unforgettable vineyard experiences..
Marvao - 3 Star Country Inn Hotel Dom Manuel Located in this village of unique beauty, the Hotel El-Rei Dom Manuel fits into the urban characteristics of Marvão, being in a building that has been rebuilt, which has a relevant architectural, historical and cultural value. Thinking of the comfort and pleasure of the customers, the Hotel El-Rei Dom Manuel was conceived concentrating all its efforts in the elegance and tradition, offering an excellent quality service where the customer will always be welcomed with sympathy and refinement. This village, this inn...the ideal place to rest, spend a healthy holiday, and enjoy the silence and calm that only this area of ​​North Alentejo "where time is time" can provide you.
Lisbon - 4 Star Hotel do Chiado Hotel do Chiado is located in Chiado/Baixa, Lisbon's historic area, very close to Bairro Alto, Praça do Rossio and Avenida da Liberdade. The hotel is built in the historic building of Armazéns do Chiado, current shopping center, which was completely restored by the famous architect Siza Vieira after the tragic fire of 1988. Located in Chiado, the most trendy, elegant and chic meeting point in the whole of Lisbon , it is the only hotel in the city that offers rooms with private terraces and panoramic views of the Castle and the Tagus River. The subway station Baixa/Chiado is located in the basement of the building.
OR
Lisbon - 4 Star Altis Prata Hotel Located right in the center of Lisbon – on Rua da Prata, which was the inspiration for the name "Altis Prata Hotel" – this hotel has 22 apartments distributed over five floors and a very welcoming casual lounge on the last floor. The building has been completely renovated, and is part of the preservation plan for the Baixa District, maintaining the meter and geometry of the historical zone, while respecting Pombaline architectural features such as its stonework and wrought iron terraces. The different apartments are divided into six types to accommodate stays, whether for work or holidays, with your family or friends. All the apartments have a fully-equipped kitchenette, washing machine, Marshall speakers, free Wi-Fi, 42" television, Nespresso coffee maker and dual-pane windows for complete comfort and tranquility. The apartments' décor in soft shades provides a contemporary, inviting atmosphere where Lisbon's soul is felt in every detail. The Altis Prata Hotel offers moments of leisure and relaxation, without losing the pace and pulse of the city, where everything happens just a few steps away. On the building's last floor, with a terrace and view of the São Jorge Castle hill, the lounge is the ideal space to kick back, relax with friends and enjoy the views..
What´s Included
2 nights at 4 Star hotel in Porto
2 nights at 5 Star hotel in Pinhao
1 night at 3 Star hotel in Marvao
2 nights at 4 Star hotel in Lisbon
Meals as specified: 6 breakfasts, 7 lunches, 4 dinners (All group meals include water and local wine)
6 wine tastings at vineyards and estates
Walking tours with local guides as per itinerary
River cruise on the Douro River
Entrance fees to San Jorge Castle, Mateus Palace, Coimbra Library
Transportation once the tour has begun (Does not include individual transportation for clients during walking tours, to/from restaurants, etc)
Professional local guide throughout the itinerary
All gratuities for waiters, coach drivers, local guides in Porto and Lisbon, EXCEPT your primary local tour leader
Porterage in hotels
Fully escorted by a Go Get Lost tour leader
A lifetime of unforgettable memories!
What´s not Included
Airfare package
Airport transfers
Gratuity for primary local tour leader
Visa fees, if applicable
Meals not specified in itinerary
Any individual transportation needed by clients during walking tours, to/from restaurants, etc
Trip Cancellation/Interruption and Medical Insurance (strongly recommended), call for details
Single supplement charge
Items of a personal nature; phone calls, laundry, etc.