Overview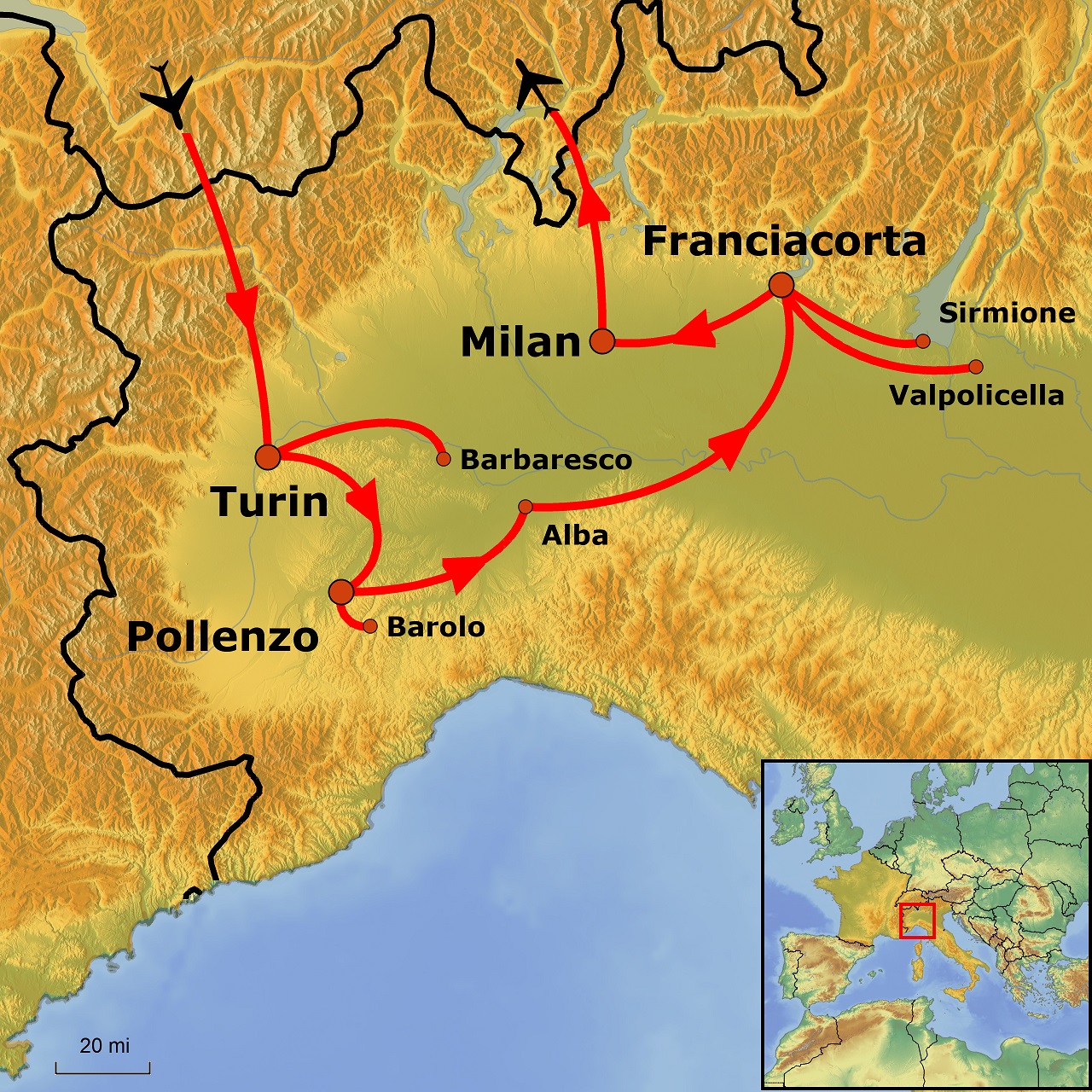 Join Go Get Lost on this extraordinary journey across Northern Italy. We'll drift across wonderful landscapes, immerse ourselves in the fascinating culture, enjoy the exquisite food and taste world-class wines from some of Italy's best and most famous producers!
We'll start in the historic city of Turin, then cut across the countryside from village to village, from the rolling hills of Alba and the Po Valley to Franciacorta in the foothills of the Alps, into the breathtakingly beautiful lake region of Lago di Garda and then finally to Milan, the fashion hub of the planet.
As we journey through the ancient landscape we'll discover beautiful historic cities and wander into picturesque villages full of culture and charm. Ideal for those who enjoy food, wine, culture, picture-postcard panoramas and hospitality as only the Italians can provide.
Tour Dates & Pricing
Photo Gallery
Itinerary
Day 1 - Ben Venuti al Italia
When you arrive in Turin today, make your way to our centrally located hotel. (You'll be provided with detailed arrival and departure instructions to help you coordinate your flights and travel. Ask about arriving a day or two in advance and enjoying the sites of Milan or Rome.) Turin is the capital city of Piedmont in northern Italy. Piedmont is the second largest region of Italy, and home to more DOC and DOCG wines than any other region! The city of Turin is known for its refined architecture and cuisine with the picturesque backdrop of the Alps rising to the northwest of the city. Stately baroque buildings and old cafes line Turin's boulevards and grand squares such as Piazza Castello and Piazza San Carlo. Your Go Get Lost adventure starts in the late afternoon with an aperitif at the orientation meeting in the lobby of our hotel. You'll meet your private guide, your traveling companions, and start with a pleasant walk to an historic cafe in the city center. Here we'll sit down to an excellent arrival dinner, with some classic local wines.
Day 2 - Torino
After our breakfast we'll meet in the lobby to board our private coach for a guided tour of the town. Turin must be one of Italy's most unsung cities. While most travelers to Italy head to the well-traveled route of Rome-Florence-Venice, Turin appears to remain off the tourists' radar. Turin is indeed famous because Agnelli, the founder of Fiat, chose to build his automobile empire. However, that would be forgetting that eight decades earlier another dynasty, not an industrial one, but a royal one, chose Turin as its capital. Nineteenth century Turin was also a favorite among intellectuals and artists, such as Nietzsche, who liked the city for its austere elegance, its atmosphere, its literary cafés, and its food. You will soak in Turin's ambiance as you enjoy the visit of sites like the Mole Antonelliana with its Cinema Museum, and the Car Museum Lingotto, the symbol of the town when it was part of the FIAT factory. Later you will have time to explore a local market before we sit down to a lunch with the locals. You'll have the rest of the afternoon and evening free to wander the city center and the famous squares of Piazza San Carlo, Piazza Castello and Via Roma. Restaurants, shops, and bars galore!
Tonight you're free to wander, explore and get lost in the streets of Turin. With its ample supply of shops, bars and restaurants, you'll have no trouble finding the perfect spot for dinner!
Day 3 - The Langhe Area - Barolo and Barbaresco
Today we'll depart Torino and head southest into the Langhe area. The Langhe is a hilly area famous for its wines, cheeses, and truffles—particularly the white truffles of Alba. Your first stop will be Barbaresco, one of the most famous charming villages of the area. Although its center is composed of just a few houses, the surrounding countryside is filled with wine estates producing the region's famous red wine. You will enjoy a short visit of the town and then we'll appreciate a tour of the wine estate of Marchesi di Gresy where we'll have the chance to taste their wine selection. Next stop will be the village of Barolo, the epicenter of one of the most renown wine producing areas in the world. Here we'll stop at Marchesi di Barolo Wine Estate for a private guided visit of their historic wine cellars, and then pause for a superb lunch and wine tasting as only a prestigious wine estate can manage. After lunch we'll have a pleasant stroll inside the historic center of Barolo , visiting the castle and its small museum. Later we proceed to Pollenzo, an ancient city on the bank of the Tanaro river. Pollenzo is famous as the place where the Slow Food movement was founded, and today is something of a gastronomic pilgrimage site, Here we'll settle into our accommodations at our 4 Star hotel.
Tonight we have an amazing culinary experience ahead of us as we indulge in a gourmet dinner organized by the chefs in the hotel restaurant.
Day 4 - Alba and Grinzane Di Cavour
After our Italian country breakfast we'll once again head into rural Piedmont and begin to explore the Alba region. The first stop will be the ancient town of Alba. Alba is not only beautiful, it is a superb place to eat and is often referred to as the gourmet capital of Piedmont. In particular it's famous for its white truffles, peaches and chocolates - it is where Ferrero Rocher and Nutella come from and the legendary Gianduia was invented here. Here we'll have an enjoyable visit with plenty of time on our own to wander, shop, or just relax at a sidewalk cafe and people-watch. Later we'll visit the nearby town of Grinzane Cavour and it's massive, imposing castle. We'll also have an excellent lunch here with a stunning view over the Piedmont countryside.
This afternoon we'll retun back to Pollenzo for a wine tasting in the wine cellar museum of the Hotel Agenzia. Our evening is not complete, however, as we will go to the small nearby village of Bra to dine on a magnificent assortment of local recipes and specialties!
Day 5 - Franciacorta
In the morning we'll head east across the Po Valley and into the famed Franciacorta wine region. The Franciacorta zone covers a vast area of the pre-Alpine hills south of Lake Iseo. A superlative area offering products of the highest quality and numerous natural and historical wonders. Its name is also synonymous with great wines and the outstanding growers that have made this region famous the world over. Franciacorta is dotted with pretty medieval villages and tangible signs of its long history: evocative ruins, castles, abbeys, monasteries, convents, churches and shrines. The Franciacorta hills offer an unending display of ordered rows of vines whose changing colors are a constant source of amazing beauty throughout the year. Lake Iseo has an amazing variety of vegetation and views around its shores. Vineyards, fruit orchards, olive groves and chestnut woods are interspersed with stretches of beach, sheer rock walls and rocky outcrops, such as the Castro or Zorzino high bluffs.
We'll stop at one of our favorite estates for a tour to learn how they produce their wines, then stay for a tasting and lunch. Later this afternoon we'll board a private boat at Predore dock and embark for an unforgettable cruise along some of the most characteristic villages of the three islands of Iseo lake. We'll admire the two private islands of San Paolo and Loreto and then land in the village of Peschiera Maraglio, on Montisola Island, Europe's biggest lake island. The Island is completely pedestrian...beautiful scenery and lake views abound! Later we'll have a tour around the marvelous shoreline of Lake Iseo, stopping only to have dinner at a superb lakeside restaurant.
Tonight we'll stay in a stunning spa property along the shore of the lake, where you can be be pampered after your long day of exploring.
Day 6 - Valpolicella and Lago di Garda
We'll explore yet another renown Italian wine region today...AND Italy's largest lake! The landscape of Valpolicella is a marvelous mixture of vineyards, cypress trees, fruit trees, olives and traditional dry-stone walls surrounding classic villas and medieval hilltop towns. Valpolicella is home to four styles of wine and millennia of viticultural history. Drawing on experience spanning over a thousand years, the contemporary producers are crafting wines in this Italian region that might just become your new favorites. We'll be treated to a cellar tour and tasting of Valpolicella and Amarone wine at one of the regions most respected vineyards. We'll tear ourselves away only to visit another of the areas most famous producers of Amarone...the Allegrini Estate. Here you will visit the beautiful family owned villa and the prestigious cellars, then sit down to a lunch based on local products with a selection of their wines.
Later in the afternoon we'll need to walk off some of this culinary excess, so we'll visit the enchanting town of Sirmione on the shore of Lake Garda. Known to everyone as " the pearl of the islands and peninsulas", Sirmione is famous for its thermal water with it's healing properties. Situated on a long and narrow peninsula that divides the gulfs of Desenzano and Peschiera, Sirmione was made even more famous thanks to writers such as Catullo, Stendhal, Lawrence and Goethe that honored its artistic and environmental beauty. We'll enjoy a walking tour of this charming village and its breathtaking Castello Scaligero. On a culinary note, Sirmione also has one of the most impressive assortments of gelato shops in all of Italy!
This evening we'll return to our estate in Valpolicella to relax and unwind. Hopefully you didn't overindulge in the gelato of Sirmione, as we have another excellent meal awaiting us in our hotel.
Day 7 - Milano
After breakfast this morning we'll enjoy the scenery as our coach takes us westward to the city of Milan, the global capital of fashion and design. Home to the Italian national stock exchange, it's a financial hub also known for its high-end restaurants and phenomenal shopping. The Gothic Duomo di Milano cathedral and the Santa Maria delle Grazie convent, housing Leonardo da Vinci's mural "The Last Supper," testify to centuries of art and culture. We'll start our exploration with a local Milanese guide for a food-oriented walking tour of the local markets in the center of Milan, including visit to some local "botteghe". For lunch we'll sit down and rub elbows with the natives in a typical trattoria to taste the real Risotto alla Milanese . The afternoon is free to take off on your own to wander, shop and get lost, or as on option we can organize more touring of Milan's most famous sites such as the Cathedral, the Galleria, the Castle Sforzesco and to the Cenacolo Vinciano to admire Leonardo Da Vinci's masterpiece "The Last supper".
Tonight we have a special farewell dinner planned in one of our favorite Milanese restaurants. There will be plenty of laughing, eating, toasting, and reliving our adventures of the week!
Day 8 - Ci Vediamo Italia!
Your Go Get Lost tour ends today after breakfast at your hotel. Whether you are flying home today, heading out on your own, or embarking on one of our tour extensions to Florence, Venice or Rome, your tour leader can help you to arrange a transfer to the airport or the train station.
HOTELS
Due to availability at the time of booking, hotels listed may change to similar hotels
3 STAR HOTEL TOUR (Bonus-Last night is in a 4 Star!)
Turin - 3 Star Grand Hotel MogolThis 3-Star hotel is centrally located, newly refurbished, with young and bright rooms and a cool vibe. Just 100 meters from the central railway station Porta Nuova, a few minutes away from the main museums and the many tourist sites of beautiful Turin. The position overlooking the elegant Via Lagrange, charming pedestrian shopping area, the proximity to museums and buzzing evening/nightlife centers like the Quadrilatero Romano, Piazza Vittorio and the alternative San Salvario areas, make the Grand Hotel Mogol an ideal destination to discover Turin's treasures.
Pollenzo - 3 Star Albergo Corte AlbertinaThe Cascina Corte Albertina is situated within the old walls of the architectural complex built by Carlo Alberto of Savoy in the first half of the 19th century. Once a farm, a hub of agricultural production and research, it now houses an attractive hotel that preserves all the charm of times gone by. Besides providing every modern convenience, this historic location is also a perfect departure point for visits to the lovely wine hills nearby, for enjoying traditional food and for exploring the landscape on foot or by bike. The hotel, which stands between the neo-Gothic piazza of Pollenzo and the old royal courtyard, offers all its guests splendid views and shares a number of spaces with the prestigious University of Gastronomic Sciences, attended by students from all over the world. The guests are also welcome to make use of the swimming pool and wellness center at its sister hotel, the nearby Albergo dell'Agenzia. (4-Star Tour)
Franciacorta - 3 Star La Locanda FranciacortaLa Locanda della Franciacorta Hotel is located in one of the most beautiful areas of Lombardy, both scenic and cultural, in the heart of Franciacorta, a land of vineyards. This small, 25 room boutique hotel is perfectly situated for exploring the region.
Milan - 4 Star NH Nhow Milano HotelRight in the heart of Milan's fashionable Via Tortona, the Nhow Milano is a modern hotel design, providing an artistic, cosmopolitan home-from-home, great for exploring all the Design District has to offer. Following the new hotel design trends their rooms and suites are intimate and individual. Considered as one of the best hotel design, you'll find eclectic furniture (some designed especially for the hotel), a vibrant color palette and lots of clever touches,
4 STAR HOTEL TOUR
Turin - 4 Star Hotel Santo StefanoThe Torino Santo Stefano hotel puts you in the heart of beautiful Turin in the fashionable Quadrilatero Romano district, an area known for its fantastic shopping, restaurants and nightlife. The San Giovanni Cathedral – home to the Turin Shroud – is right next door. Designed by international architects Gabetti e Isola, the hotel combines chic, minimalist design with rustic elegance.
Pollenzo - 4 Star Albergo Dell'Agenzia:The Albergo dell'Agenzia Hotel in Pollenzo is the brainchild of Slow Food. Endowed with a charm all of its own, it's the ideal place for anyone keen to indulge in the pleasures of the palate. Housed in the same complex as the University of Gastronomic Sciences and the Wine Bank, it's the fruit of painstaking restoration of the neo-Gothic buildings of King Carlo Alberto of Savoy's royal estate. Each of our spacious rooms and suites, whose names evoke prestigious Barolo, Barbaresco and Roero crus, is characterized by carefully chosen warm and welcoming materials, from the terra cotta of the floors to the wood of the coffered ceilings to the Frau leather of the furnishings, while the marble tiling in all the bathrooms evokes rigor and elegance.
Franciacorta - 4 Star Cocca Hotel Royal Thai Spa:Immersed in an incomparable landscape, it is an oasis of peace. And with its with its Royal Thai Spa and wellness area, it's heaven for those who like to be pampered by a thousand attentions. A romantic stay awaits you at this lakeside resort with two restaurants, a full-service spa and an outdoor swimming pool.
Milan - 4 Star Hotel Sina De La Ville:Located in the historic center of Milan, a few steps away from the Duomo, the Scala Theater and the Quadrilatero della moda, the 4-star hotel Sina De la Ville welcomes guests in its classical and refined setting. Among few hotels in Milan, Sina De la Ville offers a sun terrace on the roof with a relaxing whirlpool overlooking Milan Cathedral. There is also a wellness center with steambath, gym and beauty treatments.
What´s Included
2 Nights, Double Occupancy in Turin at listed hotel (or similar)
2 Nights, Double Occupancy in Pollenzo area at listed hotel (or similar)
2 Nights, Double Occupancy in Franciacorta area at listed hotel (or similar)
1 Night, Double Occupancy in Milan at listed hotel (or similar)
7 Breakfasts
6 Lunches
6 Dinners
6 Wine tastings
All tours, visits, meals, and tastings as described in the itinerary
Entrance tickets for Mole Antonelliana & Car Museum Lingotto
All transportation once the tour starts
All listed activities, tours, visits, etc
All tips except for your primary local tour leader
All local hotel and city taxes
Local guide for the entire tour
Go Get Lost tour leader
What´s not Included
Meals not specified in itinerary
Beverages at meals unless specified in itinerary (all group meals include water and local wine)
Trip Cancellation/Interruption and Medical Insurance (strongly recommended), call for details
Single supplement charge
Items of a personal nature; phone calls, laundry, etc.
Arrival and departure transfers
International airfare, tour begins in the late afternoon in Turin, Italy on Day 1, and ends in Milan, Italy on the morning of Day 8
Tip for the primary local guide
Any costs associated with options or free time