Overview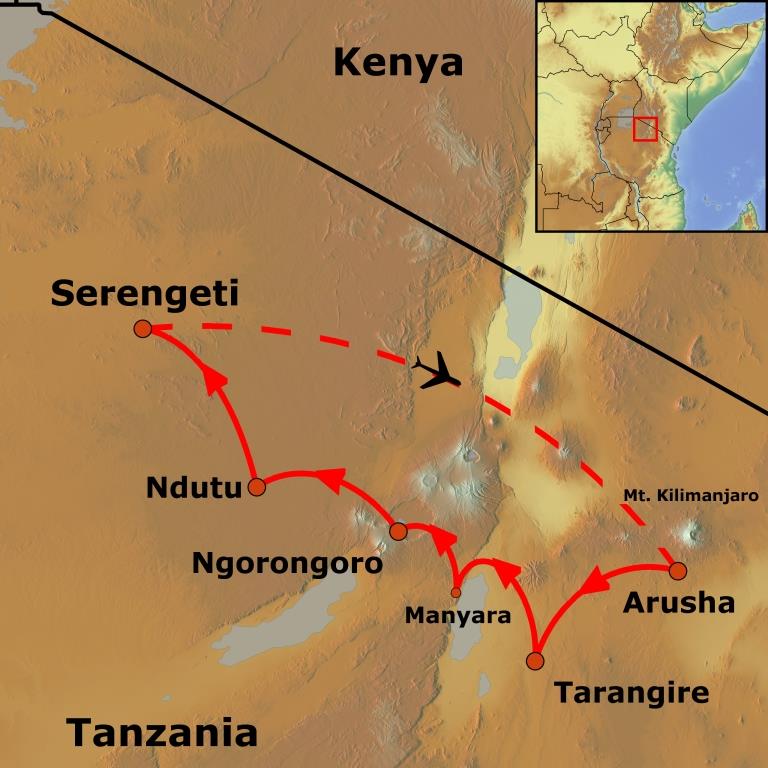 This is a small group african safari that explores both the wildlife and cultural highlights of Tanzania, with all Superior-Level accommodations in either a safari lodge or tented camp.
Join us on this trip-of-a-lifetime as we explore the exotic wilderness of East Africa for 9 days. This is a small group safari that explores both the wildlife and cultural highlights of Tanzania, with all accommodations in smaller wilderness lodges or luxury tented camps, avoiding the large, hotel-style lodges that are used by other safari groups. We'll be visiting some of the world's most exciting wildlife destinations…including Serengeti National Park, the fabled "Lost Land" of Ngorongoro Crater, Tarangire National Park, Manyara with its tree-climbing lions, and incredible Lake Ndutu wildlife area. The variety of landscapes and animals in all of these parks are beyond belief! A land of plains, lakes and mountains, with a narrow, low-lying coastal belt, Tanzania is East Africa's largest country and also one of its most diverse. Tanzania is home for more than 100 different ethnic groups, mostly of Bantu origin, each with its own language and customs.
Tanzania has one of the largest and wildest animal populations in the world. Wildebeest, monkey, antelope, lion, cheetah, crocodile, gazelle, and flamingo – you name them. Blessed with some of the world's largest game reserves, the country also has one of the highest concentrations of elephant, buffalo, hippo, wild dog and chimpanzee. You'll be astounded at the huge amount of wildlife we'll encounter…close up and personal! Bring your cameras…and lots of memory!
We'll be staying at a fascinating mix of safari camps…from game lodges situated in the wilderness to luxury safari tents in the bush. All of your meals are included, as are exciting game drives and even a bush hike with local guides. Since this overland adventure crosses a huge swath of the African landscape, our transportation is of utmost importance. For this we're using custom built 4 x 4 overland safari vehicles, with a maximum of only 6 people per vehicle, so there's a window seat for each person and a pop-up roof for animal viewing. You'll be accompanied by your seasoned Go Get Lost group leader along with a personal wildlife guide and driver. Our scheduled group trip dates are chosen in order to catch the Serengeti migration at it's peak, and our camps and lodges are selected with this in mind. However, you can intersect the migration through most of the year in different areas. We can plan a private safari for you or your group for almost any month.


Tour Dates & Pricing
Photo Gallery
Itinerary
Day 1 - Arusha
Upon your arrival, you will be collected from the airport and transferred to your lodge in the lush forests surrounding the town of Arusha. If you arrive early enough, you will have an opportunity to explore the lodge grounds, take a dip in the swimming pool or partake in any of the offered additional activities available. It's a great idea to arrive a day in advance of the tour, you'll have a chance to relax, get over your jet lag, and prepare your gear for your overland journey. For those arriving a day early, as part of your Early Arrival package your group leader will arrange a casual walking tour of the nearby village where you'll enjoy a few hours meandering through the typical little town. This offers an enchanting insight into day-to-day Tanzanian life, and a wonderful way to interact with the vibrant culture of the region. A guide will lead the way past local farms, stopping to talk farming methods with the people working the fields, before escorting you to the heart of the community to impart a flavor of the colour and vitality of the village.
Then after lunch we'll make a trip into Arusha to visit sites like the Arusha Cultural Center, which houses a fascinating mix of tribal art, clothing and souvenirs, the Maasai Market, and if time permits, a visit to the Old Boma Museum to learn the history of the area. After a final stop to pick up any last minute items, we'll return to our lodge for dinner, followed by a pre-trip meeting around the fireplace in the lounge.
Accommodation: Rivertrees Country Lodge or similar
Day 2 - Arusha-Tarangire
Your safari begins after breakfast this morning. On our adventure we will be traveling overland crossing great swathes of the African plains and countryside, searching for the game herds and their ever-present predators. We'll be traveling in style with custom-built 4 x 4 safari vehicles that are capable of dealing with the sometimes rugged African landscape. These overland vehicles are the result of many years of safari experience and design and will allow us to get to the game in safety and comfort! They have ample room, and as we only put a maximum of 6 people in each vehicle, everyone has a window seat! And of course we have our own drivers, who are also our private ranger-guides for the entire trip! The vehicles also have pop-up tops to allow everyone the chance to watch game, take unobstructed (but safe) photos, or just feel the wind in your face. In certain areas we'll have the chance to spend some time outside the vehicle as well, as we trek through the African bush on walks with our guides in search of wildlife and scenery.
Our first stop is Arusha town, for any last minute purchases before we head off on our exciting safari experience! Today we'll be exploring Tarangire National Park, one of Tanzania's richest reserves. Tarangire is well known for its huge elephant population and baobab trees. It forms the center of the annual migratory cycle that includes up to 3000 elephant, 25,000 wildebeest and 30,000 zebra. Its high elephant population imparts a rare chance to get up close to these gentle giants, and there's always the possibility of glimpsing some predators slinking through the savannah. A variety of ecosystems exist within the park boundary, providing a diverse range of wildlife with 94 species of mammals and over 500 bird species recorded.
After our safari we'll find our way to our wilderness camp, where we'll spend the night in quintessential safari tents, with thatched roofs and large, mesh-screened windows to provide the perfect opportunity to connect with the sights and sounds of nature. If you've never experienced a tented camp, you're in for a true safari experience…with style! Massive individual tents feature a porch, large beds, furniture, and even showers and flush toilets! There's no "roughing it" when you're out in the bush at our camp! You'll find the cuisine to be as impressive as the accommodations, too. Tonight we'll enjoy drinks in the dining room before sitting down to yet another outstanding African dinner. Large elephant herds can often be seen lingering near the grounds of our lodge and drinking from the Tarangire River just below the open-air terrace. Tonight you'll have an excellent meal and maybe enjoy a drink afterwards as you review all of your stunning photos.
Accommodation: Tarangire Safari Lodge or similar
Day 3 - Lake Manyara National Park, Ngorongoro Crater
After coffee and breakfast, we continue on our journey to Lake Manyara National Park. This spectacular park is located in the northwestern corner of a shallow soda lake that it is named after, at the foot of the Great Rift Valley's western escarpment. Manyara is not only known for its large flocks of flamingos but also for the elusive tree-climbing lions. Hundreds of other species call Manyara home as well. We'll be scanning for elephant, leopard, pythons, and over 500 bird species!
After an exciting day in Manyara, we'll leave the area this afternoon for a short drive northwest to the famed Ngorongoro Crater Conservation Area. We'll embark on a spectacular drive up the crater wall to the rim where we'll find out lodge, with plenty of time to check in, relax and enjoy the sunset over the crater below. Our lodge commands a spectacular location, facing the always magnificent sunsets to the west, and perched at the highest point on Ngorongoro crater's entire rim, offering unparalleled views across this enormous caldera. Themed around traditionally circular African houses with conical roofs, and decorated with examples of Africa's rich tapestry of artistic traditions by way of rich woodcarvings and sculptures, the lodge harmonizes perfectly with its dramatic surroundings, with many amenities not usually found on safari. Relax and pamper yourself, for tomorrow evening we head deeper into the bush!
Accommodation: Ngorongoro Sopa Lodge or similar
Day 4 - Ngorongoro Crater- Lake Ndutu
This morning we'll descend to the floor of the crater to spend the day exploring this magnificent wildlife sanctuary. Being one of the largest calderas in the world, 12.4 miles wide and almost 2,000 feet tall, with a variety of animals and vegetation, Ngorongoro Crater is one of Tanzania's most stunning areas. The vegetation includes grasslands, swamps, forests, salt-pans, as well as a freshwater lake and has been compared to Noah's Ark or the Garden of Eden. With 20,000 grazing mammals and the world's largest concentration of predators, you will have no trouble finding lion, elephant, rhino, buffalo and many of the plains herbivores such as wildebeest, Thomson's gazelle, zebra and reedbuck, as well as thousands of flamingo wading in the shallows of Lake Magadi, the soda lake on the floor of the crater. Within the steep walls of the crater you will find considerable movement of animals and you may well come across local Maasai tribesmen (who have grazing rights here), tending their cattle.
This afternoon, after a picnic lunch in the crater near the hippo pool, we leave the crater and drive up the winding caldera wall road to continue our travels to the southwest, to the spectacular wildlife area known as Ndutu, where we check in to our lodge. Situated in the south-eastern part of the Serengeti ecosystem, our camp is a series of individual bungalows surrounded by indigenous trees and shrubs, which encourage a host of birds and other animals to come right to your front door. Another wonderful meal, a drink by the bonfire, and you'll be ready to turn in to the sounds of the African night.
Accommodation: Ndutu Safari Lodge or similar
Day 5 - Lake Ndutu - Serengeti
This morning we head out in our safari vehicles to explore the rich ecosystem of the area. Lake Ndutu forms a shallow basin where water accumulates from the nearby areas of slightly higher altitude. The water in the lake is extremely saline, too saline for human consumption, but Lake Ndutu becomes alive with animals during the migration because it is surrounded by the Ndutu woodlands and the Short Grass Plains, which provide ample cover and food. From November to May, vast migratory herds visit the Ndutu area and provide a feast for the resident predators. Huge numbers of migratory birds come to the plains to feed and to escape the cold European winter. The lakes attract flocks of flamingos and other water birds. Animal viewing is excellent everywhere.
As the afternoon sun sinks lower in the African sky, we'll cross the boundary of the famed Serengeti National Park. We'll make our way across vast grasslands dotted with acacia trees and packed with animals, deep into the central section of the park. We'll be near the Seronera River, considered the lifeblood of the Serengeti and renowned for great game viewing all year round. It is also particularly good for lion and cheetah sightings, as well as the most elusive of all big cats, the leopard. Our destination is a superb mobile tented safari camp, where we will spend three nights immersed in the splendor of the African bush.
Our base of operations for the next three nights is a semi-permanent campsite, which combines the luxury and comfort of a stable structure and the practicality of mobile camping. In fact the site can
be moved seasonally according to the number of animals present, to the rains, and other natural surrounding elements. Our camp is surrounded by a small acacia wood and laid down on a small hill over- looking the vast low-land of Serengeti, and is the perfect location for an exciting photographic-safari to observe the herds during the migration period. Apart from the massive presence of animals, the area has unforgettable and uncontaminated natural landscapes. The stunning display of stars tonight combined with the sounds of the wilderness will be an experience you won't soon forget.
Accommodation: Kisura Tented Camp or similar
Day 6 and 7 - Serengeti National Park
Today our game drive will lead us into the Serengeti National Park. Serengeti, which sprawls across 5,757 square miles, is Tanzania's largest and most famous national park. Most of the park is open swathes of grassland, broken by isolated granite kopjes (hills) and patches of acacia woodlands. The chief herbivore of Serengeti is the wildebeest of which there are up to two million. The amazing annual migration of wildebeest herds is one of the biggest attractions of the Serengeti. It begins at the Serengeti National Park near the Kenyan border, when huge herds of these animals head for greener pastures in Kenya. Starting in April each year, they migrate across the Serengeti's southern plains accompanied by zebra, antelope, gazelle, and lions! The park is also famous for its cheetah, Cape buffalo, and large herds of giraffe.
We'll have a box lunch today to allow us to stay moving through the stunning landscape of endless plains, dotted with animal herds.
Accommodation: Kisura Tented Camp or similar
Day 8 - Serengeti - Arusha
This morning we'll make our way to the small Seronera airstrip for our bush flight back to Kilimanjaro International Airport. By early afternoon we should be at our lodge, complete with swimming pool and beautiful grounds, and only 10 minutes from the airport!
Tonight we'll have our farewell dinner, with the chance to exchange photos, email addresses, and goodbyes with all your new friends who shared your safari experience!
Accommodation: Kia Lodge or similar
Day 9 - Kilimanjaro International Airport
Our safari tour ends today after breakfast when you'll be taken to KIA for your departure flight. If you have a very late flight we can arrange for a day room and late checkout.
What´s Included
1 night accomm at Rivertrees Country Lodge (or similar)
1 night accomm at Tarangire Safari Lodge (or similar)
1 night accomm at Ngorongoro Sopa Lodge (or similar)
1 night accomm at Ndutu Safari Lodge or similar)
3 nights accomm at Kisura Tented Camp (or similar)
1 night accomm at Kia Lodge (or similar)
All meals
Arrival and departure airport transfers from Kilimanjaro Airport (JRO)...Tour begins on Day 1 at Rivertrees Country Lodge and ends after breakfast on Day 9 at Kia Lodge
All transfers during the tour, we use custom 4x4 overland safari vehicles. Size of vehicles is determined by group size. Every person has a window seat!
Domestic bush flight (with airport transfers) from Seronera airstrip in Serengeti National Park to Kilimanjaro International airport on Day 8.
Game drives in Tarangire National Park, Manyara National Park, Ngorongoro Conservation Area, Lake Ndutu Wildlife Area, and Serengeti National Park. We normally have about two game drives per day, depending on weather and logistics. Wild animal encounters are also common in and around many of our camps and lodges.
Bush walk with ranger guides.
All National Park Fees
Early arrivals will enjoy a casual walking tour of a local town, and a visit to Arusha to explore local sites of interest like the Arusha Cultural Center, Old Boma Museum, etc. (additional cost for the early arrival package).
Fully escorted by an Go Get Lost Tour Leader
What´s not Included
International airfare
Alcoholic drinks
Items of a personal nature...laundry, telephone calls, etc
Visa fees, if necessary. Note: A visa ($100) is required for U.S. visitors to Tanzania. It's a fairly simply procedure, done by mail. Our office can advise you on how to apply.
Early arrival package (accommodations, local tours).
Gratuities to guides, drivers, or lodge staff
Travel and evacuation insurance, which is required for safari travel to Africa. Our office can advise you on the appropriate policy and sign you up over the phone.