On many of our Go Get Lost adventures a good daypack is not just a recommended piece of gear, it's a required piece of gear. It doesn't matter if you're out walking all day in the Tuscan countryside, strolling along a Greek beach, on a rocky trail in Patagonia, or creeping through the African bush to spy on some zebras, you're going to want to bring your "stuff". Things like your camera, water bottle, rain jacket, bug spray, sunblock, lunch, and of course you'll need room to pack the goodies you might buy along the way. On many of our walks you'll find you need a jacket in the crisp morning air, but by noon you'll have shed it and need somewhere to stash it. On the trail it's definitely a fashion faux-pas to tie it around your waist, or, heaven forbid, around your shoulders as if you were on your way to the finals at Wimbledon.
Unless you're planning a summit assault on Everest, you won't have to break the bank to outfit yourself properly. A good quality daypack will run you $100-$150, and if you're willing to settle for something with a few less bells and whistles, you can grab one for as little as $80.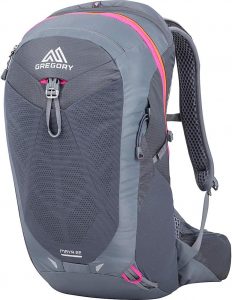 Let's talk about the important features to look for…keep in mind these recommendations are oriented toward the needs of our Go Get Lost travelers.
Different Size Daypacks: Which is Right?
Pack size is measured in liters. Women tend to go for something in the range of 16-30 liters, with the sweet spot around 22 liters. Men's sizes run from 22-40 liters, with the most common being 26-30 liters. Aim for the smaller end of the scale if you have a smaller frame, go for the larger sizes if you play center for the Packers. These size ranges should provide enough room to comfortably carry the "stuff" listed above. Any smaller and you might find yourself asking others to carry your stuff, and any larger and you're just adding extra pack weight…and you'll also be the target of the people with the tiny packs. Sort of like owning a pickup truck…everyone wants you to move their stuff.
Are Daypacks With Waste Belts Better?
Not just a nicety, but a necessity. The majority of the weight in your pack actually rides on your hips via the waist belt, not on your shoulders. It may not seem as if the small amount of weight in a daypack will make much difference, but the ounces will definitely add up as the day wears on…(a screwdriver isn't heavy, but try holding it over your head for an hour). Let your legs carry the load, not your back. Centering the weight on your hips also lowers your center of gravity slightly, making you less top-heavy and less likely to slip or stumble on the trail. If possible, try to get a wide (2-4 inch) waist belt with nice thick padding in the hip area. Since you'll be cinching the belt tight against your hips, you want some comfortable padding there. I try to avoid the waist belts that are simply a thin nylon web belt. This is what you'll find on the lower end of the price range, and is better than no waist belt at all…but certainly not preferred. Pockets on each weight belt are one of the handiest things invented, so make sure yours has them.
CHEST STRAP
It's hard to believe, but this humble little strap that connects the two shoulder straps across your sternum is the key to daypack happiness. By pulling the two shoulder straps together slightly, the chest strap magically takes the stress off your shoulders…it simply disappears! It's hard to find a pack that doesn't have this simple but wonderful little feature…don't buy one without it!
WATER BOTTLE SLEEVES
Most daypacks will have one or two water bottle sleeves located on the outside, usually on the sides at the bottom. I like the type with sleeves that are angled forward, making it easier to get to your bottle without taking off your pack. Many packs also feature an internal sleeve with a removable bladder-like water reservoir and a hose that routes up to where you can get at it to drink. These are handy for sipping water during the walk without having to deal with a bottle. They're not quite as handy when you're wandering through a European town and buy a bottle of water and need to stow it…now you have to open your pack, pull out the bladder, transfer the water, etc. Not a big deal, but not as easy as simply slipping the new bottle into the sleeve.
BELLS AND WHISTLES
I love pockets, the more the merrier. I find it's easier to organize my sunglasses, car keys, snacks, money, and other goodies when I can stow them in a variety of small zippered compartments scattered over the pack. Some packs have special pockets or straps to stow your walking sticks…very handy! I also like the part that rides against your back to be padded and have some sort of ventilation channels. Speaking of bells and whistles…although I would question your popularity among your trail-mates if you had a bell attached to your pack (except in Grizzly country), but I have seen several packs that have whistles built into the chest strap buckle!
Some of my picks for great daypacks:
Womens:
Gregory Maya – Comes in 16, 22 and 30 liter sizes
Osprey Mira – 22 and 32 liters
Osprey Tempest – 20 and 24 liters
Mens:
Osprey Stratos 24 – This is my personal favorite and current daypack
Gregory Inertia – 24 and 30 liters
Gregory Miwok – 24 and 32 liters
Osprey Talon – 22 and 26 liters