Overview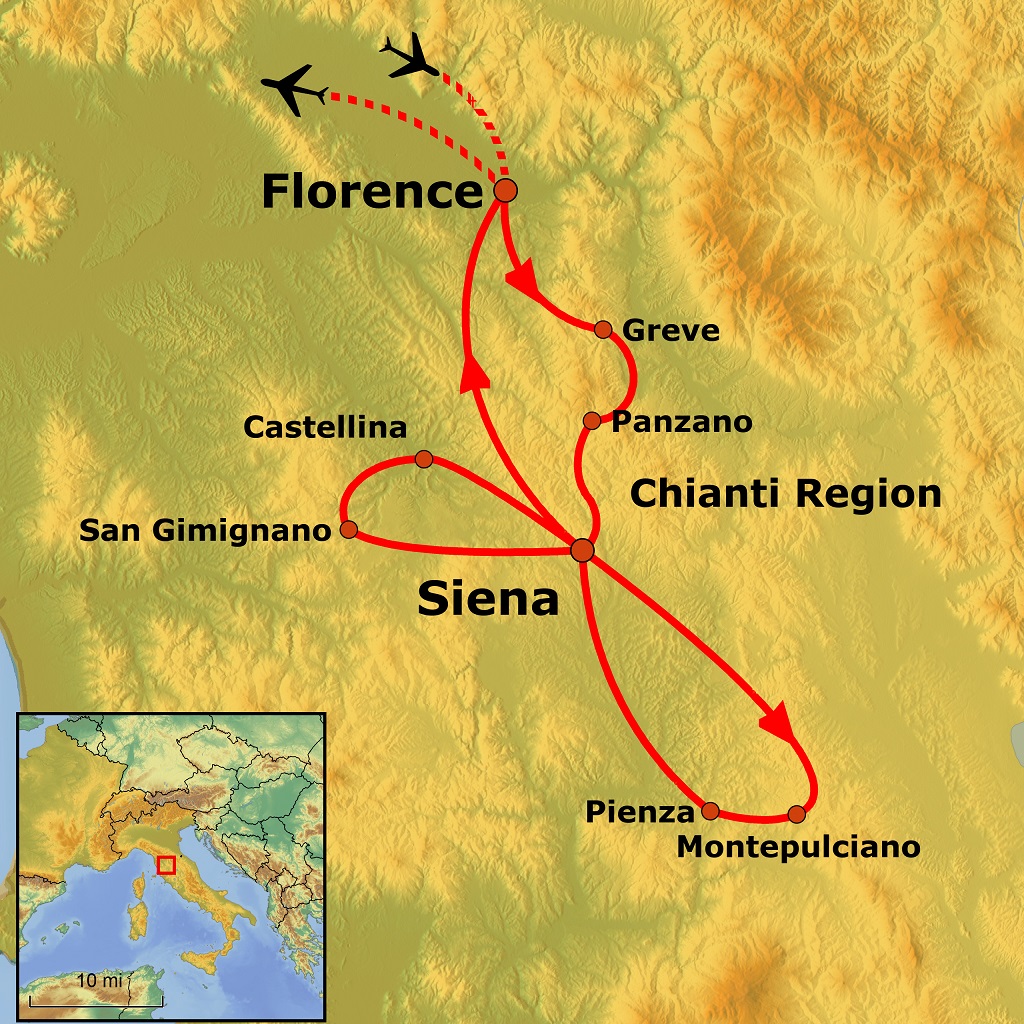 Join us on this special private tour as we experience the cuisine culture of Tuscany while exploring the towns and historic cities of this magical land.
The mystical allure of central Italy has remained strong for almost three millenia. Tribes, kingdoms and empires have risen and fallen, and each has left its unique mark. It began with the ancient civilizations of Etruscans and Romans, endured the invasions of other European cultures, blossomed during the Renaissance to lead Europe out of the Dark Ages, and continues to evolve even today. Tuscany has one of the world's most perfect combinations of history, art, cuisine, landscape, culture…and of course the people who make it all come to life. The culture of food is prevalent in all aspects of Tuscany…with a huge array of vineyards, famous kitchens and an inborn Tuscan philosophy of living life to the fullest!
On this adventure, we stay true to our Go Get Lost philosophy of immersing you in the culture, introducing you to plenty of the fun local characters, cooking alongside some of the best chefs in region, indulging in the superb regional cuisine, marveling at landscapes only a Renaissance painter could reproduce and veering off the beaten path quite often to find the hidden gems we love. Best of all, we give you plenty of quality free time to wander, get lost and soak up the ambiance of the area.
Casual 3-Star or premier 4-Star accommodations, local guides to show you the secrets of the area, private transfers, and a Go Get Lost tour leader to make it all run smoothly.
Tour Dates & Pricing
Photo Gallery
Itinerary
Day 1 - Florence
Arrival in Florence airport and private group transfer to your centrally located 3 or 4 Star hotel.
Check in and relax.
Florence is known as the cradle of the Renaissance, and rightfully so. The 14th century
explosion of creative talent that ended the Dark Ages and forever changed the world, was born
and matured in this beautiful, magnificent city. Some of the greatest names in history called
Florence home: Leonardo Da Vinci, Michelangelo, Donatello, Dante, Giotto, and the infamous
Machiavelli.
Florence is known as a pedestrian-friendly city, with all of the major museums, palazzos, and
squares located within easy walking distance. The friendly ambiance of this genteel Tuscan
capital will set you at ease as you wander along its cobblestoned streets lined with shops and
restaurants.
This afternoon you'll meet your local Florentine guide for a 3 hour tour of Florence. They'll lead you on
a private journey of exploration throughout the city, where you'll marvel at the fascinating story of
Florence, both past and present. You'll end with a visit of San Lorenzo Market followed by dinner
inside the Market.
Day 2 - Cooking Class in Florence and Botteghe Tour
After breakfast you'll embark on a pleasant walk of about 20 minutes to reach your private
kitchen located in San Frediano, the most authentic quarter of Florence . Before starting to
cook your personal chef will accompany you in a unique "botteghe walking tour", a short
shopping walk in one of Florence's most authentic neighborhoods, avoiding the tourist packed
markets. Together with your chef you'll hunt for produce visiting our small family run butcher,
vegetable stall and a "not-to-be-missed" cheese shop, before heading back to the school for
your lesson. Your class lasts approximately 3.5 hours, the course is hands on. You will prepare a
four course menu, using the best seasonal products and learn the secrets of making fresh
handmade pasta. Wine is also included. After the lesson you'll be able to relax and dine with
the recipes you prepared.
Afternoon is free to wander Florence and get lost. World class museums, art, and shopping
abound. You're free for dinner tonight, so keep your eyes open for the perfect trattoria.
Day 3 - Chianti & Siena
After breakfast at the hotel you'll check out and board your private coach for your day
exploring the charming Chianti region. Following the Chiantigiana Road you'll stop in Greve in
Chianti for a wine and salami tasting at the famous butcher Falorni. Then on to Panzano in
Chianti and stop for lunch at Dario Cecchini's "Solo Ciccia " restaurant for lunch and wine. Time
permitting you'll be able to wander a bit in these quaint towns. In the afternoon you'll arrive in
Siena and accommodation at your 3 or 4 Star hotel:
When you combine the history of Siena with the current traditions of its inhabitants, you'll find
that Siena is arguably one of the most fascinating, one of the most unique, and one of the most
vibrant cultures in all of Europe! The Senese have kept alive the customs of their ancestors, and
in fact live it every day. To understand all of the history and customs, we'll have a private
guided tour of the city by one of its citizens. As you explore the city you'll marvel at the huge
span of history represented in its architecture, from the Romans to the Renaissance to the
Goths, Siena is a landscape of all the civilizations that have dominated here.
You'll have the evening free to explore and find the perfect place for dinner. Senese cuisine reflects the best of classical Tuscan dishes. Robust and flavorful, a wide variety of pastas, meats and cheeses are present in a staggering variety of dishes. Experiment and enjoy!
To top off your night you should join the locals for the traditional after-dinner passagiatta (stroll) and perhaps visit our favorite gelato bar!
Day 4 - The Valdorcia, Pienza & Montepulciano
This morning we head south for an unforgettable excursion into southern Tuscany. Our first
stop will be Montepulciano, a lovely medieval village perched on the top of a small mountain,
the slopes of which are covered with vineyards dedicated to producing the unique grape
Prugnolo Gentile. It's walls are perfectly preserved and from them you can enjoy great views of
the Orcia valley hills. Here you'll enjoy some free time to wander the cobblestone streets and
explore the town. Be sure to stop in one of the many wine shops and underground cellars to
sample their famous vintage Nobile di Montepulciano, a full-bodied red and one of the great
wines of Italy. This afternoon our explorations continue in the town of Pienza, true symbol of
Renaissance. Walk in the narrow romantic streets of this tiny village, home to Pope Pius II and
perfectly representing the Quintessence of Tuscany over five hundred years later.
Our culinary adventures today aren't complete, though. A visit to the Pienza area isn't
complete without seeing just how their marvelous cheeses are made! We'll spend the rest of
the day with a local farm and cheese maker in the Pienza countryside where we'll learn how
they produce their cheese, and then we'll enjoy a wonderful cheese-based dinner, highlighting
all of their farm's production.
Day 5 - Cooking in Chianti… & San Gimignano
This morning we head north into the rolling hills of the Chianti countryside to the charming
town of Castellina in Chianti. Here we'll meet Chef Laura and join her for a walking tour of the
local market of Castellina to buy ingredients for our cooking class. Then on to her wine estate
in Castellina for our cooking experience in the preparation of a Tuscan menu. Of course lunch
to follow with wines of the Estate, along with a tasting of their olive oils.
In the afternoon we'll proceed into the region known as the Chianti Colli Senesi, where we'll
explore the wonderfully bizarre town of San Gimignano. The high walls and narrow streets of
this imposing fortress are typical of Tuscan hill towns, but the 14 medieval towers that
dominate San Gimignano's skyline set it apart from all the rest. Here you can "get lost" in the
maze of streets, shops, and cafes. San Gimignano is rumored to have one of the best gelato
shops in all of Italy...may be worth a visit? For the not-so- faint-of- heart, a tour of the
fascinating (and gruesome) Museum of Medieval Justice will provide an interesting yet
terrifying glimpse of the past.
Hopefully you didn't eat too much at lunch, because as this is our final evening in magical Tuscany, tonight we have an incredible farewell dinner planned at one of our favorite local restaurants. Adventures and misadventures from the previous week are re-lived and laughed about, everyone and everything is toasted, addresses are copied and goodbyes are exchanged with all your new lifelong friends that you "Got Lost" in Italy with!
Day 6 - Departure
This morning we'll have a group transfer to Florence airport.
HOTELS
Due to availability at the time of booking, hotels listed may change to similar hotels
Florence - 4 Star Beacci Tornabuoni: The décor and atmosphere is of refined elegance enhanced by modern comforts that make the Hotel Tornabuoni Beacci a location full of charm and glamor in the most elegant Florentine shopping, Via de Tornabuoni.
The rooms are decorated with fine furniture, curtains, and upholstery, and the guests are immersed in atmospheres rare for an unforgettable stay in Florence.
Siena – 4 Star Hotel Athena With a perfect location just inside the walls of Siena's old city, the Athena is in a quiet residential neighborhood only a short walk from the center of Siena and its famous piazza, Il Campo. Modern rooms are tastefully decorated with dark woods and muted colors. With furnishings by local artisans, colors that echo the tones of the Tuscan landscape and the many comforts available, you will feel completely at home at ease, surrounded by the warmth of a welcome you will always remember.
Florence – 3 Star Hotel Silla: Beautifully located along the Arno River, Hotel Silla distinguishes itself for the excellent comforts and services it offers and a breathtaking rooftop terrace on the Arno. Within the historic Demidoff building, the congenial family-run hotel offers an expert multilingual staff. Only a few steps away from the hotel (a one minute walk) you can reach the Ponte alle Grazie and once you have crossed the bridge, you find yourself in the center of the architectural structures and works of art that have made Florence famous all over the world, such as Ponte Vecchio, Palazzo Strozzi, and Palazzo Pitti.
Siena - 3 Star Hotel Santa Caterina For those visiting Siena for the first time, the historic center is often considered a perfect medieval jewel. This lovely hotel is just outside the historic center and just a few minutes' walk from Piazza del Campo, the Duomo and other artistic beauties of the city. Located in a patrician building dating back to the eighteenth century, they also have a beautiful rooftop garden with a view over the Sienese countryside, where in the summer they serve breakfast to their guests. Rooms at the Santa Caterina are furnished in an elegant and sophisticated manner, and the staff are highly renowned for their availability and courtesy.
What´s Included
2 nights at a 3 or 4 Star hotel in Florence
3 nights at a 3 or 4 Star hotel in Siena
Daily breakfast
Meals as specified: 5 breakfasts, 3 lunches, 4 dinners, 1 wine tastings, 2 cooking classes
All group meals include water and wine (soft drinks, beer and any other drinks are extra)
Private group arrival airport transfer in Florence
Private walking tour of Florence with local guide
Welcome dinner in San Lorenzo market
Botteghe tour with the chef, and cooking class in San Frediano cooking school with lunch
Salami and wine at Falorni Butcher
Lunch at Solo Ciccia Restaurant by Dario Cecchini
Private walking tour of Siena with a local guide
Visits to Montepulciano and Pienza
Tour of dairy farm and dinner
Castellina market visit
Cooking class in a wine estate, with lunch, wine tasting and olive oil tasting
Visit to San Gimignano
Farewell dinner in Siena
Private group departure transfer to Florence airport
All transfers as listed in itinerary, this tour uses private coaches
All gratuities for meals, local guides, coach drivers, etc. (Does NOT include gratuity for primary local tour leader.)
Completely escorted by a Go Get Lost Tour Leader with local guides at specified sites throughout the itinerary
A lifetime of unforgettable memories!
What´s not Included
Airfare package
Gratuity for primary local tour leader
Visa fees, if applicable
Meals not specified in itinerary
Trip Cancellation/Interruption and Medical Insurance (strongly recommended), call for details
Single supplement charge
Items of a personal nature; phone calls, laundry, etc.