Overview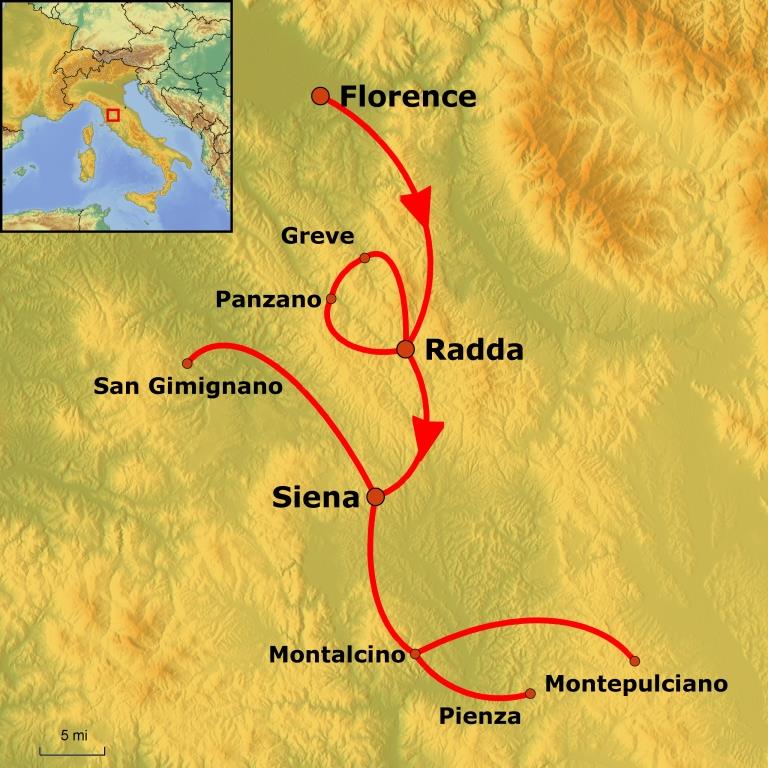 The magical allure of central Italy has remained strong for almost three millenia. Tribes, kingdoms and empires have risen and fallen, and each has left its unique mark. It began with the ancient civilizations of Etruscans and Romans, endured the invasions of other European cultures, blossomed during the Renaissance to lead Europe out of the Dark Ages, and continues to evolve even today. Tuscany has one of the world's most perfect combinations of history, art, cuisine, landscape, culture…and of course the people who make it all come to life. The culture of the vine is prevalent in all aspects of Tuscany…with 23 DOC wines, 11 DOCG varieties, dozens of SuperTuscans and countless regional vintages, the sheer variety and quality of wines present in this iconic region is staggering.
Join us on this special private tour as we experience the annual grape harvest in Tuscany while exploring the towns and historic cities of this magical land, at one of the most exciting times of the year!
On this adventure we stay true to our Go Get Lost philosophy of immersing you in the culture, introducing you to plenty of the fun local characters, learning from the winemakers how they make the grapes come to life in the bottle, indulging in the superb regional cuisine while cooking alongside local experts, marveling at landscapes only a Renaissance painter could reproduce, and veering off the beaten path quite often to find the hidden gems we love. Best of all, we give you plenty of quality free time to wander, get lost, and soak up the ambiance of the area.
You'll be pampered with premier 4 and 5-Star accommodations, local guides to show you the secrets of the area, private transfers, and a Go Get Lost tour leader to make it all run smoothly.
Tour Dates & Pricing
Photo Gallery
Click the thumbnail to view larger image.
Itinerary
Day 1 - Ben Venuti in Italia!
Your Italian adventure starts at mid-morning today at meeting point of the lobby of the Hotel Baglioni in Florence. (You'll be provided with detailed arrival and departure instructions to help you coordinate your flights and travel.) You'll meet your private guide, board your coach and head southeast out of the city and into the Chianti countryside. While traveling through the picturesque landscape you'll stop for a tour at the prestigious wine estate of Castello D'Ama, renown for their excellent cellars and also for their eclectic art collection. Artists from all over Italy have created works that are embedded throughout the estate, both indoors and out. Then you'll relax and enjoy a typical Tuscan lunch here, complemented by the estate's vintages. Tuscan cuisine, like all Italian regions, reflects the best of the local area. Fresh pasta is prevalent, along with salami, prosciutto, chicken, beef, and pork, with nearly everything organic and free-range, which has always been the natural way for Italians. Of course you'll find some of the world's best olive oils here, along with tomatoes, peppers and melanzane that are bursting with flavor. And the cheeses of this region are legendary, with literally dozens of varieties running the gamut from fresh and creamy to aged and robust...truly an epicurean's heaven! During your time in Italy with us you'll be introduced to some exquisite wines that can be found no where else, from marvelous honest farmhouse productions to wines from some of the top estates in the world, and everything in-between. To make it even more exciting we'll even expose you to some of the fine vintages from the other wine regions of Italia as well.
After dining we'll have a short transfer to the picturesque village of Radda, to check in to your 4-Star accommodations in a converted palazzo in the town center, either the Palazzo Leopoldo or Palazzo San Niccolo. After the hustle and bustle of your journey you'll get to unwind in small-town Italy!
This evening is at you leisure, you can relax after your flight, or you can choose to join a walking tour of Radda village and the countryside. Tonight you'll enjoy an excellent dinner of regional specialties...followed by a good nights sleep!
Day 2 - The Chianti Region
This morning we'll have a typical Italian buffet breakfast at your hotel, then depart on our private coach for a day of exploring the renowned Chianti region and its quaint villages. Famous for it's scenic beauty and wine production, Chianti typifies the perfect balance of cultivated vineyards, forested hills, and quaint medieval towns. First we'll stop at the stunning Brolio Castle for a visit of its Gardens and to admire the exquisite panoramic view from atop its walls. The original formula for Chianti Classico wine was developed here by the "Iron Baron" Bettino Ricasoli in 1872, and in fact the Ricasoli family still lives in part of the castle! Then its off to the nearby Castello di Volpaia for a tour of their wine cellars and olive mill, followed by a tasting of their production.
Later we'll have a stroll through the cobblestone streets of Panzano to have lunch at the MacDario Butcher Shop, famous for its meat all over the world.
This afternoon we'll stop in the charming village of Greve in Chianti, known for its town square and many shops. Here we'll visit the family-run wine estate of Panzanello, located in the beautiful Panzano hills. After a visit to their wine cellar you'll need to roll up your sleeves and get ready to learn more about the Tuscan kitchen. The housewife and Chef Ioletta will teach you how to prepare a full Tuscan meal, which of course you will enjoy afterwards! Yet another aspect of regional cuisine, and paired with Panzanello's best wines!
Day 3 - San Gimignano and Siena
After breakfast this morning we'll check out of our hotel in Radda and head west, into the region known as the Chianti Colli Senesi region. The morning will be spent exploring the wonderfully bizarre town of San Gimignano. The high walls and narrow streets of this imposing fortress are typical of Tuscan hill towns, but the 14 medieval towers that dominate San Gimignano's skyline set it apart from all the rest. Here you can "get lost" in the maze of streets, shops, and cafes. San Gimignano is rumored to have one of the best gelato shops in all of Italy...may be worth a visit? For the not-so-faint-of-heart, a tour of the fascinating (and gruesome) Museum of Medieval Justice will provide an interesting yet terrifying glimpse of the past.
Just a few miles outside the walls of San Gimignano we'll stop at one of our favorite local family farms, San Donato to have a visit of their cellars and a tasting, followed by a light lunch. The farm covers ample acres of olive groves, vineyards, fields and forest. The farm's vineyards produce delicate white Vernaccia wine, a local specialty, along with several styles of robust Chianti. They also produces one of our favorite Tuscan olive oils, which along with the other farm products will figure prominently in our meal. The rule at their kitchen is you eat as much as you want, and then a little more!
After eating we can relax for a bit and enjoy the scenery as we make our way south to the picturesque walled city of Siena. Here we'll check in to our home for the next two days, the rustically elegant Palazzo Ravizza, a 4-Star renovated palazzo perfectly situated in a peaceful neighborhood within the walls of the old city.
When you combine the history of Siena with the current traditions of its inhabitants, you'll find that Siena is arguably one of the most fascinating, one of the most unique, and one of the most vibrant cultures in all of Europe! The Senese have kept alive the customs of their ancestors, and in fact live it every day. We'll have a private guided tour of the city by one of its citizens, visiting the Cathedral Complex, Piazza del Campo, and San Domenico Church, along with a very special visit to one of the private neighborhood museums, repository of all that they hold dear for hundreds of years. As you explore the city you'll marvel at the huge span of history represented in its architecture, from the Romans to the Renaissance to the Goths, Siena is a landscape of all the civilizations that have dominated here.
Tonight your guide will take you to one of their favorite local ristorante for you to experience yet another side to the food and wine culture of the region. Siena has striven with Florence for dominance for hundreds of years, and they have made sure that their cuisine rivals their larger neighbor to the north!
The traditional after-dinner passegiatta tonight takes place in one of Italy's most beautiful squares, the Piazza del Campo. Strolling along with a gelato in hand under the soft lamplights of Siena is an experience to remember.
Day 4 - Pienza, Montalcino, and the Valdorcia
Today we board our private coach and head south into the famed wine region of Valdorcia, known worldwide for the produciton of Brunello and Nobile. This area boasts the classic Tuscan landscape of rolling hills dotted with Italian cypress, vineyards dominated by walled cities, and every other image you've ever seen on a postcard! After a tour of the town of Montalcino (epicenter of Brunello wine), we'll visit the Abbey of St. Antimo, one of the area's most peaceful valleys. Next we'll have a private tour of one of Montalcino's famed wineries, Fattoria Caparzo, seeing how their vineyards work with their cellars to produce the vintages famous all over the world. And of course during our light lunch we'll sample the results of their efforts as well! Next its on to the quirky little Renaissance town of Pienza, famous as the hometown of one of the most unusual popes, and even more famous as the center of cheese production for the region.
Or as an option, instead of Pienza we may visit the nearby medieval walled town of Montepulciano, perched on the top of a small mountain, the slopes of which are covered with vineyards dedicated to producing the unique grape Prugnolo Gentile. We'll have a short tour of the cobblestone streets of Montepulciano, then you'll have some free time to wander and shop. Be sure to stop in one of the many wine shops and sample their famous vintage of Nobile di Montepulciano, one of the great wines of Italy.
After the visit we'll head back north for a stop at Podere il Casale, an organic agricultural farm. Here we'll enjoy a cheese tasting which consists of 8 samples of their own various sheep and goat cheeses made from raw milk. During the tasting they will explain the stages of cheese production from hand–milking to the final product. Meanwhile you may relax on the terrace with a breathtaking panorama of the Val d'Orcia Valley. A glass of wine from their production range , home made bread baked in their own wood-oven and jam and honey to accentuate the cheese will make this an unforgettable journey into beautiful southern Tuscany.
We'll return to Siena in the early evening. Tonight you are free for dinner, your guides can suggest one of their favorite eateries. Siena has an endless variety, from tiny local pizza places to ristorante that typify the best of Italy. Explore and enjoy!
Day 5 - Florence, Birthplace of the Renaissance
After breakfast this morning we'll have a private transfer direct to the 4-Star Hotel Balestri in Florence's city center. This morning is free for you to wander and "get lost" in the magic that is Florence. You'll soon find that it's not only cultural gems that attract visitors, but also the world-class shopping and fashion houses that rival Milan and Paris. Street vendors, small boutiques, leather shops and lesser-known designers are the strength of Florence's shopping scene...explore and enjoy! Lunch is on your own today, so be sure to keep an eye out for one of Florence's many marvelous trattorias, where you'll enjoy yet another excursion into robust Tuscan cuisine.
This afternoon an expert local guide will meet us for our private guided tour of Florence, one of the preeminent architectural and artistic treasures of Europe and birthplace of the Renaissance. We'll wander this walker-friendly city to see some of it's most iconic and famous sites. Florence is a veritable museum of unique and incomparable treasures. From the Renaissance palaces that line many of the cobblestone streets, to the historic squares and fountains dotted throughout the city, to the world-renown art and history museums, Florence has something for everyone, including the Ponte Vecchio, Santa Croce Church, Piazza della Signoria and the Cathedral Complex.
Hopefully you didn't eat too much at lunch today, because as this is our final evening in magical Tuscany, tonight we have an incredible farewell dinner planned at one of our favorite local restaurants. Adventures and misadventures from the previous week are re-lived and laughed about, everyone and everything is toasted, addresses are copied and goodbyes are exchanged with all your new lifelong friends that you "Got Lost" in Italy with!
Day 6 - Arrivederci Italia!
This morning after breakfast we'll have a group transfer to the airport, where your Go Get Lost adventure will end. (Depending on your flight times, you may have the option to book a tour of the Vasari Corridor and Uffizi Gallery this morning.)
What´s Included
Private local tour manager/guide for the entire tour
Private deluxe coach 16 or 25 seats with air conditioning
All private group transfers as per itinerary
2 nights' accommodation in Radda in double classic room in 4-Star Palazzo Leopolo or Palazzo San Niccolo, or similar
2 nights' accommodation in Siena in double classic room in 4-Star Palazzo Ravizza, or similar
1 nights' accommodation in Florence in double classic room in 4-Star Hotel Balestri, or similar
Daily breakfast
Lunch with wine and guided tour of the art installation at Castello di Ama
1 dinner in Hotel in Chianti (all group dinners include water and local wine)
Lunch at Mac Dario butcher shop
Hands on cooking class and dinner at Panzanello Wine Estate with wine tastings
Lunch at San Donato Wine estate in San Gimignano area with wine tastings
1 dinner in Enoteca Compagnia dei Vinattieri in Siena
Degustation tastings at Podere il Casale in Pienza
Lunch in a typical Trattoria Volterra
Farewell dinner at Obika restaurant in Florence
Entrance and visit of the garden of Castello di Brolio
Visit, wine and olive oil tasting at Castello di Volpaia in Chianti
Light lunch and visit with wine tasting at Fattoria Caparzo
Walking tour of Florence with local guide
Walking tour of Siena with local guide
Entrance fees for Santa Croce Church in Florence, Siena Contrada Museum and Cathedral
Hotel taxes
Group departure transfers to Florence airport on Day 6 (Please coordinate your purchase of airline tickets with your Go Get Lost group leader).
Completely escorted by a Go Get Lost Tour Leader, with local guides at specified sites throughout the itinerary
A lifetime of unforgettable memories!
What´s not Included
Airfare package
Airport arrival transfers, tour begins at the meeting point of the Hotel Baglioni lobby at mid-morning in Florence on Day 1, and the tour ends at the airport in Florence on the morning of day 8.
Gratuities for meals, porterage, local guides, coach drivers, etc.
Visa fees, if applicable
Meals not specified in itinerary
Beverages at meals unless specified in itinerary
Trip Cancellation/Interruption and Medical Insurance (strongly recommended), call for details
Single supplement charge
Items of a personal nature; phone calls, laundry, etc.