Overview
When most people think of Italy, the first thing that comes to mind is food and wine. And rightfully so, Italy has some of the most renown cuisine in the world. And let's not forget the incredible wine from the various regions of Italy.
But for others, when they think of Italy, they think of something a bit different. They think luxury performance automobiles. From some of the most famous manufacturers such as Ferrari and Lamborghini, to some of the lesser known exotic automobile designers such as Pagani. Italian racing machines have dominated the world since the invention of the automobile itself.
If you're one of the individuals that most relate to the automobiles of Italy, this tour might just be for you. Or if you're just looking for something a bit different, something that is not your typical tour of Italy, you might also be intrigued by this tour. We've taken everything that's great about Italy and wrapped it around an impressive tour of luxury Italian automobiles.
"Unforgettable trip through the beautiful Tuscan Countryside, seeing our favorite sport cars and getting to drive one!"
We'll start in the "Terra del Motori" (Motor Valley), home to some of the world's most well-known luxury automobiles. During this portion of our tour, we'll visit the Ferrari museum and the factories Lamborghini and Pagani, getting an up close and personal look at how these beautiful cars are built. For those that want to get behind the wheel of an Italian sports car, we even have an optional track event that will allow you to take several laps on an Italian race circuit.
But what's a trip to Italy without experiencing the food, wine, and culture? While we're here, we'll also spend several days experiencing the Go Get Lost version of classic Tuscany, including visits to San Gimignano, Siena, and the Tuscan countryside. We have some incredible activities planned, including walking tours, Italian Cooking classes, wine tastings, balsamic vinegar factory tour, eating amazing meals and more. All this, while staying in luxury 4-star accommodations.
All of our group tours are also offered as private tours for individuals or groups…pick your own dates!


Tour Dates & Pricing
Extend Your Stay
Optional Activities
Photo Gallery
Itinerary
Day 1: Ben Venuti a Bologna
You should plan to arrive in the enchanting city of Bologna by midday at the latest. Most of our travelers arrive a day early in order to be here in plenty of time to relax and meet the others at the "get-acquainted" party and dinner which starts in the late afternoon. (When you book your tour, your guides can help you make arrangements for transferring from your arrival airport to the hotel in Bologna.)
After our orientation party/meeting we'll take a nighttime stroll through Bologna's winding streets to one of our favorite local restaurants where you can relax and recharge at our group "get-acquainted dinner". Plate after plate of incredible food will magically appear in front of you, all you have to do is make it disappear! Bolognese cuisine reflects the best dishes in all of Italy. Robust and flavorful, a wide variety of pastas, meats and cheeses are presented in a staggering variety of dishes. Along with the food, the wines of the region are some of the world's finest vintages. Experiment and enjoy!
To top off your first night in Italy we'll join the locals for the traditional after-dinner passagiatta (stroll) and perhaps visit our favorite gelato bar! All of the great food and wine combined with a little jet lag will ensure that you sleep well tonight!
"The tour to Italy with Go Get Lost was fantastic and the food was an 11 out of 10. Jeff and Steve made sure we didn't miss a thing, even some special requests once we were there, that weren't part of the original trip."
Day 2: Maranello and the Ferrari Museum
Today we hop on our chartered motor coach as we travel to Maranello to spend some time at the Museo Ferrari, the world's most prestigious Ferrari museum and exhibition. Enthusiastic fans will discover an astounding display with as many as 40+ cars and an impressive pit-stop reconstruction. You'll be inspired by the stunning "Hall of Victory" featuring some of the most famous race-winning vehicles in history, backed by huge video screens recounting the historic moments.After our incredible Ferrari experience, we travel to a nearby balsamic tasting facility where we see how the world famous Balsamico di Modena is made by this same family for four generations. After a light lunch we'll jump back on our motorcoach and return to Bologna for a walking tour with a local Bolognese guide. She'll introduce us to the shopping and food district that literally surrounds our hotel. Whew! What a great first day!!
Day 3: Lamborghini, Pagani, and Pasta
After a classic Italian breakfast we depart from our hotel via our private motor coach. Our first destination will be the little village of Sant'Agata Bolognese, also known as the home of Lamborghini, where we will have the opportunity to immerse ourselves in one of the most legendary automobile cultures in the world. Inside the Lamborghini factory we'll tour the Lamborghini museum, where we'll have the chance to admire some of the most famous models of the company, including the first production model built by Ferruccio Lamborghini in 1964, the 350GT. From there, we move on through the years to see other renowned models, including chassis 001 of the legendary Countach! Ever seen a Lamborghini Aventador? How about one mounted side-ways on the wall?! Well, this will likely be the only place you'll see this. Want to get a little more "up close and personal"? The best way is to take a guided tour through Lamborghini's assembly lines to get behind the scenes and learn how these incredible cars are built. After this unique Lamborghini adventure, we'll go to one of our favorite local ristorante for a fantastic lunch, featuring regional dishes.
This afternoon we have a very special event planned…a visit to the very exceptional, very exclusive Pagani factory. Hand-crafting only a handful of supercars each year, each costing millions of dollars, Horacio Pagani's small factory/workshop is a testament to the Italian concept of art fused with engineering. In the showroom you will be able to see a scale model of the very first Pagani sportscar and the first race car he ever built, at the age of 20! We will also experience a guided visit of the production workshop.
After being overwhelmed by the artistry of Pagani, you'll be ready to switch gears and think about something other than autos…like cuisine!
Awaiting us this evening we have a cooking class and a fabulous dinner! Those that would like to enjoy learning the secrets of the Bologna cuisine can roll up their sleeves and join the chef...those that would prefer to sit back, enjoy the wine and watch the action can do so. Afterwards, when we all sit down for a sumptuous dinner, we'll discover why Bologna has earned the title "Food Capital of Italy".
Day 4: Autodromo di Modena and optional F1 Italian Circuit
After breakfast, if you're still all worked up over the incredible cars we've seen over the past two days and you're dreaming of yourself behind the wheel, then today your dream comes true! You'll have a unique opportunity to drive a high-performance Italian automobile on an Italian circuit. Choose from three different world-class cars, the KTM XBOW, Ferrari F430 Challenger, or Ferrari F458 Challenger. After a short technical briefing, you'll suit up, get wired up with an interphone and helmet, and you're off. After five laps around the track with a professional driving instructor at your side, you'll feel like you're ready for Formula One! This is an optional event and requires pre-registration and an additional fee to participate. Our guides can help with this before you leave the U.S.
After yet another excellent lunch at the track, (even Italian racetracks excel at cooking), we'll take some time to visit the nearby Enzo Ferrari Museum in Modena. Built around the actual house where he lived, this remarkable museum traces Enzo Ferraris life and rise to fame as the world's foremost race car designer. , You'll also be treated to displays of some of the more famous Ferrari engines along with many classic Ferrari autos, from the earliest productions to the latest speed demons.
This evening you have a "night-off" to wander on your own to discover some of Bologna's incredible restaurants
Day 5: The Tuscan Hills and Vineyards
Today we bid "arrivederci" to Bologna and journey through the picturesque Chianti countryside to experience the Tuscan vineyard culture. The landscape in this area is the optimum combination of rolling hills covered with grape vines alternating with forested tracts. With a near perfect combination of sun, soil, and vines, the winemakers of this region have lifted their craft to unprecedented heights. We'll visit one of the premier vineyards, have a wine tasting of some of their best vintages, with a wonderful meal following!
As the sun sinks over the vineyards and farms of Tuscany, we'll board our private motor coach and travel a short distance to Siena, one of the most unique walled medieval cities in all of Europe. After checking into our charming hotel, a local guide will provide a glimpse into the special local culture and history of Siena. We'll then have a walking tour of the winding cobblestone streets of the fascinating and vibrant city center. Our wanderings will end at one of our favorite local restaurants, where an entirely new assortment of regional cuisine awaits us. An after dinner passegiatta around Siena's stunning Campo, or town square, will cap off another perfect day in Italia.
Day 6: San Gimignano and the Tuscan Countryside
Today our journey will take us to an entirely different area of Tuscany to explore the wonderfully quirky town of San Gimignano. Known for its ceramics, leathers, and Italian memorabilia, it was also once a powerful city-state with 72 towers scattered throughout the city. Today there are a mere 14 remaining, but there is a fascinating museum with a replica of the city as it was in it's heyday with all 72 towers displayed. It is also the home of what some say is the best gelato shop in all of Tuscany. It's difficult to leave here without sampling their astounding selection!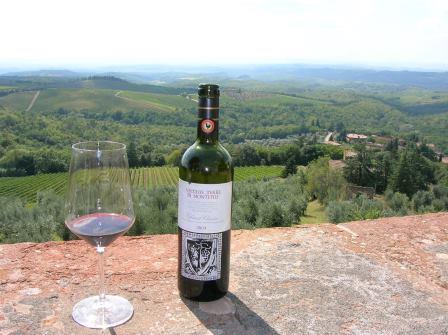 Eventually we leave this beautiful village and make our way to a nearby farm where the hosts will treat us to one of the most incredible lunches you have ever experienced. This small farm also produces its own wines which we shall match expertly with our meal. This evening, after we have returned to Siena and had time to freshen up and rest, we walk to a small Enoteca where we enjoy a wine tasting in a private cellar with the sommelier, an expert in the wines of this region. This experience will be a memorable one for all. You will have the rest of the evening free to find your own special ristorante.
Day 7: Brolio and the Chianti Region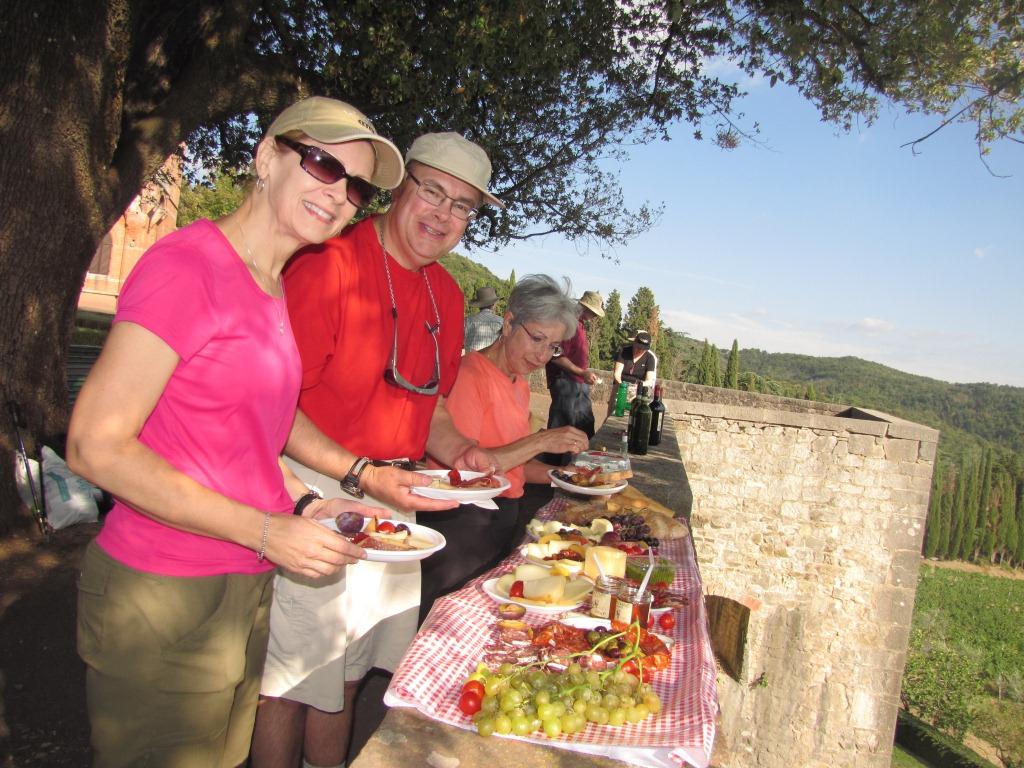 After breakfast today we'll relax and enjoy a scenic drive thru the enchanting Tuscan countryside to the vineyards of one of the most historic castles in all of Italy, Castello di Brolio. Our friend and local sommelier will accompany us today to explain grape and olive cultivation and harvesting. We'll even enjoy a short walk (all downhill!) to admire the stunning Chianti views. Eventually we'll arrive at the Cantina of the Brolio Castle, where we'll enjoy a tour of their winemaking facility. No wine tasting here, though, because we'll save that for after the tour, when we visit the massive Brolio castle perched on top of the mountain! While you wander the grounds of the castle and take as many pictures as possible, the guides will be preparing a picnic of regional delicacies. You'll enjoy your lunch while relaxingon the walls of the castle, overlooking the vineyards and forests of the surrounding countryside. To make our picnic even more elegant, our resident sommelier will host a wine tasting of some of the fantastic wines of Toscana. This may be the most memorable meal yet on the tour! This afternoon we return to Siena for last minute shopping and wandering. As the darkness falls over the cobblestone streets of Siena, we'll walk to our final group dinner at one of the guide's favorite local restaurants. Over plates of wonderful Sienese cuisine and fine Tuscan wine, we'll relive all our exciting adventures, laugh about our misadventures, and marvel at how much we've experienced in such a short amount of time.
"My son and I had the best time of our lives. You guys seemed to know all the great places to eat, sleep and wow the wine was amazing."
Day 8: Arrivederci Italia
After breakfast, the guides will help you with your departure plans.
What´s Included
7 Nights, Double Occupancy Accommodations at 4-star Hotels
Meals as Specified, 7 Breakfasts, 1 Countryside Picnic, 5 Lunches, 4 Dinners, 3 wine tastings
Welcome Dinner in Bologna
Welcome Dinner in Siena
Farewell Dinner in Siena
Cooking Class and Dinner in Nonantela
Ferrari Factory Museum
Enzo Ferrari Museum
Lamborghini Museum and Factory Tour
Pagani Museum and Factory Tour
Walking Tour of Bologna with Local Guide
Balsamic Vinegar Factory Tour
Siena Walking Tour with Local Guide
Tour, Wine Tasting, and Lunch at a Tuscan vineyard
Tour of Brolio Cantina
Wine Tasting and Picnic at Castello di Brolio
Transportation once the tour has begun. The motorcoaches and vans we use are modern, air conditioned and roomy. Our tour groups are usually between 8-18 people so we always have lots of room on our coaches to get comfortable.
All train, ferry, hydrofoil, coach and taxi transfers as specified in itinerary.
Sightseeing and entrance fees as specified in itinerary
Completely escorted by an American Lost in Italy Tour Leader (groups of 6 or more) with local guides at specified sites throughout the itinerary
A lifetime of unforgettable memories!
What´s not Included
Airfare package
Arrival and departure transfers, tour begins at the hotel in Bologna in the afternoon of Day 1, and the tour ends at the hotel in Siena on the morning of Day 8.
Meals where not mentioned.
Beverages at meals unless specified in the itinerary (water and wine included at all group meals)
Gratuities for Porterage, local guides, coach drivers, etc.
Optional F1 Italian Circuit Track Event *Additional charges apply to participate.
Trip Cancellation /Interruption and Medical Insurance (strongly recommended), call for details
Single Supplement Charge