Overview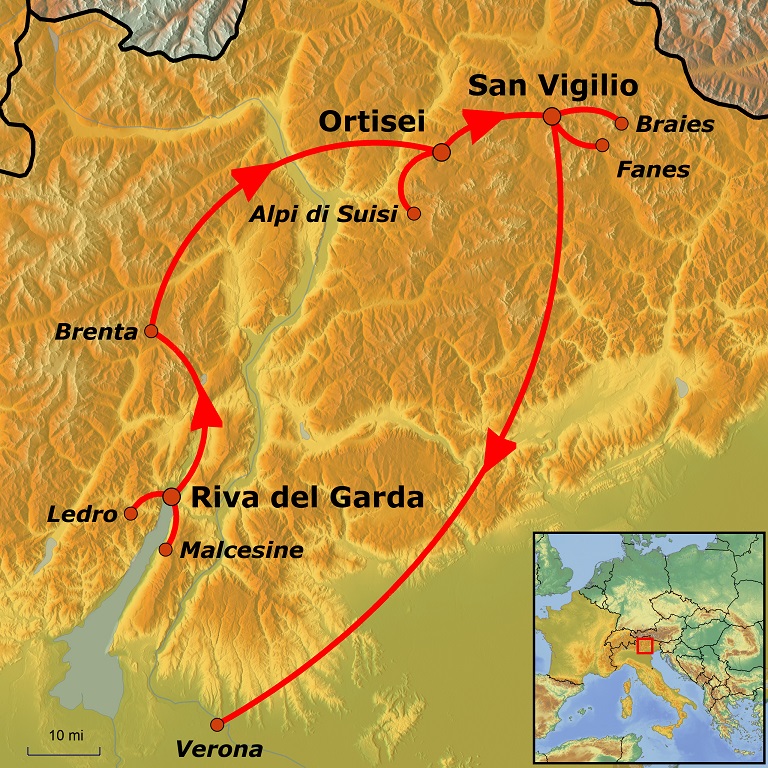 Explore with us three strikingly different regions of Italy, the high alpine lakes of Trentino, the magnificent Dolomite mountain paths and vistas of Alto Adige, and the enchanting trails and canyons of the Veneto region. Each region has its own heritage of food, wine, and history that has shaped the people and the culture through the ages. Like all Go Get Lost adventures, we'll be walking the trails, visiting the villages, sampling the wine, meeting the locals, enjoying the food, marveling at the incredible views, sampling the wine again, enjoying some more cuisine, and slowly easing into the pace of life in this wonderful corner of Northern Italia!
Tour Dates & Pricing
Photo Gallery
Click the thumbnail to view larger image.
Itinerary
Day 1 - Riva del Garda
Our Italian adventure starts today in Riva del Garda, our home for the first part of our trip. Located in the Italian Regione of Trentino, Riva is a picturesque town wedged between the Italian Alps and the far northern shore of Lago di Garda, the largest of the famous Italian Alpine Lakes. In Riva you'll begin to notice the subtle cultural differences that differentiate this region from the rest of Italy. Although primarily Italian, Austrian and German influences appear alongside Italian names, cuisine and history. Riva's strategic location made it an important trading center as far back as Roman times, with sailors bringing goods from the south to trade for supplies that came over the Alps from central Europe. The diversity of cultures that mingled here makes Riva a fascinating town even today.
The scenic beauty of the area is evident, too. The blue of the waters contrasts sharply with the green and grey of the surrounding peaks, but both natural features combine to shelter the area and provide a fascinating microclimate. The olive trees on the slopes overlooking Riva are said to be the northernmost olives in the world, and produce an incredibly light, delicate oil. Strangely enough, Mediterranean plants abound here and coexist with typical alpine shrubs and trees.
You should plan to arrive in Riva by midday at the latest. Tonight we'll have our orientation meeting, (of course with local wines), and afterwards we'll walk to one of our favorite spots for our welcome dinner.
Italian and Tyrolean traditions color the robust cuisine in this region, smoked hams, apples, chestnuts, grapes, plums, and pasta tossed with some of the most delicate olive oil in the world appear on most menus. In addition you'll find polenta, more mushroom varieties than anywhere else in Italy, and trout from the alpine lakes and streams. There are two things that definitely set this cuisine apart...the breads and the cheeses! Drawing on both Austrian and Italian baking traditions, the finest breads in all Italy are found here...often laced with onion, garlic, or herbs.
There is also an amazing amount of delicious cheeses produced in this region! The problem is naming them, since there are so many local varieties, many are simply called nostrano or "our local homemade cheese". You'll fall in love with the many types known as malga, a category of mountain cheeses that are made with the summer milk from cows that graze in the highest valleys of the region.
An after-dinner passegiata in the town piazza alongside the moored boats at the pier will cap off your first day in the far north of Italia.
Day 2 - Lago Ledro
This morning we stretch our legs on a beautiful lakeside trail that winds alongside the dramatic cliffs of Lago Garda. As the morning sun paints the shoreline we'll be enjoying the views of sailboats, windsurfers and ferry boats as we climb ever higher on this easy path. In ancient times the local Ladin people used this trail to transport goods between the Roman and Venetian trading posts on Lago Garda and the small mountain communities. Mules, pack horses and villagers trod these paths for centuries, but today they provide an easy way for us to enjoy the mountain scenery as we walk. After drinking in the Lago Garda views we'll turn inland through a tree-lined rocky gorge alongside a clear mountain stream as it leads us deep into the mountain valleys. Small alpine villages and farms appear in the forest along our route, which seems to have taken us to another quieter world from the wide open spaces along the lake. Before we realize it we're at our destination, Lago Ledro…a gorgeous sapphire blue alpine lake situated in a small bowl-shaped valley embedded in the forested peaks.
Your guides will prepare a sumptuous lakeside picnic featuring plenty of delicacies from the area, including cheeses from the mountain dairies, local farm salami and breads from the bakeries of Riva.
Of course to reward you for your walk the guide will have a selection of local wines to complete the picnic!
Meanwhile you can stroll along the waters edge, spotting trout and enjoying the view, or even better you can wash off the trail dust in the clear cool waters of the lake! (Don't forget your towel today!)
Our private bus will take us back to town today with plenty of time for you to explore and Go Get Lost! You can relax and "do your own thing", this afternoon and do some shopping in Riva.
Tonight we'll go to a fabulous local ristorante, roll up our sleeves, and help the chef prepare some regional specialties. And then sit down to enjoy the fruits of our labor…
Day 3 - Malcesine, Monte Baldo
Today we'll go south along Lago di Garda to the lakeside village of Malcesine. Here we'll board a series of lifts that scale the near vertical bluffs rising from the lake. This is the long ridge-like spine of impressive Monte Baldo, paralleling the lakeshore for over twenty miles and towering over the nearby landscape. Upon exiting the last lift we'll find ourselves in a different landscape from the gentle lakeshore we left. cool winds, short alpine flora, and stunning views in all directions!
From here a ridge-top path works its way along the spine of Monte Baldo, sometimes edging towards the inland mountains and their lush valley views, sometimes skirting the cliffs along the lake dotted with sailboats. As we walk along the ridge you'll be amazed at the panorama, on a clear day you can easily see the southern end of Lago di Garda, over 20 miles away!
If you're looking for an easier option today you could ride the lifts to the top, then walk as much (or as little) as you want, enjoying the mountaintop views, then ride the lifts back down to Malcesine for an extended day in the town.
After our exciting morning on the mountain we'll turn everyone loose to explore Malcesine. There's plenty to see and do in this beautiful little town, but when the sun is still high above the mountaintops we'll meet at the Malcesine dock to board our boat for a scenic ride back to Riva.
This evening is free for you to wander around Riva to find a cozy ristorante to have dinner. People-watching in Piazza Novembre over a cappuccino will be the perfect relaxed ending to an exciting day!
Day 4 - Brenta Group
 After breakfast today we bid farewell to Riva and join our local alpine guides as we board our private mini-coach and head northwest into the spectacular Dolomite Mountains. The route we use winds its way through scenic valleys, past neat mountain villages and over tumbling streams in this out-of-the-way corner of the Alps. Our destination for our morning walk is the formation of mountain peaks known as the Brenta Group, famed for their towering cliffs and surrounding lakes.
Our adventure starts in the mountain town of Madonna di Campiglio where we'll use a cable car to transport us up to our trailhead. The walk will lead us across one of the most spectacular landscapes in Italy, high above the treeline and weaving among towering granite pillars. The Brenta group is one of the most photographed mountain landscapes in the world, and we'll literally be "in the postcard" as we trek between the breathtaking crags. You'll have many chances to take your very own "postcard" photos of the scenery! We'll have a hearty lunch at a stone and log mountain "rifugio" and then continue on our path, with dramatic views in every direction.
Eventually we'll all board our coach and continue deeper into the mountains to Castelrotto, our home for the next few days. Our route to Castelrotto takes us to the northeast past the far northern outposts of Trento and Bolzano. The views along our route are gorgeous and provide typical landscapes of green mountain valleys lined by soaring vertical rock walls. Vineyards, towns, and orchards are sprinkled between large forested tracts. We'll soon be into the Italian Regione of Alto Adige, also known as the SudTirol or South Tyrol, which straddles the border with Austria to the North. The Austrian influence is strong here, both in the language and the food. Ortisei, situated in a lovely secluded mountain valley, is one of the most picturesque alpine towns in all of the Dolomites. With winding cobblestone streets, an abundance of shops and cozy family ristorante, flowerboxes on nearly every windowsill, and towering peaks in every direction, this town is a magical bit of northern Italian ambiance.
After checking into our 4 Star mountain spa hotel, we'll settle into a dinner at the hotel, refueling after our exciting day. You'll find that the cuisine has made a definite shift towards the Austrian influence as we're now much farther into the Alps. Relax and enjoy, today you earned your dinner!
Day 5 - Alpi di Suisi, Schlern Plateau, Sassolungo
At the town of Alpi di Suisi we'll use a funicular to ascend to the high plateau of Sciliar, nestled in a bowl of some of the most breathtaking alpine scenery you can imagine. Our walk will circumnavigate the plateau through rolling alpine meadows complete with wildflowers and placid dairy cows, along cliffs that plummet thousands of feet to the valley floor, and always surrounded by the brooding peaks of Sassopiatto and Sassolungo. This walk contains a panoramic overlook that might possibly be the best in all of our trips…certainly in the top 5. Need I say it…take your camera!
Our meal this afternoon will be at a log-cabin mountain rifugio in a protected valley of the plateau. Depending on conditions we'll either be outside on the deck under the crisp alpine sunshine, or eating around a cozy fireplace with a glass of vino (or Austrian beer) and a hearty mountain lunch in front of us. It doesn't get much better than this.
For those in our group not inclined to huff and puff their way around the plateau, we can offer some fun (and easier) alternative itineraries for the day. The town of Ortisei has some fun shops, as do the nearby towns of Santa Cristina and Selva, accessible by local bus. You can also use the local bus to explore the city of Bolzano, a beautiful city with one of the best shopping and market districts in Italy and also the famous Otzi Iceman museum. Suffice to say that whatever you choose to do today you'll sleep well tonight…
Day 6 - Lago Braies
Today we'll journey through more stunning alpine scenery to the postcard-like Lago Braies, considered to be the most beautiful lake in all of South Tyrol. Situated in the Valley di Braies and surrounded by the imposing mountain peaks of Croda del Becco, this panorama will make you think you have stumbled into a fairy tale. We'll have an easy walk around the lake, stopping to take pictures and...of course...eat lunch. A small local dairy farm will be the perfect venue for a mountain meal.
After our walk our private motorcoach takes us to the small, remote village of San Vigilio. where we'll check in to our charming mountain hotel. Tonight we'll enjoy the hospitality and cuisine of our wonderful family-run inn. Local specialties dominate the menu, and the northern Italian wines complement them perfectly. A perfect end to another perfect day…life is good.
Day 7 - Fanes National Park
Today is special...we'll be walking through one of Europe's most spectacular landscapes. We'll start after breakfast with a transfer by small vehicles up a rough mountain road to Rifugio Fanes. Here we begin our trek, crossing a high alpine meadow and meandering along a dramatic mountain ridge. The landscape here is classic unspoiled Tyrolean Dolomites...tranquil yet stunning. We'll enjoy eagle-eye views of the surrounding countryside, arriving eventually at a panoramic spot overlooking the Valley de Mareo, perfect for lunch. After drinking in the scenery we'll work our way down to Rifugio Fanes, where we'll relax and enjoy a hearty lunch and a well-deserved glass of wine or frosty mug of beer.
Tonight we stay in San Vigilio for a very special final night's meal. The mouthwatering Tyrolean cuisine and the local wines will top off our incredible journey through the lakes and mountains of Northern Italy.
Day 8 - Arrivederci Italia
After breakfast today you'll have a private coach transfer to the Verona train station, where your Go Get Lost tour will end.
HOTELS
Due to availability at the time of booking, hotels listed may change to similar hotels
Riva del Garda - 4 Star Hotel Sole, Portici or Europa In Riva we use three different hotels, all are perfectly situated in the historical center of Riva, on the main squares adjoining the lake. When you walk out of the front doors of any of the hotels, you'll be immersed in the energy and beauty of the town center, with cobblestone streets, shops, restaurants and outdoor cafes.
Ortisei – 4 Star Superior Spa Hotel Luna Mondschein Since 1878 the Perathoner family has run the Hotel Luna Mondschein in Ortisei. For five generations they have welcomed their guests with special emphasis on personal contact and great hospitality. Located only a few blocks from the main town center of Ortisei, the hotel is an oasis of peacefulness and relaxtion, with stunning views of the surrounding mountains.
San Vigilio di Marebbe – 3 Star Hotel Al Plan Traditions, style & family! At the Al Plan Hotel, the Trebo family will happily welcome you. The hoteliers Maurizio and Theodora and their children Max and Moritz have many surprises for you. Once you got into our family-run hotel and stopped at the reception you can stop thinking of your everyday routine. Get comfortable in the welcoming lobby or on their sunny terrace. Get involved in the pleasant and calm atmosphere! Here every guest will feel like home. Hotel Al Plan is located in the heart of San Vigilio: a hotel with style, elegance and character, which combines perfectly with the special atmosphere of the Val Badia!
What´s Included
3 nights accommdations, double occupancy, in a 4 Star hotel in Riva
2 nights accommdations, double occupancy, in a 4 Star Superior spa hotel in Ortisei
2 nights accommdations, double occupancy, in a 3 Star hotel in San Vigilio di Marebbe
Meals as specified: 7 breakfasts, 5 lunches, 5 dinners, 3 wine tastings
Picnic lunch at Lago Ledro featuring local specialties
Mountain lunch at Rifugio Tuckett
Mountain lunch at Arnikahutte Rifugio
Mountain lunch at Lago Braies
Mountain lunch at Rifugio Fanes
Welcome dinner in Riva del Garda
Cooking class with dinner
Dinner in San Vigilio
Farewell dinner in San Vigilio
Ledro walk
Monte Baldo walk
Brenta walk
Nardis Waterfall walk (optional)
Alpi di Suisi walk in the SudTirol
Fanes National Park Walk
Lago Braies Walk
Wine tasting in San Vigilio
Vineyard tour with wine tasting
Opportunities to visit lots of unique villages – Malcesine, Nago, Ledro, Ortisei, San Vigilio, etc.
Transportation once the tour has begun. The motorcoaches and vans we use are modern, air conditioned and roomy. Our tour groups are usually between 8-18 people so we always have lots of room on our coaches to get comfortable.
All train, ferry, hydrofoil, coach, and taxi transfers as specified in itinerary.
Group departure transfer to Verona train station
Sightseeing and entrance fees as specified in itinerary
All gratuities, except for your primary local guide
Completely escorted by a Go Get Lost Tour Leader with local guides at specified sites throughout the itinerary
A lifetime of unforgettable memories!
What´s not Included
Airfare package
Arrival transfers, tour begins at the hotel in Riva del Garda on the afternoon of Day 1, and the tour ends at the train station in Verona on the morning of day 8.
Gratuities for your primary local guide
Visa fees, if applicable
Meals not specified in itinerary
Beverages at meals unless specified in itinerary(water and wine are always included in group meals)
Trip Cancellation/Interruption and Medical Insurance (strongly recommended), call for details
Single supplement charge
Items of a personal nature; phone calls, laundry, etc.