Overview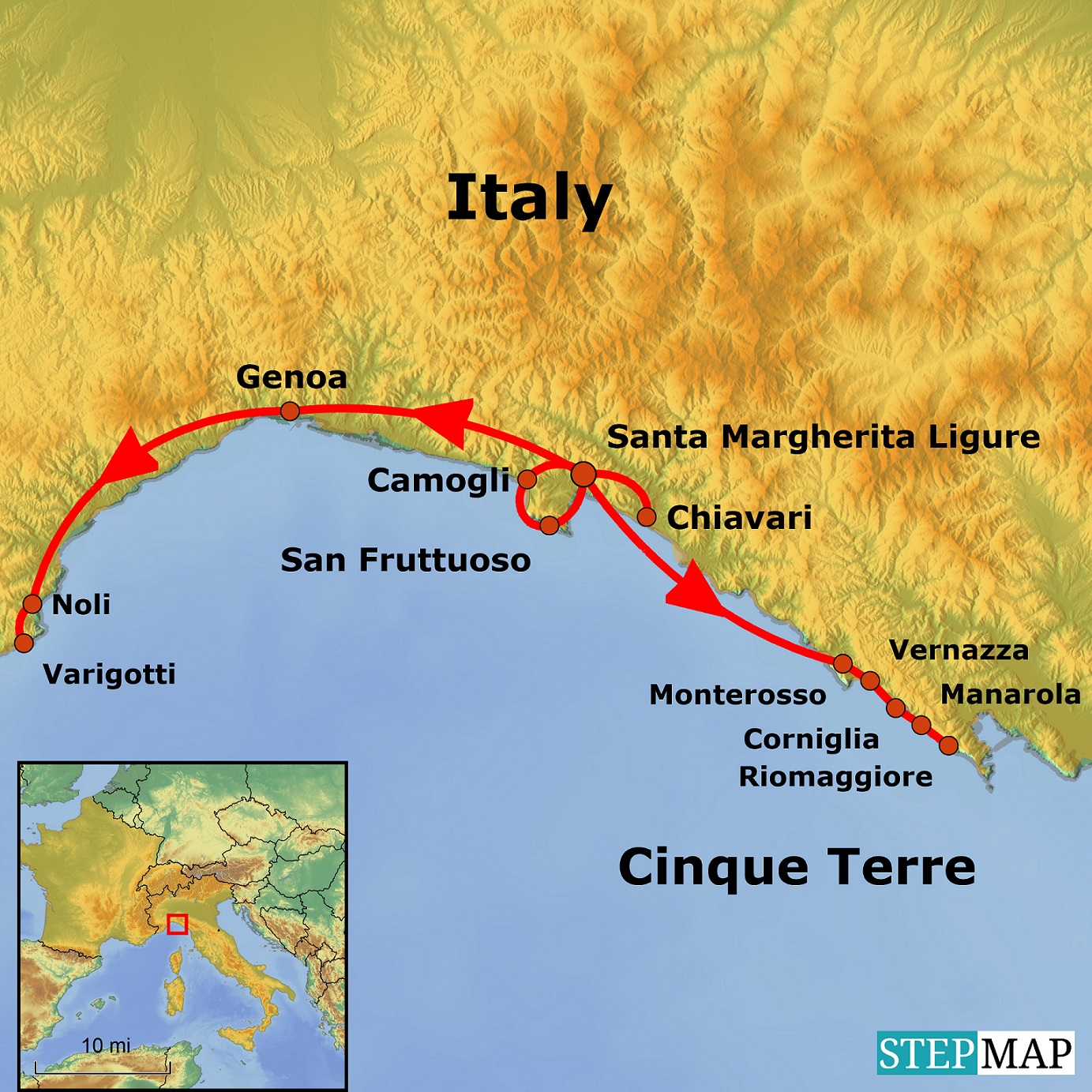 Explore one of the most scenic coastlines on the Italian peninsula! The Ligurian coast runs from the French border all the way to Tuscany, and this tour will take you to some of the best-known and least-visited gems of this exquisite region. A local guide will introduce you to the famous food shops of the historic port city of Genoa, some of which have been in operation for over a hundred years! From Genoa you'll work your way down the coast and experience the iconic towns of Camogli and Sestri Levante, with their medieval origins, laid-back vibe, and trails with no end of wonderful views. You'll hike across the beautiful Portofino peninsula, a striking contrast of forested mountains meeting sparkling blue sea, with the tiny chic harbor of Portofino nestled in its bay. Breathtaking vistas await you around every bend in the trail as it winds through the vineyards and olive groves on the trails above the Cinque Terre. You'll have panoramic views of the five stunning towns perched on seaside cliffs overlooking the cobalt Mediterranean Sea. For active travelers, this remarkable area typifies the best northern Italy has to offer in scenery, culture, food and wine.
This unique tour is led by a premier fitness instructor, who will make sure your days are active and energy-filled! Some mornings she'll offer optional early warm-up fitness routines like Zumba or HIIT, other days you'll get plenty of exercise while hiking through the gorgeous Italian coastal landscape. They'll be lots of free time to wander, soak up the ambiance, and get lost in the winding cobblestone streets of the towns and villages.
At the end of each day you'll relax in a lovely 4-Star hotel with sea-view rooms, enjoy the company of your private guides, and dine on plenty of regional cuisine to help you recharge. Plan to fall in love with the landscape, the towns, the food, and most of all, the people!
Join us on this special private tour as we experience this amazing destination. Led by fitness guru and personal trainer Ali Griffith, we'll discover the best that the Italian Riviera has to offer!
(Ali is only taking a limited number of travelers for this active small-group adventure…don't get left behind!)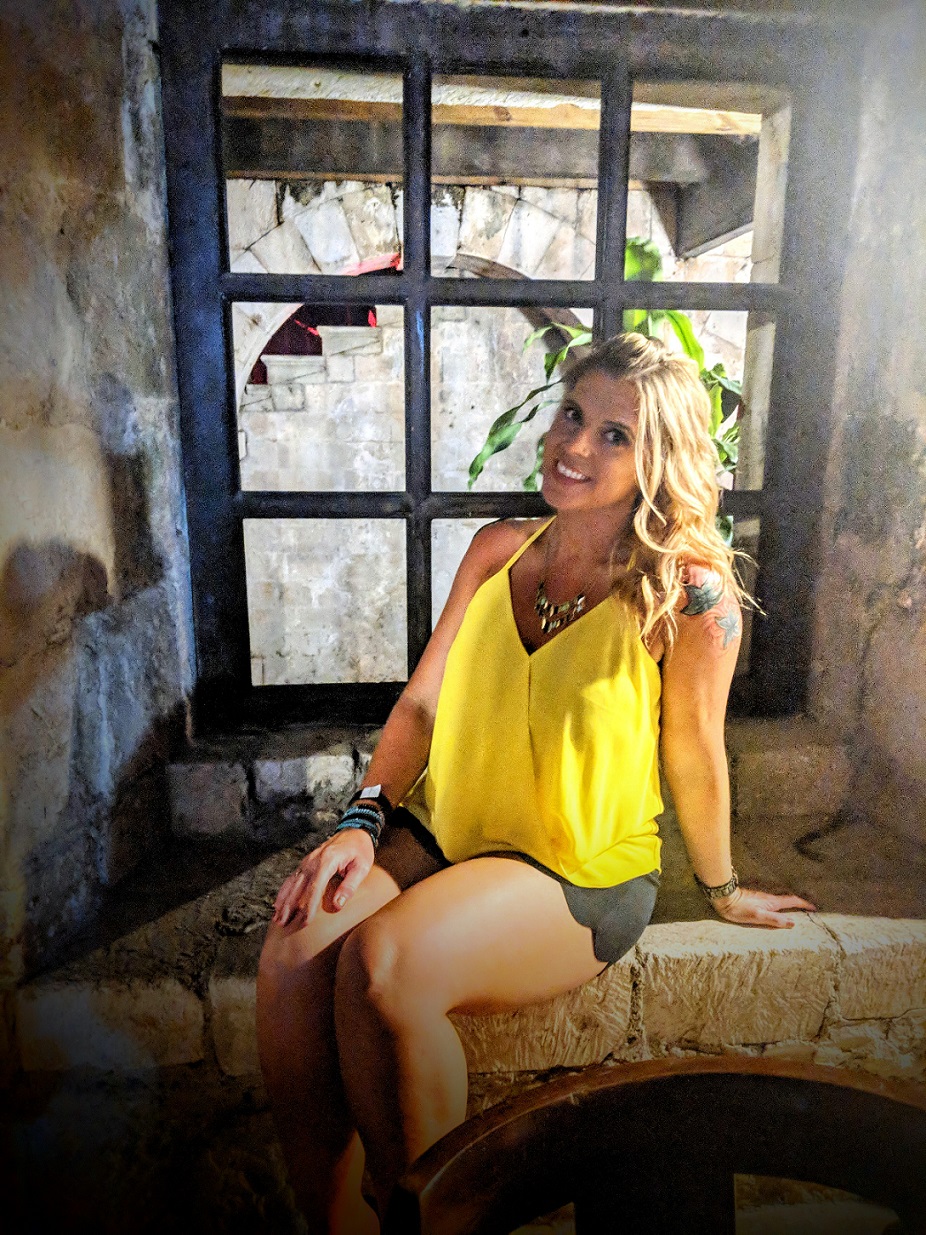 Ali Griffith is a fitness professional in Springfield Illinois that has been teaching group fitness classes for almost 10 years. She started her fitness career teaching Yoga, then added Zumba and later introduced a new HIIT fitness format called Strong Nation to the Springfield area. She holds certifications in Yoga and Group Fitness, and licenses in Zumba and 6 Zumba specialties in addition to Strong Nation. Ali has been featured in Zumba's international publication ZLife, and has been a featured instructor for Strong Nation on the company's Instagram. She was named Springfield's Fitness Instructor of the year in 2018 & 2019, and in 2020 named Springfield's above and beyond fitness instructor for her continued work during the Covid-19 pandemic to ensure the community had access virtually to free workouts. In addition to fitness Ali loves to travel. Since 2016 she has shared her love of group fitness on a global scale teaching at various resorts as an instructor for FitBodies INC.
"I love to experience new adventures, whether it's diving into the deep, getting lost in the woods, or simply joining a new gym. No matter how big or small, the adventures are what shape our lives."
In her spare time Ali enjoys hiking, traveling, scuba diving, and spending time with her husband and two daughters.
Tour Dates & Pricing
Photo Gallery
Click the thumbnail to view larger image.
Itinerary
Day 1 - Ben Venuti in Italia!
Your Italian adventure starts today in the picturesque seaside town of Santa Margherita Ligure, one of the largest Italian Riviera resort towns between the popular Cinque Terre and the city of Genoa. Because it's near Portofino and is on the main coastal rail line, Santa Margherita is the gateway to Portofino.
Take your time time to check into your seaview room at your gorgeous 4-star hotel and relax. Later this afternoon you'll be welcomed by Ali and by your local private tour guide, at an orientation meeting to get yourself ready for your exciting week! Afterwards we'll walk to one of our favorite spots for our welcome dinner.
Ligurian cooking is famous for several things; fresh seafood, pesto (Italy's best basil grows here), veal and liberal amounts of olive oil and garlic. Meals are often washed down with a glass of the light, crisp red wine produced on the slopes overlooking the sea. All the great food and wine combined with a little jet lag will insure that you sleep well tonight!
Day 2 - Gourmet Hiking in Portofino
This morning Ali will offer an early morning workout session to get you charged up and ready to go. Maybe a yoga session, maybe Zumba or HIIT, whichever she chooses it will be a great way to start the day.
The Natural Park of Portofino offers one of the best views of the local wildlife and Mediterranean vegetation on the Italian Riviera. Imagine a hiking day immersed in nature where you have time to stop and look at the gorgeous landscapes and peaceful horizons. You'll hike on trails overlooking the sea to reach a country resort, where you'll be welcomed in a little paradise overlooking the San Fruttuoso di Camogli bay. This postcard-pretty site is home to a medieval abbey on the shores of a deep-set cove at the base of Portofino Mountain.
Here the family owners of the agriturismo are warm and welcoming, and love to share with guests their simple and genuine culinary traditions. After helping to pick products from their garden overlooking the sea, you'll have a brief cooking lesson featuring classic Ligurian recipes like "I segreti della pasta sfoglia ligure, torta di riso, and torta pasqualina". Then you'll sit down to enjoy a lunch in a gorgeous location!
From San Fruttuoso you'll take the ferry to Camogli, one of the most picturesque villages in the Italian Riviera and the homeland of Ligurian focaccia. After a pleasant stroll in the village, you will stop in the most famous bakery of the town and have an aperitif tasting different kinds of freshly baked focaccia: plain, with olives, and the delicious cheese focaccia, accompanied by a glass of Ligurian wine.
Tonight you are free to wander the beautiful streets of Santa Margherita to find your own special place for dinner. Afterwards, a stroll along the town's lovely seaside promenade will be the perfect ending to the day!
Day 3 - The Villages of the Cinque Terre
This morning Ali will offer an early morning workout session to get you energized up for your day exploring the "Five Lands"!
After breakfast your private driver will transfer you to the Cinque Terre where you'll begin exploring this area and its people. The Cinque Terre ("Five Lands") is a series of five small towns along a coastline that is one of the most beautiful and rugged in Europe. Each town is unique in it's location and ambiance. but all of them are both charming and stunning. Separated from the outside world for centuries, but connected to each other by a series of walking trails that the villagers have used to travel to visit and trade, the towns evolved separately from the rest of Italy and have a very particular culture. You'll visit Riomaggiore with its church and stunning castle, you'll walk among the famous terraced vineyards of Manarola, peruse the bustling shops of Monterosso and get lost in the winding streets of picturesque Vernazza with it's tiny iconic harbor. It's an overload of picturesque towns and photo-ops!
Late in the afternoon, you'll return to the hotel in Santa Margherita Ligure by private transfer.
Day 4 - The Pellegrino Trail
Ali's early morning session will get you stretched and warmed up for the day on the trail!/p>
Today you'll have a morning transfer in our private coach to the stunning coastline west of Genoa to hike the Pellegrino Trail. Here you'll start in the picturesque medieval town of Noli, with its gorgeous beach and ancient walls. Your guide will lead you on a hike through the superb coastal scenery, using the mountainous paths that wind along the shore here. Great views abound as you work your way through the classic Mediterranean landscape. During your trail you'll also pass the famous (or infamous) "Grotta dei Briganti", which was, in ancient times, the home of a group of counterfeiters who hid out here in this remote area. Eventually you'll walk into the tiny town of Varigotti, with its charming pastel houses clustered along the beach next to the sea. Lunch in a typical family trattoria will highlight our midday break, as we enjoy an excellent meal of local specialties.
Tonight you have the evening free to explore. This might be the perfect time to take a local bus or ferry from Santa Margherita for the short transfer to the stunning harbor town of Portofino. Lined with multi-colored buildings and filled with boats, Portofino harbor is found on more postcards than any other bay in Italy. The rich-and-famous make Portofino a regular stop, and you'll probably see a few of their yachts anchored there. A drink or dinner while people-watching alongside the water here would be a great way to end the day.
Day 5 - Genoa - La Superba
You can sleep in or you can join Ali for another of her body-moving workout sessions before breakfast
After breakfast this morning you will board the local train with your guide for the short trip to the historic port of Genoa. Known as La Superba (The Proud), Genova was a great maritime power in the 13th century. A network of fortresses protected the city, and were connected by a wall second in length only to the Great Wall of China. Genova's bankers, merchants and princes adorned the city with palaces, churches and impressive art collections. With more than 2,000 years of history producing countless magnificent buildings, museums, and the largest medieval city center in Europe, Genova's cobblestone streets will provide plenty of opportunity for wandering, site-seeing, and just getting lost!
Here you'll begin a fascinating walking tour through the streets and neighborhoods of this captivating city. As you wind through the ancient streets of the old city, you'll be enthralled by the combination of historic monuments and grand buildings surrounded by a sea of small shops and stores, still very much alive and bustling, much as they have been for over a thousand years.
Like all seafaring cultures, Genova benefited from the vast variety of foodstuffs its fleet supplied. In addition, fresh fruits and vegetables from the surrounding hills, dairy from the rich mountain pastures, and seafood from the fishing boats still provide the basis for the wonderful cuisine of the area. One of the delightful aspects of Genova is the century old tradition of the friggitorie, or fast food restaurants, Genova-style! A small storefront with an even smaller kitchen will turn out delicacies to eat in or take away...you can buy a slice of torta pasqualina, or focaccia slathered with local olive oil, or maybe you'll like friscieu (fried croquettes filled with herbs), farinata, fried fresh seafood eaten at the counter or to take away. Be sure to pass by the old shop of "Pietro Romanengo fu Stefano", the prestigious old pastry cafè where the famous composer Giuseppe Verdi loved to spend his time tasting the pastries. Genoa has one of the largest collection of Ultra-Centenarian (continuously in operation for over a hundred years) food shops in all of Europe. Explore and enjoy! Your guide will take you to a typical Genovese trattoria for an excellent lunch.
In the afternoon, experience a unique urban walking tour of Genoa, also known as "The Vertical City". Starting right from the ancient port you will first walk through the labyrinth of medieval alleys. You will pass in Via Garibaldi with its noble palaces and then you will begin to climb the narrow "creuze" the typical alleys flanked by high walls that traced the boundary between the gardens. Higher and higher until you reach the forts that protected the city. From here you will enjoy a breathtaking view! An exciting uphill itinerary but not too tiring because we will use the strange means of public transport that characterize this city: ancient lifts and colorful funiculars. It will be a truly special experience that will introduce you to the city from a different point of view!
Later in the afternoon you'll use the local train to return to charming Santa Margherita Ligure, where you are free to relax for the rest of the evening.
Day 6 - Artisans and Tastes of Chiavari
Since today has a more relaxed feel to it, with no hiking, Ali will again offer an optional early-morning workout session at the hotel. Show up if you want to get your blood flowing for the day, or sleep in if you need to recharge your batteries!
After breakfast, meet with your private local tour guide for a train ride to the historical village of Chiavari. Today you'll visit ancient workshops that still are working as in past times. This is a great experience for those who love to explore the authenticity of a place and meet the local people who have made the history of a town. You'll be welcomed by artisans in their laboratories and hear more about their great family histories. You'll see them in action and you'll be fascinated by the traditions carried on with passion and hard work. Afterwards a stroll through the streets of Chiavari will lead you to a special lunch, featuring many of the products and vintages of the region.
Tonight you'll have a special farewell dinner in Santa Margherita at one of your guide's favorite spots...bring an appetite! It's a time for exchanging pictures and emails, a time for remembering all the good times and amazing experiences of the journey and a time for heartfelt goodbyes to all your new lifelong friends.
Day 7 - Arrivederci Italia
This morning after breakfast your Go Get Lost tour ends. You can use the train to continue your journey, or you can arrange for a private transfer to Genoa or Milan airports.
HOTELS
Due to availability at the time of booking, hotels listed may change to similar hotels
Santa Margherita Ligure - 4 Star Hotel Continental in Santa Margherita Ligure is nestled amidst grand evergreen oaks, leafy palms, and centuries-old pine trees. From atop a verdant promontory, the Continental placidly overlooks the sea, the picturesque harbour, and the old town. Built in the early twentieth century in the exquisite Art Nouveau style, the hotel's fortunes were tied to the history of Santa Margherita Ligure: the town, on a natural harbour near Monte di Portofino, has become a renowned, exclusive and elegant tourist destination over the years. The class and elegance of the Continental Hotel and the professionalism of the staff will make your stay enchanting.
What´s Included
6 nights at the 4 star Hotel Continental in Santa Margherita Ligure (double room, sea view)
Daily breakfast
Meals as specified: 6 breakfasts, 4 lunches, 3 dinners, and 1 cooking class (All group meals include water and local wine)
Portofino hiking tour
Portofino hiking tour with cooking lesson in an agriturismo followed by lunch
Private visit of historical focacceria and aperitif in Camogli
Cinque Terre villages tour with private transfer
Pilgrim Trail hike with lunch in a typical trattoria in the West Riviera
Genoa walking tour with lunch
Artisans tour in Chiavari with lunch in typical trattoria
Cinque Terre cards
3 dinners in Santa Margherita Ligure
Opportunities to Visit Lots of Unique Villages – Santa Margarita, Monterosso, Vernazza, Noli, Varigotti, etc.
Transportation once the tour has begun.
All train, ferry, hydrofoil, coach, and taxi transfers as specified in itinerary.
Sightseeing and entrance fees as specified in itinerary
All gratuities for waiters, coach drivers, and local guides EXCEPT your primary local tour leader
Completely escorted by professional fitness trainer Ali Griffith
Daily fitness sessions led by Ali
Private local tour guide from Day 1- Day 6
A lifetime of unforgettable memories!
What´s not Included
Airfare package
Arrival transfers, tour begins at the hotel in Santa Margherita Ligure on the afternoon of Day 1, and the tour ends at the hotel after breakfast on the morning of day 7. (Transfers can be arranged by train or private vehicle)
Gratuity for primary local tour guide
Visa fees, if applicable
Meals not specified in itinerary
Beverages at meals unless specified in itinerary (All group meals include water and local wine)
Trip Cancellation/Interruption and Medical Insurance (strongly recommended), call for details
Single supplement charge
Items of a personal nature; phone calls, laundry, etc.