Overview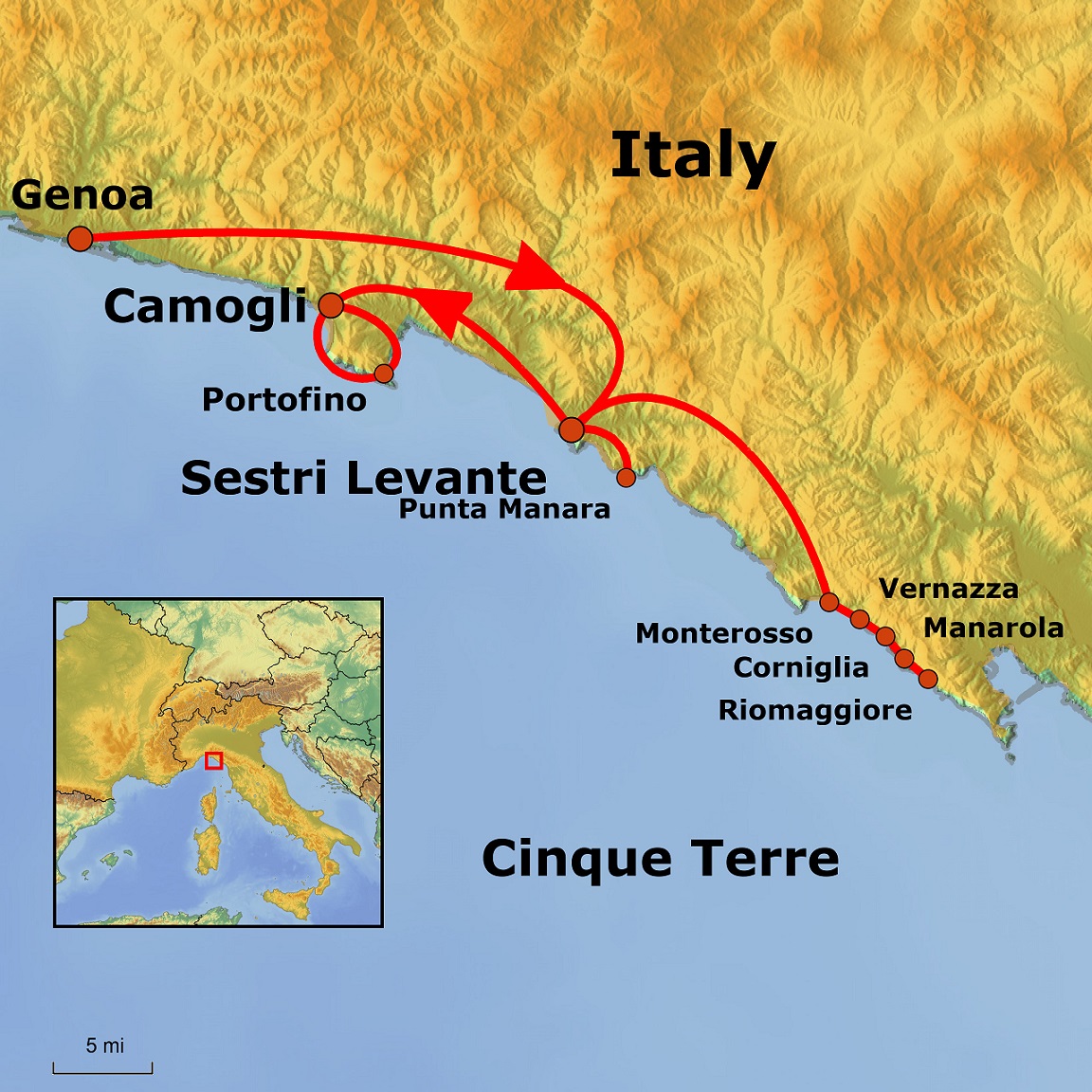 Join Cynda Wrightsman as she explores one of the most scenic coastlines on the Italian peninsula! The Ligurian coast runs from the French border all the way to Tuscany, and this tour will take you to some of the best-known and least-visited gems of this exquisite region. A local guide will introduce you to the famous food shops of the historic port city of Genoa, some of which have been in operation for over a hundred years! From Genoa you'll work your way down the coast and experience the iconic towns of Camogli and Sestri Levante, with their medieval origins, laid-back vibe, and trails with no end of wonderful views. You'll hike across the beautiful Portofino peninsula, a striking contrast of forested mountains meeting sparkling blue sea, with the tiny chic harbor of Portofino nestled in its bay. Breathtaking vistas await you around every bend in the trail as it winds through the vineyards and olive groves on the trails above the Cinque Terre. You'll have panoramic views of the five stunning towns perched on seaside cliffs overlooking the cobalt Mediterranean Sea. For hikers, this remarkable area typifies the best northern Italy has to offer in scenery, culture, food and wine.
You'll relax in 4-Star boutique hotels, enjoy the company of your private guides, and dine on plenty of regional cuisine to help you recharge. Plan to fall in love with the landscape, the towns, the food, and most of all, the people!
Join us on this special private tour as we experience this amazing destination. Led by longtime traveler and all-around fun gal Cynda Wrightsman, we'll discover the best that the Italian Riviera has to offer!
(Cynda is only taking a limited number of travelers for this small-group adventure…don't get left behind!)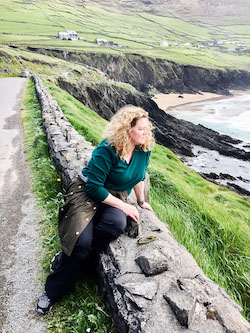 Cynda Wrightsman came from a very large family, and oddly enough, never took vacations. She started to change that at the age of 18 with her first air plane ride, to Amsterdam to sing with an orchestra and 50 voice choir. After performing nightly concerts in 8 countries, she was hooked. Now she loves to travel and has been fortunate to do so quite extensively.
"One of my favorite destinations is Italy. The first time I went there I fell in love with the history, the food, the culture,the landscape, the food, the wine, the people….did I mention the food?"
When Cynda is not traveling she lives with her husband Loy in Springfield, Illinois. She is still singing, acting and heavily involved wiht her local theatre. She is also a massage therapist and yoga teacher, and has had her own private practice for 21 years. Her favorite quote… "The world is a book and those that do not travel only read one page." St. Augustine
Tour Dates & Pricing
Photo Gallery
Itinerary
Day 1 - Ben Venuti in Italia!
Your Italian adventure starts today in the historic port of Genova. Known as La Superba (The Proud), Genova was a great maritime power in the 13th century. A network of fortresses protected the city, and were connected by a wall second in length only to the Great Wall of China. Genova's bankers, merchants and princes adorned the city with palaces, churches and impressive art collections. With more than 2,000 years of history producing countless magnificent buildings, museums, and the largest medieval city center in Europe, Genova's cobblestone streets will provide plenty of opportunity for wandering, shopping, and just getting lost!
You should plan to arrive in Genova by midday and make your way to your 4-Star hotel, perfectly located in the city center. Tonight we'll have our orientation meeting and afterwards we'll walk to one of our favorite spots for our welcome dinner. We'll begin with an introduction to the wonderful vintages of the region, then you'll be rolling up your sleeves and learning how to cook Genovese-style from a talented local chef. If you're more of a spectator, you can watch and sip wine instead! Afterwards you'll sit down to enjoy the fruits of your labor.
An after-dinner passegiata in the piazza near the hotel will cap off your first day on the Italian Riviera.
Day 2 - Genova and Sestri Levante
After breakfast this morning you'll meet your local guide to begin a fascinating walking tour through the streets and neighborhoods of this captivating city. As you wind through the ancient streets of the old city, you'll be enthralled by the combination of historic monuments and grand buildings surrounded by a sea of small shops and stores, still very much alive and bustling, much as they have been for over a thousand years.
Like all seafaring cultures, Genova benefited from the vast variety of foodstuffs its fleet supplied. In addition, fresh fruits and vegetables from the surrounding hills, dairy from the rich mountain pastures, and seafood from the fishing boats still provide the basis for the wonderful cuisine of the area. One of the delightful aspects of Genova is the century old tradition of the friggitorie, or fast food restaurants, Genova-style! A small storefront with an even smaller kitchen will turn out delicacies to eat in or take away...you can buy a slice of torta pasqualina, farinata, or focaccia slathered with local olive oil. Genova has one of the largest collection of Ultra-Centenarian (continuously in operation for over a hundred years) food shops in all of Europe. Explore and enjoy! Your guide will take you to a typical Genovese trattoria for an excellent lunch.
This afternoon we'll relax on our private transfer as we leave the city behind and journey down the coast to the idyllic seaside town of Sestri Levante, midway between Genoa and the Cinque Terre and our home for the next two days. Sestri Levante lies nestled along one of Liguria's loveliest bays, the Bay of Silence. After checking in to your room you'll have time to relax and explore the town. It might be the perfect time to hit the beach and have a swim in the Mediterranean, or maybe your speed is relaxing at a sidewalk cafe and letting the time slip by, people-watching and daydreaming.
Tonight you'll go to a fabulous local ristorante where you can enjoy yet another aspect of the regional cuisine.
Day 3 - Punta Manara
This morning we have an excellent hike with amazing views in all directions. Well begin at our hotel and wind our way through town, eventually working our way into the rugged coastal countryside of Punta Manara. Soon we'll find ourselves on high rocky cliffs with panoramic scenery all around. Our path winds along along the forested bluffs and eventually makes a loop over the ridge and back into Sestri Levante.
You'll be free for the rest of the day to explore the town, or perhaps relax on the stunning beach. Get a good night's sleep tonight, you have an exciting day tomorrow!
Day 4 - The Cinque Terre
Today we'll use the excellent local train system to help us explore the fabled towns of the Cinque Terre. Wandering the towns themselves will provide plenty of activity as we make our way through the charming cobblestone streets and squares of the villages. Whether you explore all five towns, or just spend your time in a few, one thing is for certain...you'll be treated to some of the most enchanting views of your trip. Your guide will ride with you to the farthest town of Riomaggiore, where your odyssey begins. You'll use the trains to work your way from town to town, with time to explore the towns as you go. We'll have lunch at one of our favorite little places...in one of our favorite towns along the coast. At any of the towns you can opt to peel away from the group and do your own thing, or hop on the train and go all the way back to Sestri Levante if you prefer.
Day 5 - Camogli and San Fruttuoso
This morning you'll check out and have a private transfer to the charming seaside town of Camogli, to check into your 4-Star hotel. Your hiking guide will accompany you on a short private transfer to nearby Portofino Vetta, where your day's adventure begins. After some time to visit stunning harbor of Portofino, you'll walk into one of Liguria's most beautiful natural areas, Portofino National Park. Suffice to say you'll enjoy excellent views along winding coastal paths, immersed in gorgeous landscapes and peaceful horizons, with the vista changing at every bend in the trail. After you've worked up an appetite, you'll be treated to one of the most unique, and picturesque, cooking class/lunches you'll find! At an agriturismo nestled in the hills overlooking Portofino Harbor, a local chef will take you through his herb garden to show you how his family has used local products in their cuisine for generations. Then, of course, another phenomenal meal will appear in front of you!
After lunch we'll have a relaxed walk through the forest to the stunningly picturesque abbey of San Fruttuoso, nestled in a small bay on the far southern shore of the promontory. After exploring the abbey you'll board a ferry for the scenic ride back to Camogli. Tonight you are free to explore the town and find the perfect little seaside ristorante.
Day 6 - Portofino Natural Park
After breakfast today you'll use the local train for a short transfer to Santa Margherita to start your hiking day. The Natural Park of Portofino offers one of the best views of the local wildlife and Mediterranean vegetation which can be seen on the Italian Riviera. Your day continues when you'll reach a renovated old mill where you'll have a typical Ligurian lunch with genuine traditional dishes! You'll be welcomed by the owners and relax enjoying the food and wine of this area!
Tonight you'll have a special dinner in Camogli at one of your guide's favorite spots...bring an appetite! It's a time for exchanging pictures and emails, a time for remembering all the good times and amazing experiences of the journey and a time for heartfelt goodbyes to all your new lifelong friends.
Day 7 - Arrivederci Italia
This morning after breakfast you'll check out and walk to the nearby train station in Camogli, where our Go Get Lost tour will end. As part of your package your guide will give you a train ticket for either Genova, La Spezia, Milan or Pisa.
HOTELS
Due to availability at the time of booking, hotels listed may change to similar hotels
Genoa - 4 Star Hotel Bristol Palace The Bristol Palace is an elegant, 4 star hotel in the heart of Genoa, not far from the Ducal Palace, the Carlo Felice Theatre and the most significant museums and historical buildings. It is perfectly positioned for anyone wishing to get to the Old Port, the Genoa Aquarium, and the Galata museum.
Sestri Levante – 4 Star Hotel Due Mari Hotel Due Mari enjoys a prime position between Baia delle Favole (Bay of the Fables) and Baia del Silenzio (Bay of Silence). It offers breathtaking views, comfortable rooms and suites equipped with every comfort.
Camogli – 4 Star Hotel Cenobio dei Dogi This charming 4 star hotel is tucked away in a quaint corner of the splendid Ligurian Riviera nestled cosily among the century-old pine trees and pretty flower gardens. The hotel faces the marvelous Camogli Gulf and the unique location let's you enjoy an inimitable landscape from the panoramic terrace overlooking the sea.
What´s Included
1 night at 4 star Bristol Hotel in Genoa (double standard)
3 nights at 4 star hotel Due Mari in Sestri Levante (superior room)
2 nights at 4 star Cenobio dei Dogi hotel in Camogli (First five signups get their choice of Standard Sea View room or larger Classic Garden View room)
Daily breakfast
Meals as specified: 6 breakfasts, 4 lunches, 3 dinners, 1 wine tasting and 2 cooking classes
Cooking class and wine tasting in Genoa followed by dinner
Private local tour guide on your Genoa historical center tour
Private local tour guide on your Portofino – San Fruttuoso hiking tour
Cooking lesson in an agriturismo followed by lunch during your Portofino hiking tour
Lunch in an old mill on Portofino Natural park
Private local tour guide on your Punta Manara hiking tour
Private local tour guide on your Explore the Cinque Terre tour
1 lunch in Genoa typical trattoria
1 lunch in Cinque Terre
1 dinner in Camogli
1 dinner in Sestri Levante
Cinque Terre card
Opportunities to Visit Lots of Unique Villages – Santa Margarita, Monterosso, Vernazza, Corniglia, etc.
Transportation once the tour has begun.
All train, ferry, hydrofoil, coach, and taxi transfers as specified in itinerary.
Departure train transfer from Sestri Levante to either Genova, Milan, La Spezia or Pisa.
Sightseeing and entrance fees as specified in itinerary
Completely escorted by an American Go Get Lost Tour Leader with local guides at specified sites throughout the itinerary
A lifetime of unforgettable memories!
What´s not Included
Airfare package
Arrival transfers, tour begins at the hotel in Genova on the afternoon of Day 1, and the tour ends at the train station in Camogli on the morning of day 7. (Train tickets to your choice of four cities are part of your package)
Gratuities for meals, porterage, local guides, coach drivers, etc.
Visa fees, if applicable
Meals not specified in itinerary
Beverages at meals unless specified in itinerary
Trip Cancellation/Interruption and Medical Insurance (strongly recommended), call for details
Single supplement charge
Items of a personal nature; phone calls, laundry, etc.