Overview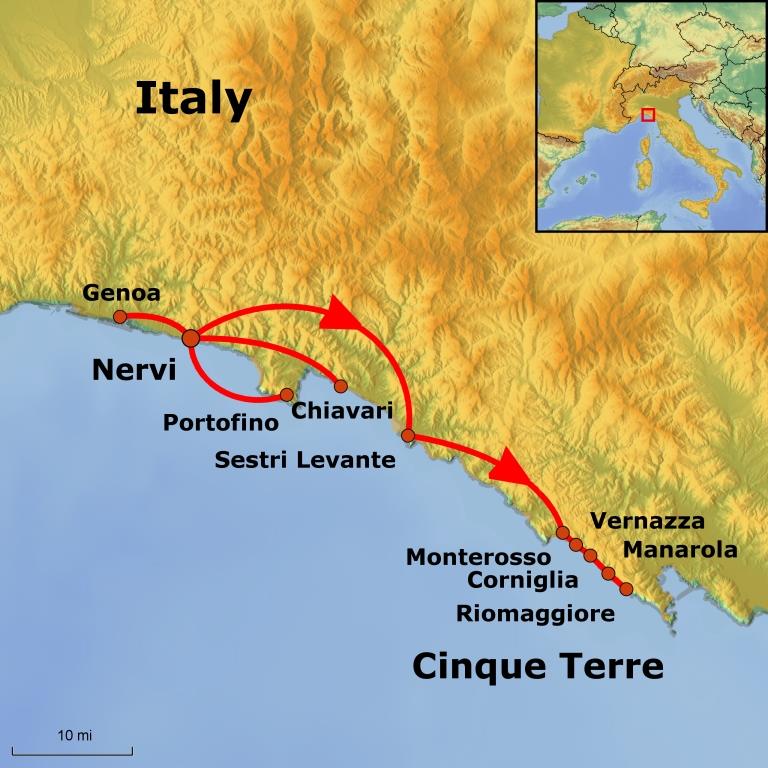 Join fitness trainer Marcie as she leads this extraordinary adventure along the Italian Riviera. Sprinkled with fishing villages, beach towns, and even an ancient port, this coastline is considered the jewel of Italy. Our tour will take you to some of the best-known and least-known gems of this exquisite region. Each morning you'll do workouts with Marcie in the most astounding locales, then set off on your adventures for the day, returning each evening to your lovely 4-Star hotel perfectly situated in one of the charming coastal towns. You'll roll up your sleeves and learn to cook local dishes from some of the best in the area, you'll watch talented artisans keeping age-old traditions alive, and you'll meet an abundance of local folks who are happy to share their day with you. From the magical cliffside towns of the Cinque Terre to the peaceful medieval villages of the Ligurian coast, from the historic city of Genoa with it's 100-year-old food shops, to the elegance and beauty of the Portofino Peninsula…you'll fall in love with the landscape, the towns, the cuisine, and most of all, the people!
(Marcie only has a limited number of spots on this unique, small-group fitness adventure…don't be left behind!)
My name is Marcie, an ISSA Elite Personal Trainer, Certified Fitness Nutrition Specialist, Exercise Therapy Specialist, and CPR/AED Certified. My love for health, fitness, and wellness has grown to great extents over the past several years. I love sharing what I've learned and experienced on my health and fitness journey with persons worldwide. Being on YouTube inspiring others through fitness, health, and wellness since 2012 has brought me great joy. This has lead me to continue this journey with inspiring others in Atlanta, GA showing them how to live and maintain a healthy lifestyle.
Tour Dates & Pricing
Photo Gallery
Click the thumbnail to view larger image.
Itinerary
Day 1 - Ben Venuti in Italia!
Welcome to Liguria! Upon arrival in Genoa's airport you can take a taxi (about 20 minutes, approx. 30 Euro) directly to your 4 star Hotel Astor in Nervi fishing village and check-in. The hotel is immersed in a private historical park with luxuriant trees and flowers. Nervi is a romantic picturesque seaside village just south of Genoa. It was a popular destination among Europeans and Russian intellectuals in the 20th century for its mild climate. Today it is an elegant district loved by the Genovese people for its dramatic "lovers promenade", the green parks, the fishing harbor lined with restaurants, gelaterias and pizzeria, and the many food shops and boutiques.
Take your time time, unpack and relax. Tonight you''ll meet your local tour guide for a "get-acquainted" meeting and orientation. Afterwards you will sit down to an excellent Ligurian meal prepared by Chef Maurizio and his staff. He excels at seasonal dishes and regional specialties...you're in for a treat! Wine included, of course!
An after-dinner passegiata along the seaside near the hotel will cap off your first day on the Italian Riviera.
Day 2 - Portofino
This morning before breakfast Marcie will lead you on an invigorating workout in the beautiful park of the hotel, alongside blooming Mediterranean flowers in the shade of towering camphor, magnolia and eucalyptus trees.
After your workout (and a shower) you can relax and enjoy breakfast. Later this morning you'll have a short train transfer to nearby Santa Margherita Ligure, a bustling seaside harbor town at the base of the Portofino peninsula. You'll have time to wander and explore Santa Margherita before you make your way to the petite, but stunning harbor of Portofino. Lined with multi-colored buildings and filled with boats, Portofino harbor is found on more postcards than any other bay in Italy. The rich-and-famous make Portofino a regular stop, and you'll probably see a few of their yachts anchored there. After some free time to soak up the ambiance, your guide will take you to a small agristurismo (farm) where you'll be treated to one of the most unique and picturesque cooking class/lunches you'll find! Nestled in the hills overlooking Portofino Harbor, the venue is near-perfect. Here a local chef will take you through his herb garden, nestled among olive and lemon trees, to show you how his family has used local products in their cuisine for generations. One of the most famous products of this region is pesto, and today you'll learn to make it like a native...with a mortar and pestle! Then, of course, another phenomenal meal will grace the table!
Later you'll return to Nervi and have the rest of the afternoon free to wander, relax, swim, or shop. Tonight you'll enjoy another wonderful dinner prepared by Chef Maurizio.
Day 3 - The Villages of the Cinque Terre
The early morning sunrise will find you jogging with Marcie along the promenade overlooking the sea dedicated to Anita Garibaldi. You'll be fascinated by this dramatic long walkway which lines the shore of the harbor. Shower, breakfast, and then you're off to explore the fabled Five Lands!
The Cinque Terre is a series of five charming towns scattered along the coastline. Until modern times they were very isolated and accessible only by water. Today you'll use our expert local guide and your private coach to travel between these five gems. Each one has its own unique feel, and you'll enjoy experiencing the sights and sounds of all of them. You'll visit Riomaggiore with its church and stunning castle, you'll walk among the famous terraced vineyards of Manarola, visit Monterosso and reach the picturesque Vernazza with it's stunning square overlooking the tiny fishing port. At each one your guide will detail the history and culture, then turn you loose to explore on your own. At some point in the day you'll be turned loose to wander on your own and find a quaint spot to have lunch, and of course you should try the Cinque Terre wines, of which the villagers are quite proud. By the time you find yourself relaxing on your coach back to Nervi Village, you'll have a camera full of pictures and a head full of memories of one of the most interesting places in Italy!
Tonight you'll enjoy another wonderful dinner prepared by Chef Maurizio.
Day 4 - Go Get Lost Day
Today is all about options, independence and exploring at your own pace.
Marcie will begin your day with a revitalizing workout jogging or walking along the unique seaside from Santa Margherita Ligure to Paraggi. Coastal views abound of the emerald bay and Portofino, as you pass rugged promontories, sandy beaches, and craggy outcrops!
Shower and breakfast, and now you're ready to strike off on your own! Depending on your energy level, abilities, and your interests, you can do as much...or as little as you want. Perhaps you'd like to add to your culinary skills by booking another cooking class at a small family restaurant in the nearby town of Sestri Levante. Or maybe you'd enjoy spending the day lazing on the beach, sipping one of the local wines. Or maybe If you crave more activity, you might opt to do an easy kayak tour somewhere along the coast, like Portofino. There's also a day of sailing and swimming that's popular with visitors, or your guide can point you onto one of the scenic trails in the area, many with spectacular views. The train can also whisk you to some nearby towns in just minutes, where you can explore and shop 'til you drop.
Whatever you choose, you'll want to make your way back to Nervi village in the evening to enjoy yet another excellent Ligurian dinner from Maurizio's kitchen.
Day 5 - La Superba
After breakfast this morning you'll meet your local guide and have a short train ride into the historic port of Genova. to begin a fascinating walking tour through the streets and neighborhoods of this captivating city. Known as La Superba (The Proud), Genova was a great maritime power in the 13th century. A network of fortresses protected the city, and were connected by a wall second in length only to the Great Wall of China. The bankers, merchants and princes of Genova adorned the city with palaces, churches and impressive art collections. With more than 2,000 years of history producing countless magnificent buildings, museums, and the largest medieval city center in Europe, Genova's cobblestone streets will provide plenty of opportunity for wandering, shopping, and just getting lost!
As you wind through the ancient streets of the old city, you'll be enthralled by the combination of historic monuments and grand buildings surrounded by a sea of small shops and stores, still very much alive and bustling, much as they have been for over a thousand years. We believe that by just walking through these maze of historical streets, you'll find the "real" Genova essence.
Like all seafaring cultures, Genova benefited from the vast variety of foodstuffs its fleet supplied. In addition, fresh fruits and vegetables from the surrounding hills, dairy from the rich mountain pastures, and seafood from the fishing boats still provide the basis for the wonderful cuisine of the area. One of the delightful aspects of Genova is the century old tradition of the friggitorie, or fast food restaurants, Genova-style! Genova has one of the largest collection of Ultra-Centenarian (continuously in operation for over a hundred years) food shops in all of Europe. A small storefront with an even smaller kitchen will turn out delicacies to eat in or take away...you can buy a friscieu (fried croquettes filled with herbs), farinata, fried fresh seafood eaten at the counter or to take away, slice of torta pasqualina, or focaccia slathered with local olive oil. Be sure to stop at "Pietro Romanengo fu Stefano", the prestigious old pastry cafè where the famous composer Giuseppe Verdi loved to spend his time tasting the pastries. Eventually you'll reach a small and typical food market which hosts a Genoese restaurant. Here you'll meet an expert of Ligurian cuisine and together you'll enjoy a cooking lesson! At the end of your cooking lesson you'll have a typical Genovese lunch. After lunch you'll have the afternoon free for wandering and shopping in Genova.
In the late afternoon you'll meet again for an urban trekking workout that will take you from Via Garibaldi (The Unesco World Heritage Site) up through the alleys to Spianata Castelletto, an awesome panoramic point from which you can admire the whole city while you enjoy your "workout with a view"!
Day 6 - The Artisans of Chiavari
Enjoy your morning workout in the beautiful historic park of Nervi fishing village overlooking the sea ! You also have the option to have your workout in the afternoon on the pebble beach of one of the seaside villages of Santa Margherita Ligure, Rapallo or Camogli. After the workout you can relax with a swim in the Mediterranean sea.
After breakfast, you'll meet with your guide for a short train ride to the historic village of Chiavari, famous for many centuries as a community of artisans and craftsmen. Even today many of them still work in their particular craft, handed down through the generations. You'll get a chance to visit some of them in their laboratories to hear about their proud family histories and marvel at their skill. You'll see them in action and you'll be fascinated by the traditions carried on with passion and hard work. Afterwards a stroll through the streets of Chiavari will lead you to a special lunch, featuring many of the products and vintages of the region. The afternoon is free to wander, shop, or visit the beach. Try to stay a little active and work off lunch, because tonight you have a fantastic dinner waiting for you in Nervi!
Tonight we have a very special farewell dinner planned. It's a time for exchanging pictures and emails, a time for remembering all the good times and amazing experiences of the journey and a time for heartfelt goodbyes to all your new lifelong friends.
Day 7 - Arrivederci Italia
This morning after breakfast your Go Get Lost with Marcie tour will end...you'll check out and arrange a simple taxi transfer to the airport in Genova for your homeward flight.
What´s Included
6 nights double occupancy accommodations at the 4 Star Astor Hotel in Nervi, or similar
Daily breakfast
Meals as specified: 6 breakfasts, 3 lunches, 6 dinners
Daily workouts led by Marcie
Cooking class/lunch in Genova
Lunch at a local trattoria in Chiavari
Cooking class/lunch at an agriturismo on the Portofino peninsula
Genova walking tour with local guide
Chiavari artisan tour with local guide
Portofino tour with local guide
Cinque Terre tour with local guide
Cinque Terre transfer cards
Transportation once the tour has begun.
All train, ferry, hydrofoil, coach, and taxi transfers as specified in itinerary.
Sightseeing and entrance fees as specified in itinerary
Completely escorted by MarC and a professional local guide
A lifetime of unforgettable memories!
What´s not Included
Airfare package
Arrival and departure transfers, tour begins at the hotel in Nervi village in the late afternoon of Day 1, and the tour ends at the hotel after breakfast on the morning of day 7.
Gratuities for meals, porterage, local guides, coach drivers, etc.
Visa fees, if applicable
Meals not specified in itinerary
Beverages at meals unless specified in itinerary (Wine included with all dinners!)
Any costs associated with activities on Go Get Lost day, all activities are optional
Trip Cancellation/Interruption and Medical Insurance (strongly recommended), call for details
Single supplement charge
Items of a personal nature; phone calls, laundry, etc.