Overview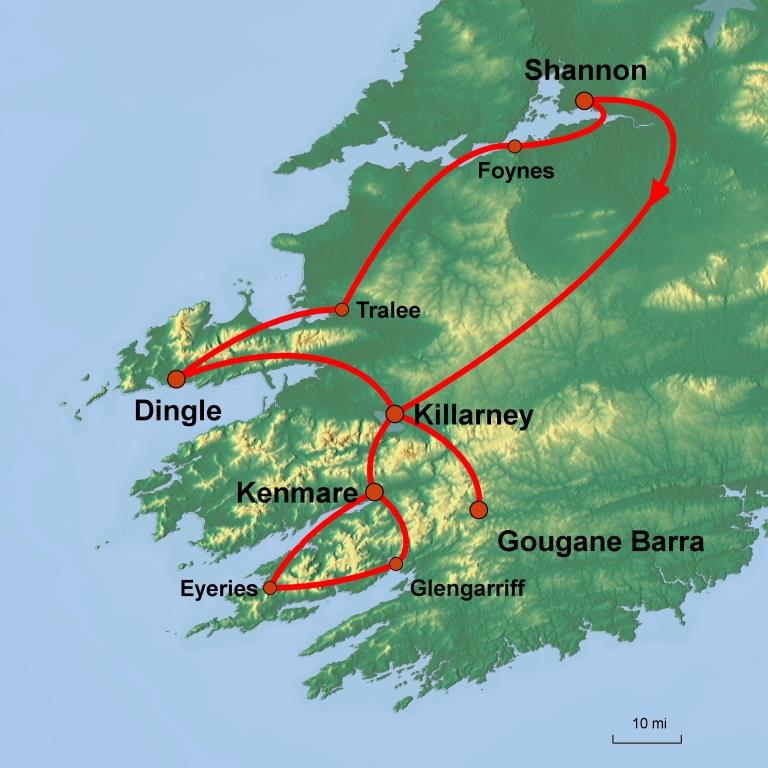 Ireland is a magical place meant to be explored by total immersion, not from the window of a bus. Join fitness trainer Sarah-Grace Spann on this extraordinary adventure as we journey from the vibrant western city of Galway southwards through the mysterious landscape of the Burren, and on to the region that encompasses the heart of Irish culture…Kerry and Cork Counties. We'll meet the people, live the culture, walk the spectacular countryside, do workouts in the most astounding locales, and experience everything about this wonderful land. We'll take you to some of the most charming and fascinating areas of Ireland…towns like Ballyvaughan, Dingle, Kenmare and Killarney. You'll walk along windswept coastlines where impossibly green mountains end in surf-pounded rocky cliffs. You'll stroll along country lanes bordered by rock walls and occasional flocks of sheep…and you'll wander pastel colored villages with pubs aplenty….picture postcard views everywhere you look! And the charm and warmth of the native Irish is legendary. Our adventure spans the wondrous southwest of Ireland, encompassing county Clare, Cork and Kerry. Here the Irish heritage is at its peak, with Irish (not English) being the primary language. Get off the beaten path with us, and you'll marvel at spectacular views that most tourists never see!
(Sarah-Grace only has a limited number of spots on this unique, small-group fitness adventure…don't be left behind!)
Sarah-Grace Spann, founder of Fresh Fit N Healthy, author, Certified Personal Trainer, Florida State Champion Division 1 Cross Country runner, University of Florida alumni and a graduate student that loves the Lord and loves living a healthy and fit lifestyle. She is currently completing her masters in Sports Nutrition combined with a dietetic internship at Florida State University.
Even with a busy lifestyle, Sarah-Grace never fails to keep her health and fitness in mind. After creating her @FreshFitNHealthy Instagram account in 2013, she was soon inspired to create a healthy food and fitness website of her own, Fresh Fit N Healthy. Sarah-Grace has since authored an inspirational memoir on her story, Chasing Freedom, co-authored the healthy recipe e-book series Healthy Eats, and privately works with clients in creating unique and effective fitness plans. Her focus and of Fresh Fit N Healthy is to share her passion of creating healthy dishes and recipes, along with workouts and nutritional advice, to motivate others in living out a healthy, whole, and active lifestyle.
Gigi Dubois,a former competitive snowboarder and horseback rider, has since become a popular allergen-friendly cook and certified nutritionist with a master's degree in Nutrition Communications. She currently lives in Los Angeles and has a humorous weekly blog/vlog called GiGi Eats Celebrities. This blog/vlog is a place where people with diet concerns, as GiGi's enthusiasm stems from her own severe diet-related problems, can get advice (such as traveling with food intolerances) along with allergen-friendly recipes that everyone can enjoy.
A self-proclaimed extreme eater (she can eat 6 pounds of salmon in one sitting) and foodie fanatic, GiGi is proof that you can educate and inform as well as entertain at the same time!
Tour Dates & Pricing
Photo Gallery
Itinerary
Failte go Eirinn!
Day 1 - Welcome to Ireland!
Your Wild Atlantic Way adventure will start today at noon at a meeting point near Eyre Square in the heart of the bustling pedestrian area of Galway. If you fly into Dublin or Shannon there are plenty of easy bus and train connections to Galway city, or we can arrange a private transfer for you. You might plan to arrive in Galway a day early in order to get a good nights sleep, get over your get lag, and pick up any last minute items you might need. Contact us and we can help you with your arrangements. The charming Galway town center is a pleasure to explore, with a vibrant mix of parks, art galleries, historical buildings and countless shops and bars. We'll depart Galway today head southwest for an introductory walk in this remarkable landscape known as The Burren, an area of extraordinary beauty and rich natural and cultural history. Your walk will overlook Galway Bay and the wild North Atlantic, and wind through an area that is internationally renown for it's rich history and archaeology. Dating back to the stone-ages, the archaeological antiquities are scattered throughout this extraordinary place, with Paleolithic tombs over 6,000 years old! Natural beauty abounds as well, with an extraordinary range of Irish wild flowers; among them a dozen species of wild orchids alone.
After lunch at one of our favorite local Slow Food cafés where the delicious produce comes from their own garden, this afternoon we will have our first workout session while participating in a mind-blowing hike on the high Burren. (Hiking 3 -4 miles with 1,000 feet of ascent over rough trails and open hillsides).
Eventually we'll wander into the town of Ballyvaughan and settle into our cozy lodge, our home for the next two nights. followed by a hearty dinner Hanging out with the locals at the pub might be just the thing to cap off a great day in the Irish countryside, but don't stay out too late as we're off into the countryside again!
A wonderful welcome dinner awaits us as well, featuring plenty of traditional Irish fare! The Irish are hearty eaters, and here in the west you'll find that the rugged countryside reflects the nature of the cuisine!
All of the great food, combined with a little jet lag will ensure that you sleep well tonight!
Day 2 - Cliffs of Moher and the Conair Pass
This morning after breakfast we'll journey through the heart of County Clare to the spectacular coastline of Moher. Rising over 700 feet from the sea, the dramatic coastal cliffs are one of Ireland's most iconic landmarks. We'll have a jaw-dropping morning walk along these stupendous cliffs on a coastal trail at the very edge of Irelands' Wild Atlantic side with views out to the Aran Islands and inland to the Maumturk Mountains. Lunch will be a local café before then heading south over the River Shannon (small car-ferry) into County Kerry and out onto the Dingle Peninsula. Under the shadow of sacred Mount Brandon with its thousands of years of pilgrim heritage, we will take time to stroll along the water's edge at Brandon Bay. The awesome Conair Pass is known as the portal to the Dingle Peninsula, a place of beauty, cultural and spiritual significance that seems to register deeply in the soul. We'll traverse to pop into Dingle township, a charming little community of just some 1.500 souls, among them farmers, traders, artists and many of the finest traditional musicians in Ireland.
The brightly colored little town nestles alongside the sea at the foot of the steep slopes with extraordinary views in all directions...undulating hills, bleak gray-green mountains, thick forests and sandy seashores. The town itself is also known for wonderful location, its friendly locals, and its overabundance of pubs...57 by last count! There are charming and unique pubs at every turn...pubs imbedded in shoe shops, pubs within old-fashioned hardware stores, and even a pub sitting directly on a bridge! And of course most of them feature regional dishes and local Irish music, too. Of course your guide will ferret out the best Irish music scene to ensure that you're at the right pub at the right time to enjoy the evening!
Day 3 - Mount Eagle
After a hearty Irish breakfast this morning we'll work our way out along the rugged Dingle Peninsula to Mount Eagle, one of the great coastal hill-walks on Ireland's Atlantic seaboard. Our route here follows a turf-cutter's road to the rounded summit before we descend a tapering ridge-line that extends to the westernmost rocks in Ireland. It is a moderate walk of extraordinary natural beauty and powerful cultural significance. The lofty situation of this place and it's vast panoramas of the Atlantic bays of the region, local headlands, mountains and islands make this quiet simply...as good as it ever gets! It is a particularly awesome place to take in the majestic light of the region and on a high boggy plateau, surrounded by wild flowers and bird-song, perhaps even enjoy a workout session while overlooking the archipelagos of the Blasket Islands and the sacred rock-isle of Skellig Michael. (Hiking 5 miles distant with 1,600 feet of ascent over rough trails and open hillsides)
You'll have the afternoon free to explore the colorful town of Dingle, home to numerous arts and crafts shops run by the artists themselves before an evening in the company of spell-binding musicians and singers.
Day 4 - Inch Strand, Struicin Mountain and the Gap of Dunloe
Leaving Dingle this morning, there will be time to walk (or run) along Dingle Bay on the great strands of Inch before arriving into the Killarney Valley in time for lunch at the entrance to the Gap of Dunloe, Ireland's most spectacular pass. Lunch will be at a local, organic little place serving delicious foods created imaginatively from on-site gardens and local producers before embarking on a special hike here in the shadows of Irelands highest peaks.
Struicín Mountain, located near the northern entrance to the Gap of Dunloe, is one of the highest mountains of the McGillycuddy Reeks and is one of the greatest vantage points of the Killarney Valley. Easily accessed with an old turf-cutter's track leading to its summit, Struicín provides a walk of unequalled quality for its grade! Huge views extend over the plains of Central Kerry and beyond into the Golden Vale of middle Ireland while the views west over the bay and mountains of Dingle end only at the Great Blasket Island. This walk provides the backdrop for the story of this valley like no other, its geology and resultant nature through to the millennia of evidenced human history here. Perfect at any time of day and year with spectacular light common throughout, Struicín is the perfect early morning or sunset hike. (Hiking 3 miles trail walking with 1,450 feet of ascent on rough trails and open hillsides)
This evening we'll find ourselves at our cozy little guesthouse in the Killarney Valley, sitting down to a well-deserved Irish meal.
Day 5 - The Lakes of Killarney
We'll rise early today to have a pre-breakfast walk amidst the bluebells and wildflowers, followed by a workout session in Killarney National Park, at a magical location with a remote and timeless ambiance, perched on the edge of the Lower Lake. At mid-morning, we will begin a beautiful journey by boat and bike through the outlying regions of this UNESCO acclaimed park, through lake-lands, woods and through spectacular valleys. Along our route we'll enjoy a picnic lunch in the company of local guides who will provide a powerful connection to the natural cultural and mythic landscape of our surrounds. (Biking 15 miles with 1, 000 feet of ascent).
(Canoeing can be incorporated as an extra into this days activity)
(Dinner and local music tonight at Kate Kearney's Cottage, included)
Day 6 - Bolus Head and St. Finian's Bay
Today we embark on the famed Ring of Kerry in the company of our local guides who will share a unique insight into the mystery of this wild corner of Ireland. It will be a leisurely exploration of a land and seascape rich in history, archaeology and breath-taking natural beauty brought to life by a native story-teller. Here there is time to relax, meditate, or perhaps enjoy a workout session at a place few ever experience. Lunch will be a special picnic in the company of local foodie and forager who will guide us on a ramble along the seashore and open up a rich world of seaweed and wild-foods foraging. A spectacular hiking opportunity will present at St. Finian's Bay (AFTER a visit to the best small chocolate factory in Ireland!)
The trail at Bolus Head is a wondrous path on the great promontory that protrudes into the Atlantic between Ballinskelligs and St. Finian's Bays. It has in recent times been incorporated into a National Loop walk and as such is now a well sign-posted trail. We have our own off-the-beaten-path version, however, and veer off to take in some of the incredible archaeology and human history of this special region. Scenically, the views here are expansive, featuring high elevation vistas over the turbulent ocean, enormous cliffs, inland mountains and patchworks of ancient field systems. The landscape is etched with the remnants of human settlement over thousands of years with special antiquities from the early-Christian era, and of course the enormous population surge of the 18th and 19th centuries. This is a powerful place where the light and atmosphere fuse to mesmerise and invigorate. (Hiking: 5 miles with 1,000 ft of ascent on good trails and open hillsides)
Day 7 - The Beara Peninsula
Our last day will take time to wander through the most rugged peninsula of the five great promontories of the southwest, a stunning landscape few tourists ever discover. The Beara Peninsula is named after the form-shaper of the land of Ireland itself, a powerful pagan goddess whose influence is tangible in the rich mythic wealth of Ireland. It will be a day of gentle touring and walking, taking time to visit sacred places, among them a ritual stone-circle left behind here by bronze-age people some 4,000 years ago – and to sample some of the incredible slow-foods of the region. En-route, we will stop to shop, and tonight enjoy a Farewell Dinner in the colorful town of Kenmare, full of window boxes, clean sidewalks, shops and pubs aplenty! A farewell dinner at the end of a trip is always a special event...lots of stories to recount about the adventures we shared, addresses and photos to exchange, and plans for future trips to discuss...and of course lots of excellent food and beverages to help the process along!
Day 8 - Farewell Ireland!
After breakfast today we'll have a group shuttle transfer to the Shannon airport, (or to Kerry Airport or Killarney Rail Station for Dublin connections.)
What´s Included
7 night accommodation (guesthouse or small hotel) in en-suite rooms, with two persons sharing
Full breakfast daily
All ground transport throughout, from Galway city center on Day 1 to Shannon Airport on Day 8 (luxury mini-coach for up to 15 guests)
Killarney lake boats and bikes
Lunch each day, including special picnics and tasting
Dinners on Day's 1, 5 and 7 (welcome and farewell with special "Irish Night" on day 5)
Full escort throughout by trip-leader
Special "guests" as per program
A lifetime of unforgettable memories
What´s not Included
Airfare package
Arrival transfers. Tour begins in Galway city center on Day 1, and the tour ends at the airport in Shannon, Kerry, or Killarney Rail Station on the morning of day 8.
Gratuities for meals, porterage, local guides, coach drivers, etc.

Visa fees, if applicable
Meals not specified in itinerary
Beverages at meals unless specified in itinerary
Trip Cancellation/Interruption and Medical Insurance (strongly recommended), call for details
Single supplement charge
Items of a personal nature; phone calls, laundry, etc.