Overview
About Skiing in Europe…
European skiing is completely unlike skiing in North America, in that it fuses a superb European cultural experience with excellent skiing…and a ski day that's structured completely different from what you're use to. Imagine a balance of finely groomed slopes combined with dramatic off-piste runs, all served by a giant network of lifts and gondolas. You can ski all day and not have to do the same run twice…unless you want to. Picture lunch at charming mountain refuges, complete with fantastic local cuisine. Envision downhill skiing under some of the most amazing scenery in the world, gliding down the mountain from cozy hut ot cozy hut, using the slopes and the lifts to cover an impressive amount of territory by the end of the day. Think about skiing with a professional local guide each day who knows the area intimately, and can lead you to all the best snow for that day, for your level of expertise.
European slopes tend to be impeccably groomed, and there are no shortage of on-mountain bars and restaurants! European ski areas often encompass several towns, and as the trails and lift systems connect them all, you'll often find yourself visiting two or three towns in a single ski day! For an American, skiing with a local guide is a huge advantage as European slope signs are sometimes tricky to understand (much like European road signs while driving), and the slope rating system can vary from area to area, and even changes based on conditions! This is why it's far more enjoyable to have your own private mountain guide, who will easily sort all this out so you don't have to guess, and make sure you are getting everything you want out of each ski day. They're a constant source of information AND a lot of fun! Of course you're always free to take off on your own whenever you want, armed with a map and a sense of adventure. Best of all, each evening you'll be in a beautiful Italian ski town, ensconced in a gorgeous 4-Star spa hotel, enjoying world-class food and wine!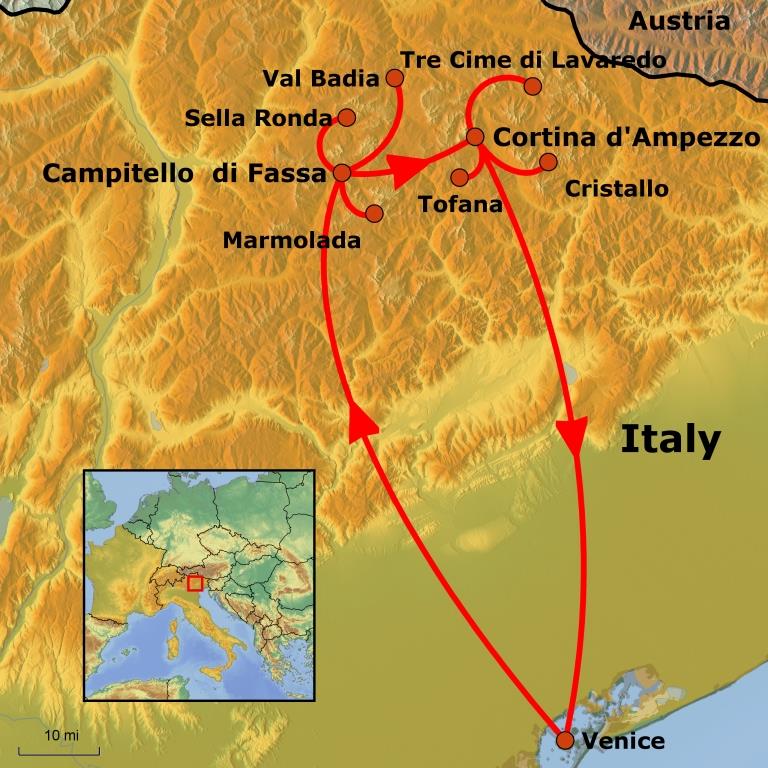 This ski adventure explores the far northeast of the Italian Alps, known as the Dolomites. Even if you've never heard of the Dolomites you've certainly seen them. Without a doubt the most scenic mountains in the world, and most films that are based in the mountains have been filmed here among the dramatic peaks and gorgeous green valleys… (The Italian Job, James Bond…For Your Eyes Only, Cliffhanger with Sylvester Stallone, The Pink Panther, and most recently scenes from the movie Everest with Jake Gyllenhaal). Skiing in the Dolomites is like being on a movie set, the postcard views are unforgettable!
During our week in the snow, we'll ski on several different ski areas, each with its own unique flavor and ambiance. We'll start in the charming mountain town of Campitello di Fassa, which positions us perfectly to explore the world-famous Sella Ronda ski area. One entire day will be spent circumnavigating the massive Sella mountain group, 360 degrees of excitement and adventure! This should be on every skiers bucket list. We'll also get onto the trails at famed Marmolada glacier and Val Badia ski areas, as well. Then we move east to the posh Italian ski town of Cortina, host of the 1956 winter Olympics and still the center of European ski competitions. Here we can find the ski areas of Tofana and Cristallo, both are nearby and both are excellent ways to spend a day in the mountains! To top off our trip we'll go north, near the Austrian border to explore the trails of Tre Cime de Lavoredo, possibly the most scenic ski site in the Alps.
And this is just the skiing…don't forget you'll be in luxurious 4-Star accommodations, all ski passes are included, have plenty of private transfers including pickup and delivery to Venice airport, your own local ski guides, and all of your breakfasts and dinners are included, too. Fully escorted by a Go Get Lost tour manager to make sure all the bumps get smoothed out.
Be sure to check out our other European ski tour, Alpine Ski Journey. Based in the western Alps in Courmayeur, Italy, it is perfectly positioned to explore the Italian side of Mont Blanc, Zermatt in Switzerland and La Rosiere and Chamonix in France…3 countries in one week!  
All of our group tours are also offered as private tours for individuals or groups…pick your own dates!


Tour Dates & Pricing
Extend Your Stay
Photo Gallery
Itinerary
Day 1: Arrival in Venezia
Plan to arrive in the international airport of Venezia (Venice), where you'll be met for a private transfer to your 4-Star hotel in the picturesque ski village of Campitello di Fassa nestled deep in the Dolomite mountains of northeast Italy. Campitello and nearby Canazei provide the classic Italian ski town atmosphere, with plenty of apres' ski bars, shops and restaurants. Tonight we'll have an orientation meeting with our local ski guides and get organized for your exciting week ahead! You'll have your rental ski gear delivered (not included) and have the chance to try it on for size. (Of course it's simple to bring your own gear as well.) Tonight we'll enjoy an arrival dinner featuring local specialties and produce from the area. As this corner of Italy is only a short distance from Austria, you'll find a fascinating fusion of cuisine from two distinct cultures.
Day 2: Sella Ronda
Our first day will start with wonderful Italian coffee and a buffet breakfast, after which we'll start our ski adventure with a day on the famed Sella Ronda ski circuit. Today you'll get introduced to European-style skiing, with a private guide (group size about 6 maximum), stunning alpine scenery, and ample stops at the mountain "rifugios" for warmth and refreshment. The Sella Ronda is part of the Dolomiti Superski area, the world's largest with over 1200 km of trails and 450 lifts! The Sella Ronda is a day-long route that completely encircles the mighty Sella Massif, providing dramatic scenery in every direction, all day. Our mountain guide will choose routes for us based on our abilities and the snow conditions. We'll have lunch at one of the many rifugios somewhere on the mountain, and, then continue to ski for the entire afternoon.
Sometime during the day be sure to stop and have an Italian "Chocolato con Panna", which is the Italian version of hot chocolate. You can order in "normale" or "denso". The normal version is thicker and richer than anything you've ever experienced, topped with a type of whipped cream that's so delicious it defies belief...and the "denso" version is so thick it's more like melted dark chocolate, the consistency of pudding! You can easily develop a habit with these. At the end of the ski day you'll find yourself in one of the area's excellent apres' ski locations, enjoying one of the areas excellent beverages. After a wonderful dinner at the hotel tonight, you'll have no problem slipping into dreamland.
Sella Ronda: 10-15 Trails
Difficulty: The Sella Ronda can be completed with all Red trails, although Black alternates are certainly available
Lifts: 8-10
Day 3: Marmolada
Today we'll enjoy one of the higher altitude ski areas in the Dolomites...Marmolada. Here skiers can also find the longest ski slope of the Dolomites, the so-called "Bellunese", that is over 12 kilometers from the top of the mountain until the hamlet of Malga Ciapela. The Marmolada ski area offers perfectly groomed slopes, cozy mountain refuges and modern ski lifts that allow us to reach in a few minutes the remarkable altitude of more than 3000 meters and to enjoy an incomparable view over the surrounding peaks of the Dolomites. We'll find different views from yesterday, but equally stunning. Lunch will be on the mountain today, at one of the many mountain refuges.
Marmolada: 40 Trails
Blue 50%, Red 40%, Black 10%
LIfts: 28
Day 4: Val Badia
The ski area of Alta Badia features naturally snowy terrain between 1500 and 3200 meters. The extremely low humidity of this area creates the perfect conditions for powder snow. Our route today will wind between the mountain towns of Corvara, Colfosco and San Cassiano. Yet more wonderful scenery and more awesome skiing! As our day on the slopes come to a close, we'll have a transfer our 4-Star hotel in the famed mountain town of Cortina, a winter sports mecca since the 1930's and site of the 1956 winter Olympics. Cortina continues to be one of the centers of international competition, regularly hosting World Cup competitions. Known as the Queen of the Dolomites, Cortina boast stunning views in every direction, and is in the center of one of the best known ski areas in the world, boasting lifts and snow making over 90% of its terrain! Cortina also features one of the most charming downtown areas in the mountain communities. The cobblestone streets are flanked by stylish boutiques, apres' ski bars, and ski hotels, (one of which is ours!) Tonight we'll settle in to our rooms and be treated to yet another excellent meal highlighting the expertise of the local chefs.
Alta Badia: 90 Trails
Blue 70%, Red 25%, Black 5%
LIfts: 53
Cortina: 99 Trails
Blue 60%, Red 25%, Black 15%
Lifts: 42
Day 5: Tofana
Today we'll spend some time on the small but famous Tofana ski area, right outside of Cortina. From the beginners' slopes of the lower area we can quickly reach the technically very demanding pistes such as the Canalone and the famous Schuss. Of course, your abilities and skiing level will determine where you hang out. The Freccia cable car can take us up to a height of 2500 meters to the Ra Valles area. If you take the Skitour Olympia route, you can venture onto the unforgettable peaks of the 1956 Olympic races, which today host the Women's Skiing World Cup. There are 15 mountain refuges and restaurants in the area, as well, allowing you to recharge with food and drink whenever you feel the need. For those seeking a challenge today, and only for expert skiers, the black run Vertigine Bianca (Vertical White) lies in wait.
Tofana: 30 Trails
Blue 50%, Red 35%, Black 15%
Lifts: 13
Day 6: Cristallo
After breakfast this morning we'll be introduced to the small but outrageously picturesque Cristallo ski area. Known for its sunny slopes and fabulous scenery, Cristallo's trails tend to be more advanced. Our ski guides will choose the perfect trails for our group(s), though, so no need to worry.
Cristallo: 14 Trails
Blue 10%, Red 60%, Black 30%
LIfts: 10
Day 7: Tre Cime de Lavaredo
The iconic peaks of the Tre Cime di Lavaredo rise on the border between the northernmost section of the province of Belluno, very near to the Austrian border. They are among the best known mountains in the Alps, finding their way onto more photographs, postcards and calendars than any other. Easily accessible and of great historical value, these works of art created by nature have with their distinctive shape and dramatic beauty always attracted outdoor enthusiasts, especially those who love nature and appreciate breathtaking landscapes. We will spend our last day on the slopes amidst this marvelous scenery! This afternoon we'll be back in Cortina, with time to pack and buy any last minute gifts. Tonight we'll have an excellent farewell dinner, and lots of conversation about planning our next trip!
Tre Cime de Lavaredo: 79 Trails
Blue 40%, Red 45%, Black 15%
LIfts: 32
Day 7: Arrivederci Italia
This morning you'll have a private transfer to the airport in Venice.
What´s Included
7 nights in 4-Star Spa Hotels
Welcome drink
7 Breakfasts
7 Dinners
Transfers with professional driver from and to Venice airport
All transfers during the tour
Luggage transfers between hotels
6 Days Dolmiti Superski pass
Professional ski guide, tour manager for the duration of the tour
Go Get Lost American tour manager for groups of 8 or more
What´s not Included
Airfare
All lunches
Drinks at meals, where not specified
Tips
Trip Interruption/Cancellation and Accident Insurance (strongly recommended, call for details)
All things not listed as included