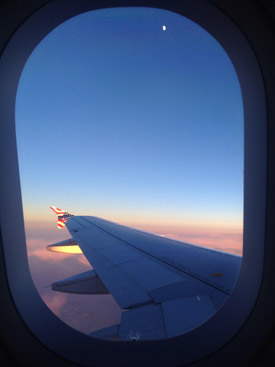 Technology has changed the world, and nearly every aspect of our lives has changed dramatically in the last two decades. At the risk of sounding ancient, I can remember the day when you had to go to a travel agent to buy an airline ticket. Of course now nearly everyone is tech-savvy enough to arrange and purchase their own airfare online. However, I still see travelers who have arranged "less-than-convenient" flight schedules. At the very least they've made the beginning and end of their vacation an ordeal…and in some cases they've managed to put their entire vacation at risk.
Let's take a look at some helpful hints that might make your airfare booking experience run a bit smoother.
Start by using one of the major search engines that access many different airlines, like Cheap Tickets, Orbitz, or Kayak. These are great tools for researching to find the types of flight schedules that are available, and which airlines fly those routes. I rarely actually book with them, though.
NEXT, go to the individual airline website to book the flight. This works perfectly when the entire flight schedule is handled by one airline. (If you can only fly multiple airlines it may not be available on a particular airline website.) The advantage is that you'll usually find a similar price for the same flight, you might find more seats available, and if there are ANY problems during your flight, (cancellations, delays, etc) then you'll get better service from the airline personnel at the airport if you booked on their website rather than a reseller site like Orbitz. Airline personnel are trained to give the greatest level of service to those who book the better classes, then next are those who booked on the airlines site, then lastly to those who booked with a third party reseller. You're the bottom of the barrel, so to speak. After everyone else is taken care of, IF there are any seats left, they'll take care of you.
In the case of a flight schedule with more than one flight, I think there's another advantage to using one airline instead of multiple airlines, even if the price is slightly higher. Your baggage tends to arrive in a more timely fashion. If you used multiple airlines, then it's sometimes harder for the airlines to track your bag, and I've seen cases where the airlines start a blame-game, trying to shift responsibility for the lost bag.
During the research phase, always expand the flight information to show the details, total number of flights, total flight time, overnights, enroute airports, etc. Read this information carefully so you develop an idea of what you'll be doing. Make sure that you're arriving on the day you want to, especially if you have an overnight flight.
Pay particular attention to your layover times. You want it just right, not too short and not too long. So what is the optimum? Depends. The larger the airport, the more time you'll need to navigate from gate to gate, and maybe deal with another security line. The longer the flight you're arriving on, the more time you should have to offset a late arrival due to headwinds, etc. My rule of thumb is to have at least two hours between international flights, and that is cutting it close in my book. Three to four hours makes me feel a less stressed. I think airports are fascinating places, with superb people-watching, plenty of places to eat and drink, and a plethora of shopping. I can easily kill a few extra hours in an airport. Some of my least favorite airports for transiting on a tight connection? London, Miami, and Milan…my stress level goes up just thinking about trying to rush through these labyrinths of traveler doom.
So now you've decided on your airline, you've nearly finished booking your flight, and you get the option to pick your seat. How great is technology? At this point open up a new window on your browser and go to Seat Guru.com. This is a handy site that will prompt you to enter the type of airplane you'll be flying. (Don't worry, it's always listed on your flight information), then a layout of your airplane will appear, which looks much like the layout you have on the airline site to pick your seat. The difference is that before you pick an open seat, you can look on Seat Guru to see if there is a downside to that seat. Seat Guru will let you know if that seat has a reputation for bad drafts, or if it has less room, or if the seat won't recline, etc.
Now you've successfully booked your flight…you've picked the best airline for that route, you've researched the flight times and layovers to give you the least stressful experience, and you've even perused the available seats to avoid the hidden problems. And all at a fare you can live with. You've TAKEN CONTROL of your flying destiny, so to speak. It's a good feeling. Now there's just one more thing to do, (besides printing your itinerary). You can take advantage of all the great apps out there to make your travel adventure even more trouble-free. The first app you should install on your phone is the airline app for your flight. It will help you keep track of your flight schedule, sent you alerts to notify you of problems, and in some cases allow you to rebook if there is a flight cancelled. You'll get a jump on all the non-connected passengers! Another app I like is Flight Aware, which tracks the actual airplane you'll be flying, even earlier in the day, to see if it's running on time. Yet another handy app is Gate Guru, which keeps track of your gate and gate changes, often faster than the airline app.
So there you have it, 7 great strategies and tools to help you organize your airfare like a pro. With a stress-free flight schedule you might actually start to enjoy your flying experience!