Overview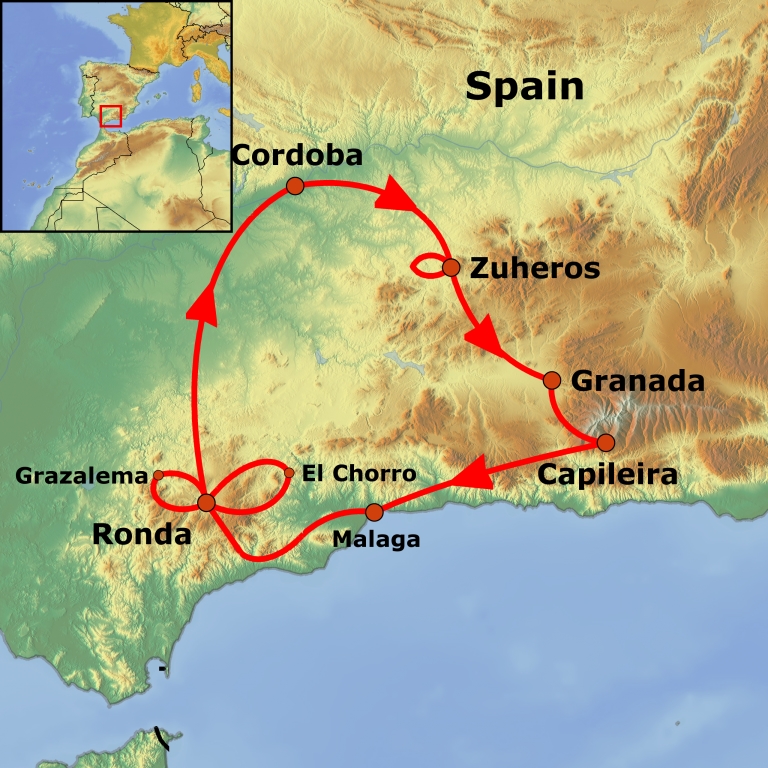 Come with us to discover the magical land of Andalusia! This area features some of the finest walking in Spain, with diverse landscapes that encompass snow-capped peaks and arid desert landscapes, small sleepy whitewashed villages and vibrant historical cities. A rocky, sun-baked region on Spain's southern coast, stretching from the windswept Atlantic coast in the west to the Mediterranean beaches in the east, and from Gibraltar on its southern tip to the ancient cities in the central plains, Andalusia embodies much of what the world thinks of as Spanish: flamenco, tapas, matadors and bullfights. Under Moorish rule for almost 700 years, Andalusia's unique legacy is most evident in its iconic architecture, including such landmarks as the Mezquita Cathedral in Cordoba the Alhambra Palace in Granada. Not to be outdone, the cuisine of the region is legendary, drawing on both the land and the ocean, and reflecting the diverse cultures who dominated this landscape over the centuries. Enjoy a combination of walking and biking on scenic trails that display the best of the Andalusian countryside, and exploring on foot the historic cities of Cordoba and Granada. This small-group walking and biking adventure is for between 8 and 18 people, which is a perfect size for the charming hotels and country inns we use. Fully guided by local guides, with a Go Get Lost trip leader along to make things run smoothly.
Tour Dates & Pricing
Reviews
Photo Gallery
Click the thumbnail to view larger image.
Itinerary
Day 1: Malaga to Ronda
You should plan to fly into Malaga this morning where a private group transfer will await you for the journey to Ronda. (Please coordinate with your group leader before booking your airline ticket.) As most international flights will arrive in Malaga by midday, by the time you arrive in Ronda you'll be able to check into your 4-Star hotel, unpack, freshen up and wander the village a bit. The charming town center, with its 18th century bull ring is a pleasure to explore, with stunning views over the gorge below. Tonight we'll have a pre-dinner wine tasting to introduce you to the wonderful Spanish vintages you'll encounter, then we'll have our orientation meeting and afterwards we'll enjoy a dinner at one of our favorite local restaurants featuring typical cuisine that reflects the bounty of the region.
Day 2: Sierra de Grazalema Natural Park
This morning after breakfast we'll have a short transfer to Grazalema, where our walk begins. Soon we'll be wandering through the classic Andalusian scenery of rolling hills and olive groves. You'll want your camera along as you enjoy the views passing through the national park of Grazalema. Small whitewashed villages dot the hillsides along your route. For lunch we'll enjoy an open-air picnic, most likely with a wonderful view!
Tonight we'll have a wine tasting at one of our favorite local bodegas along with a Spanish guitar concert! Afterwards you're free to wander the town and enjoy eating at one of the many wonderful restaurants.
Day 3: The Caminito del Rey and Cordoba
Today we'll experience one of the world's most spectacular pathways, the Caminito del Rey, or The King's Little Pathway! Perched impossibly midway up the sheer walls of El Chorro gorge, the suspended walkway, (completely rebuilt in 2015) provides unparalleld views of the magnificent gorge. After our walk we'll have lunch at a local eatery and refuel for the afternoon, when we continue on to Cordoba, one of the most historic and fascinating cities in all of Europe. Originally settled by the Carthaginians, Cordoba was also ruled by the Romans and Moors, who both left their mark on the city. This afternoon we'll have a private guided tour through some of Córdoba's fascinating spots. And of course we'll not miss one of the most famous sites of all, the Mezquita!
Right outside the door of your 3-Star hotel you'll find a maze of tiny winding streets and countless shops and bars...a joy to explore! Tonight you are free to wander the neighborhoods and find our own special place for dinner. Perahps afterwards you might want to sample the night life Cordoba has to offer. Don't stay out too late, though, as tomorrow we're off into the countryside again!
Day 4: From Cordoba to Zuheros
This morning you are free to explore more of Cordoba, This afternoon we'll have a scenic drive south to the picturesque village of Zuheros, in the Subbetica Natural Park, known for its local goat cheese and olive oil. You'll enjoy a short countryside walk this afternoon before settling in to your 3-Star country hacienda (set in a restructured olive oil mill) just outside the village. Tonight we'll feast on regional specialties and wash them down with some of the excellent Spanish wines.
Day 5: Greenway Zuheros
This morning you'll get to enjoy a bike ride on the longest bike path in Andalusia, the Olive Oil Greenway. Converted from an abandoned railway grade, the greenway cuts through picturesque Andalusian countryside, over metal viaducts and through endless olive groves. Arriving back in the hotel you'll need to freshen up, then roll up your sleeves for a cooking class on how to make the local version of Paella, a Valencian rice dish that features many of the regions products. There will also be olive oil to taste (of course) and plenty of wine to enjoy as well.
Day 6: Granada and The Alhambra
This morning you can relax during the transfer to Granada, After checking into our 3-Star hotel in the heart of the city, the rest of the day we'll spend exploring this small city with an ancient past and a surprisingly cosmopolitan feel. We'll have an expert local guide take us through one of the highlights of Spain...the massive palace and fortress complex known as the Alhambra and the Garden of the Generalife! Granada has other jewels to offer as well: the enchanting labyrinth of narrow lanes in the Albaycín quarter, the streets lined with tea houses, and the impressive Capilla Real (Royal Chapel) and Cathedral.
We'll conclude with an exciting Flamenco concert in the Albaicin district followed by yet another spectacular dinner.
Day 7: The Alpujarras Region and the Poqueira Gorge Walk
After another enjoyable Andalusian breakfast, we'll have a short but scenic trip to the small town of Capiliera, nestled in the spectacular Sierra Nevada mountains. Riding our bikes from our quaint 3-Star hotel, we'll enjoy the views of the foothills. Eventually we'll trade our bikes for our boots and continue on a walking path to explore the stunning Poqueira Gorge. Later we'll pay a visit to a nearby producer of Jamon (Spanish Ham).
Tonight we'll enjoy our farewell dinner, exchanging pictures, reliving adventures, and celebrating our time together in Andalusia!
Day 8: Adios Andalusia
Your biking and hiking trip comes to an end this morning after breakfast. You will have a private group transfer directly to the airport in Malaga. Be sure to coordinate with your trip leader before booking your flights.
What´s Included
2 nights accommodation in a 4-Star hotel in Ronda
1 night accommodations in a 3-Star hotel in Cordoba
2 nights accommodation in a 4-Star hacienda in Zuheros
1 night accommodations in a 3-Star hotel in Granada
1 night accommodations in a 3-Star hotel in Capiliera
7 breakfasts
4 dinners
2 wine tastings
Olive oil tasting and cooking class
Guitar concert
Flamenco show, with dinner
Guided tour of Cordoba, with entrance to the Mezquita
Visit to ham producer
Guided tour of Alhambra
Bike and basic gear rental
Private group arrival transfers from Malaga airport to the hotel in Ronda (please coordinate your air schedule before booking your ticket)
Private group departure transfers from the hotel in Capiliera to Malaga airport (please coordinate your air schedule before booking your ticket)
All transfers during the tour
Professional local guide
Go Get Lost tour manager support
Local taxes
A Lifetime of memories!
What´s not Included
Airfare
Meals not listed in the itinerary
Entrance fees not listed
Gratuities
Trip Interruption/Cancellation and Medical Insurance, (strongly recommended, call for details)