Overview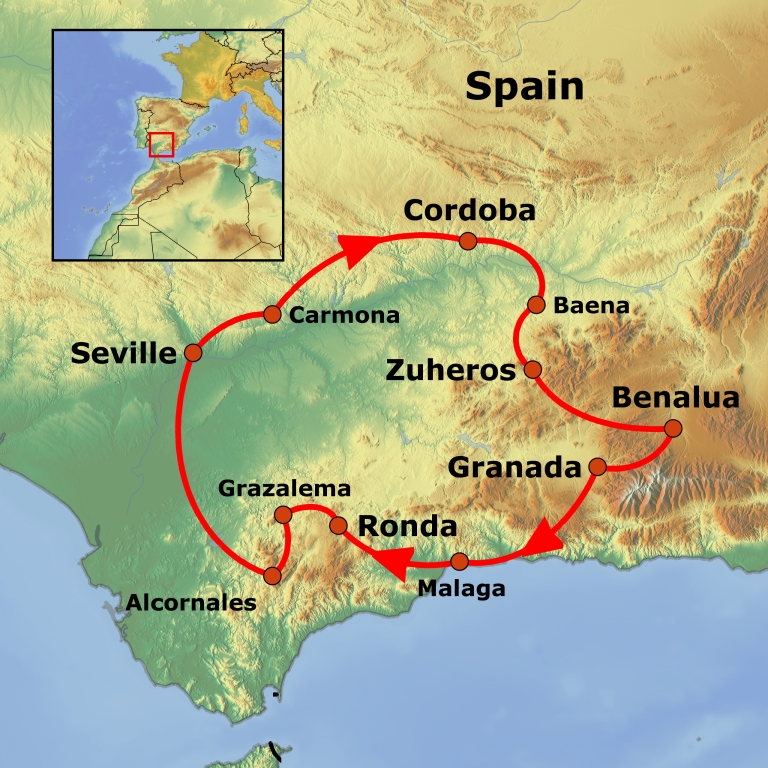 Explore the timeless land of Andalusia, a rocky, sun-baked region on Spain's southern coast. Stretching from the windswept Atlantic coast in the west to the Mediterranean beaches in the east, and from Gibraltar on its southern tip to the ancient cities in the central plains, Andalusia embodies much of what the world thinks of as Spanish: flamenco, tapas, matadors and bullfights. Dramatic landscapes are punctuated with old-world villages, historic buildings coexist with modern amenities. Under Moorish rule for almost 700 years, Andalusia's unique legacy is most evident in its iconic architecture, including such landmarks as the Alcázar castle in Seville and the Alhambra Palace in Granada. Not to be outdone, the cuisine of the region is legendary, drawing on both the land and the ocean, and reflecting the diverse cultures who dominated this landscape over the centuries.
This fully guided small-group biking adventure is for between 8 and 18 people, which is a perfect size for the charming inns and country hotels we use. Enjoy a combination of biking on scenic rural roads through smaller towns, and jaunting through the historic cities of Seville, Cordoba and Granada. You'll appreciate the lovely landscape, which alternates between flat valleys, gently rolling hills and the occasional moderate to challenging ascent or descent. Of course with an E-bike you don't need to worry about getting tired or pedaling uphill at all! Top quality rental bikes or available, or feel free to bring your own bike. Fully guided by professional local biking guides, with a Go Get Lost trip leader along to make things run smoothly. A support van and bike trailer will provide logistic assistance each day. Truly the best way to experience the wonders of Spanish Andalusia!

Tour Dates & Pricing
Photo Gallery
Itinerary
Day 1: Malaga to Ronda
You should plan to fly into Malaga this morning where a private group transfer will await you for the journey to Ronda. (Please coordinate with your group leader before booking your airline ticket.) As most international flights will arrive in Malaga by midday, by the time you arrive in Ronda you'll be able to unpack, freshen up and wander the village a bit. (If you've brought your bike with you on the flight, this is a good time to assemble it.) The charming town center, with its 18th century bull ring is a pleasure to explore, with stunning views over the gorge below. Tonight we'll have a pre-dinner orientation meeting and afterwards we'll enjoy a dinner at one of our favorite local restaurants featuring typical cuisine that reflects the bounty of the region.
Day 2: Ronda and the White Villages, Seville
This morning you'll tune up and test your bikes, then pedal out into the countryside. We'll soon be cycling through the classic Andalusian scenery of rolling hills and olive groves. You'll want your camera along as you enjoy the views passing through the national parks of Grazalema and Alcornocales. Small whitewashed villages dot the hillsides along your route. For lunch we'll enjoy an open-air picnic, most likely with a wonderful view! After our ride we'll have a private transfer in to the city of Seville, one of the classic cities of Andalusia. You'll enjoy our classic Spanish hotel, well located in the historic Jewish quarter, Santa Cruz. Right outside your door you'll find a maze of tiny winding streets and countless shops and bars...a joy to explore!
70km
Day 3: Seville City Tour, Flamenco!
Seville is the quintessence of Andalusia: flamenco, bullfighting, and an architectural heritage dating from Roman, Islamic and Baroque times. On our morning guided cycling tour we'll explore the town and go past all of the important monuments, reveling in the ambiance of the city. The afternoon is free for your own exploration, and you'll be able to spend more time at any of the fascinating sites. This evening we'll meet up again for a special Flamenco show in the Casa de la Memoria, where young talent presents itself to the public. Tonight you're free for dinner and to sample the spectacular (and legendary) night life Seville has to offer. Don't stay out too late, though, as tomorrow we're off into the countryside again!
20km
Day 4: From Seville to Cordoba
After breakfast this morning we'll have a transfer to Carmona, the start of our cycling route today. We'll explore our first Via Verde, an old railway line converted into a graded bike trail. Enjoy peaceful cycling through the Guadalquivir Valley to Cordoba, one of the most historic and fascinating cities in all of Europe. Originally settled by the Carthaginians, Cordoba was also ruled by the Romans and Moors, who both left their mark on the city. This afternoon we'll have a private guided tour through some of Córdoba's fascinating spots. And of course we'll not miss one of the most famous sites of all, the Mezquita! Tonight we are free to wander the neighborhoods and find our own special place for dinner.
80km
Day 5: From Cordoba to Benalua de Guadix
A post-breakfast transfer will take us into the Sierra Subbetica to Lucena, with another day of breathtaking scenery ahead of us as we cycle through the Subbetica National Park. Yet another, scenic Via Verde allows us to bisect the landscape and pedal into the town of Luque. Later we get back on the bus and transfer to Benalua in the Guadix area north of the Sierra Nevada. Here' we'll check into our most unusual accommodation built into caves!.
70km
Day 6:The Stunning Desert of Guadix Hoya
Today is dedicated to cycling through the spectacular valleys of the Guadix Hoya, a desert-like landscape reminiscent of Arizona, often used as a movie location for filming Italian Spaghetti Westerns. It's also an area of archaeological importance where remains of Dinosaurs were found. In the Megalithic era the entire area was very fertile, dotted with settlements and habitations. Even today you can find evidence of hundreds of Dolmens and stone tombs.
60km
Day 7: The Old Mountain Road to Granada
We start riding from the hotel this morning, and warm our muscles before beginning the climb over the foothills of the Sierra Nevada. Then it's free-wheel time on this old mountain road to Granada. Passing numerous lakes and excellent mountain scenery, with just a few flat and uphill sections, we descend all the way to the outskirts of Granada. The rest of the day we'll spend exploring this small city with an ancient past and a surprisingly cosmopolitan feel. We'll have an expert local guide take us through one of the highlights of Spain...the massive palace and fortress complex known as the Alhambra! Granada has other jewels to offer as well: the enchanting labyrinth of narrow lanes in the Albaycín quarter, the streets lined with tea houses, and the impressive Capilla Real (Royal Chapel) and Cathedral. Tonight we'll enjoy our farewell dinner at one of Granada's iconic restaurants, exchanging pictures, reliving adventures, and celebrating our time together in Andalusia!
65km
Day 8: Adios Granada
Your cycling trip comes to an end this morning after breakfast. You will have a private group transfer directly to the airport in Malaga. Be sure to coordinate with your trip leader before booking your flights.
GENERAL INFORMATION
Although many riders prefer to bring their personal bikes with them on the airplane, you can rent a bike for this trip. It will be delivered to your hotel on day 1 and collected at your hotel at the end of the trip.
Rental Rates:
Race Bikes 170 Euro
Hybrid Bikes 80 Euro
Ebikes 240 Euro
GPS 70 Euro per unit
Pedals on request
Rental Road Bike:
Bianchi Intenso 105, 11s
Shimano 105 group set, 11 speed, compact
Different frame sizes
Fully equipped with helmet, saddlebag with puncture kit (tire levers, patches, spare inner tube), frame pump
Rented without pedals
This itinerary is designed for road cycling and all participants are encouraged to ride a road bike, either their own or a rental. People on hybrids will most likely not ride the full distance but will be accommodated on the trip. Ebikes may not be as suitable for this itinerary due to the daily distances.
Hotels
Ronda: Hotel Maestranza
Seville: Hotel Murillo
Cordoba: Posada de Vallina
Zuheros: Hacienda Minerva
Benalua de Guadix: Cuevas La Granja
Granada: Palacio Santa Ines
What´s Included
7 nights accommodation in comfortable hotel rooms with private bath.
7 breakfasts
2 dinners (on Days 1 and 7)
5 picnic lunches
All luggage transfers
Private group arrival transfers from Malaga airport to the hotel in Ronda (please coordinate your air schedule before booking your ticket)
Private group departure transfers from the hotel in Granada to Malaga airport (please coordinate your air schedule before booking your ticket)
Professional local biking guide
Go Get Lost tour manager support
Bus support on days 2,4,5, and 7
Van support with driver
Water, soft drinks and snacks during rides (except Seville)
Flamenco show in Seville
Guided tour of Cordoba, with entrance to Mezquita
Guided tour of Alhambra in Granada
Local taxes
Delivery and return of rental bikes to/from hotel in Ronda and Granada
GPS tracks for all rides
Lifetime of memories!
What´s not Included
Airfare
Meals not listed in the itinerary
Entrance fees not listed
Gratuities
Trip Interruption/Cancellation and Medical Insurance, (strongly recommended, call for details)