Overview
This exclusive bike tour of the Italian Alps is fully guided by professional Italian cycling guides, and is hosted by renowned cyclist and blogger Peter Linsley. The accommodations are definitely premier 4-Star level, and all of your breakfasts, dinners, and lunches are included as well!  You'll have a support van and luggage transfers, even your arrival and departure transfers from Venice and Milan airports.  Truly a luxury cycling holiday in one of the most idyllic landscapes on earth!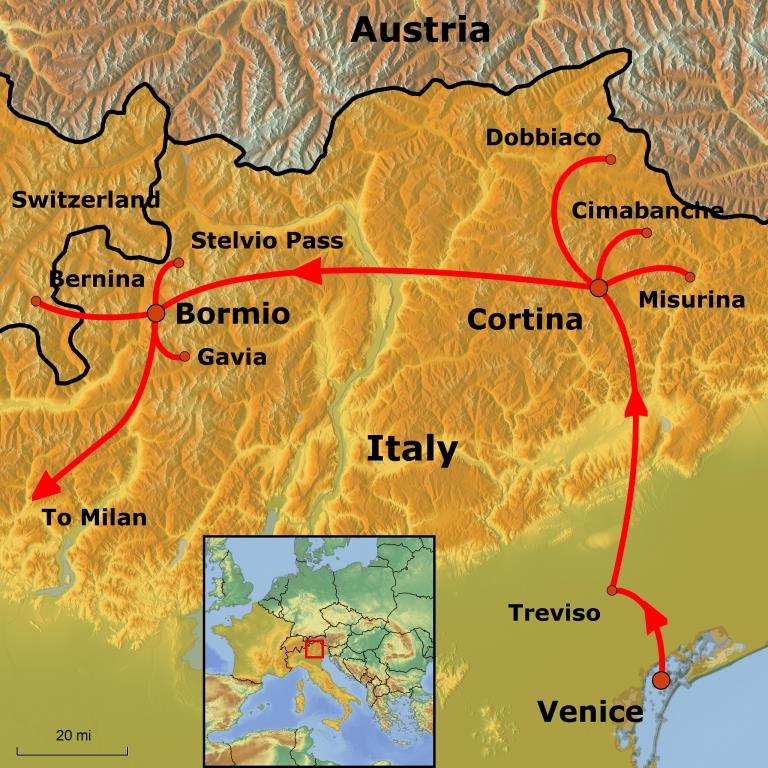 The mighty European Alps are one of nature's wonders, and the most pristine and picturesque part of them is the fabled Italian Dolomites.  Located in the far northeast of Italy, nearer to Vienna than to Rome, the Dolomites are arguably the most dramatic and picturesque mountains in the world, as evidenced by the painters and filmmakers who have long been using them as the setting for anything mountainous. On our rides you can expect an endless procession of stunning mountain views broken only by the charming towns we pass through. You'll marvel at the classic Dolomite landscape of dramatic sheer walls soaring straight up from a lush green alpine valley, often with a postcard-perfect village nestled in the bottom.
Best of all, this region is home to some of the most famous routes of the Giro d'Italia, and we'll be cycling on them in the footsteps of all the world's greatest cyclists who have gone before. We'll also have the opportunity to cycle the Bernina Pass route in Switzerland. And at the finish of each rewarding day of cycling you'll end up at a beautiful 4-Star hotel in a lively mountain town, (one with an included spa). As an added bonus, we'll have private tours of two of the cycling world's most interesting factories, Pinarello and Bianchi.
And just like the biking, the local culture is as intriguing as the scenery, with a mix of Austrian and Italian cuisine and history.  The food and wines of the region reflect that fusion, and are unlike anything you'll find on your travels.  You'll have plenty of opportunity to sample the local fare, as all of our breakfasts and dinners are included in the package, enjoyed at the excellent restaurants at our 4-Star superior mountain hotels. (Lunches are generally a packed lunch eaten on the route.)
I'm Pete Linsley, and it's fair to say that I like cycling.
In fact, it's right up there with the more important things in my life like oxygen, shelter, and human contact. I can often be found thinking about, writing about, or actually cycling, to the exclusion of almost anything I can get away with excluding.
You might think this sounds a bit boring and narrow minded, but rest assured; I'm happy to debate just about any topic you'd care to bring up. Realistically though, conversation will drift back towards bikes eventually.
I am the sole author of www.ragtimecyclist.com, a blog about cycling, pro-cycling, and the bits in-between.
I live in the north of England, on the edge of the Trough of Bowland – UK cycling's best kept secret – and started riding seriously around ten years ago on an old Peugeot racing bike. Surrounded by wild and rolling terrain, traffic free roads, and a sprinkling of extremely civilized cafés, what else was I going to do with my time?
I happen to believe any holiday is improved by the inclusion of a bike, some sunshine, and a road of smooth Tarmac snaking up a mountainside.
Maybe you agree?
Tour Dates & Pricing
Photo Gallery
Itinerary
Day 1: Arrivederci Cortina
You should plan to fly into Venice this morning where a private group transfer will await you for the journey to Treviso, only about 30 minutes from Venice's Marco Polo airport. (Please coordinate with your group leader before booking your airline ticket.) There we will have a tour of the Pinarello factory to see how they craft some of the world's best bikes. Afterwards we'll continue on into the mountains to our final stop, Cortina d'Ampezzo, a charming mountain town surrounded by lush forests and towering mountains. As most international flights will arrive in Venice by midday, when you arrive in Cortina you'll have time to check into your 4-Star hotel and unpack. We can then work on assembling our bikes, getting them adjusted, and getting our gear prepped for tomorrow.
Tonight we can wander the village a bit before dinner. Cortina d'Ampezzo is known as the "Pearl of the Dolomites", mainly due to trendy atmosphere and its perfect position in the midst of winter skiing and summer hiking. The pedestrian town center has a number of upscale shops and fun cafes to pass the time. In Cortina you'll begin to notice the subtle cultural differences that differentiate this region from the rest of Italy. Although primarily Italian, Austrian and German influences appear alongside Italian names, cuisine and history. Inhabited since prehistoric times, this area was ruled by the local tribes, then the Romans, endured various barbarian invasions, then the Austrians, then the Italians after World War I. In fact several ferocious battles were fought in the mountainous terrain in this area during the Great War, and their battlefield remains of trenches and barbed wire remain to this day.
Of course the last war was over a hundred years ago, and today Italian and Tyrolean traditions color everything in the region. The robust cuisine of the area is unique with smoked hams, apples, chestnuts, grapes, plums, and pasta tossed with some of the most delicate olive oil in the world appearing on most menus. In addition you'll find polenta, more mushroom varieties than anywhere else in Italy, and trout from the alpine lakes and streams. And there are two things that definitely set this cuisine apart...the breads and the cheeses! Drawing on both Austrian and Italian baking traditions, the finest breads in all Italy are found here...often laced with onion, garlic, or herbs. Even more rewarding to the hungry is the amazing amount of delicious cheeses produced in this region! The problem is naming them, since there are so many local varieties, many are simply called nostrano or "our local homemade cheese". You'll fall in love with the many types known as malga, a category of mountain cheeses that are made with the summer milk from cows that graze in the highest valleys of the region.
Even luckier, we find ourselves located just north of Italy's most prolific wine producing region, the Veneto...with all of its wonderful varieties and vintages. In addition, just to the west is the Sarca River Valley, another star producer in the world of fine Italian wines. You should have no trouble finding a local wine to complement your meal!
So tonight it's time to settle in to a fine dinner in our hotel and fuel up for the coming week!
Day 2: Cortina-Carbonin-Dobbiaco-Tre Croci Pass
This morning after breakfast we'll begin our cycling odyssey. Today will feature one of the iconic routes of the area, with a stop for lunch midday. You'll enjoy stunning views of Tre Cime de Lavaredo, one of the most photographed mountain groups in the world. You'll return to the hotel tonight for dinner, and perhaps some relaxing time in the spa.
Distance: 70 km
Altimetry: 1400 meters
Day 3: Cimabanche Pass-Misurina
Today we'll experience one of the area's most scenic rides, with great views of picturesque Lago Misurina. After another excellent dinner tonight you might like to sample the night life Cortina has to offer. Don't stay out too late, though, as tomorrow we're off into the countryside again!
Distance: 68 km
Altimetry: 1100 meters
Day 4: Sant' Antonio Pass, Monte Croce Pass
Depending on the interests and abilities of the group, today we have options. One of the more exciting is a three pass route encompassing Sant' Antonio Pass, Monte Croce Pass, and Cimabanche Pass. Tonight a massage might be in order!
Distance: 125 km
Altimetry: 1900 meters
Day 5: Bormio
Today is a transfer day, and a chance to rest and recharge a bit. After breakfast we'll check out and board our private transfer for a scenic drive west to the picturesque town of Bormio, nestled in a lush mountain valley on the far western edge of the Dolomites, at the foot of Stelvio Pass. Bormio is a perfect base for some of Italy's most famous alpine rides. We'll check in to our 4-Star hotel, unpack, and explore the town.
Bormio has been known since Roman times for its therapeutic thermal springs, and in fact our hotel features excellent spa facilities, so tonight might be a great opportunity to soak those tired muscles! The town itself is a popular getaway spot for both summer and winter outdoors adventures. You'll find plentiful shops, bars, cafes and of course...spas. (In fact Leonardo da Vinci soaked here in 1493.)
Day 6: The Stelvio Pass
Eat a good breakfast this morning, because you need to fuel up for one of the most historic and challenging climbs in cycling...the Passo dello Stelvio. At more than 9,000 feet, the pass is the second-highest in Europe, with views all the way to Switzerland at the top! Stelvio is a 21 km climb featuring 48 hairpin turns that snake up over 1700 meters. With an average grade of 7.3%, and a maximum grade of 14% (10th km), Stelvio has been challenging top-level cyclists from all over the world for many years.
Tonight you'll return to the hotel for a well-deserved trip to the spa, followed by a hearty dinner of local specialties, (and maybe a special vintage to wash it down).
Distance: 21 km
Altimetry: 1700 meters
Day 7: Bernina Pass
Today is a non-cycling recovery day, and we have a special tour planned. We'll go on a road trip (with our coach) to descend to Tirano, and then through the pass to St. Moritz, Switzerland, a UNESCO World Heritage site. St. Moritz is a luxury alpine resort town, and its name is even a registered trademark for style, elegance and class. Twice the host of the winter Olympics, and the place James Bond skied downhill in "The Spy Who Loved Me". It's a fascinating place to relax and wander, with shops, cafes, and restaurants galore...all surrounded by stunning mountain scenery. Later in teh day we'll board the famous Red Train to return to Italy and the hotel.
Day 8: Mortirolo and Gavia
Today you should be rested up, so for your last ride, you can choose either a moderate challenge or a difficult challenge. For the adventurous who want to test themselves, they can do both Mortirolo and Gavia routes, for a total of 115 km and an astounding 4436 meters of altimetry. Or an easier route of just Mortirolo can be attempted. After all your training this week, you might surprise yourself at what you can accomplish.
Distance: 115 km (Mortirolo and Gavia)
Altimetry: 4436 meters
Day 9: Treviglio-Bianchi-Milano
Today we board our private transfer for the scenic drive to the town of Treviglio, home of the famous Bianchi factory. Here we'll have a tour of their facilities and see the behind-the-scenes story of how they came to be one of the premier bike manufacturers in the world. Afterwards we'll continue on to Milano to check in to our 4-Star hotel. The afternoon is free to wander and explore the bustling city of Milan, Italy's largest city. Sophisticated, prosperous Milan is the center of Italian fashion, commerce, finance and media. Incredible shopping abounds (hint....gifts for someone special back home), and in contrast, Milan's old city is wonderful place to stroll to take in the medieval buildings, historic squares, cobblestone streets, and Renaissance architecture.
Tonight we'll have an excellent farewell dinner, and time to compare our trials, tribulations and victories of the week. Most likely a bit of wine will disappear as toasts are made, triumphs are re-lived, and everyone will laugh about their best and most-challenging moments of the trip!
Day 10: Arrivederci Italia
Your cycling trip comes to an end this morning after breakfast. You will have a private group transfer directly to the airport in Milan. Be sure to coordinate with your trip leader before booking your flights.
What´s Included
4 nights double occupancy accomm in the 4-Star Bellevue Hotel in Cortina, (or similar)
4 nights double occupancy accomm in the 4-Star Terme di Bagni Vechhi Hotel in Bormio, (or similar)
1 night double occupancy accomm in the 4-Star Hotel Sina de la Ville in Milan, (or similar)
All meals
Free use of hotel Spa facilities in Cortina and Bormio
5 days of bike tours, with professional cycling guides, van support, water and snacks
Visit to the Pinarello factory
Visit to the Bianchi factory
Bernina Train tickets
All transfers during the tour, including group arrival and departure transfers
Local hotel taxes
A Lifetime of memories!
What´s not Included
Airfare
Beverages at meals, other than water
Entrance fees not listed
Gratuities
Trip Interruption/Cancellation and Medical Insurance, (strongly recommended, call for details)